"Pricing power has erupted…"
The transportation industry, particularly trucking, has benefited from the rise in retail spending in the fourth quarter and in much of 2017. The surge in e-commerce with all the transportation challenges it brings along has been a boon for the industry. Shipments have soared, rates have soared, dollars spent by shippers have soared: companies have been complaining about rising shipping costs and are trying to pass on those costs via higher prices on their goods. But here's what that looks like from the transportation and trucking industry's point of view: a view from Cloud Nine.
US shipment volumes by all modes of transportation jumped 12.5% year-over-year in January, according to the Cass Freight Index. The index, which is not seasonally adjusted, hit its highest level for any January since 2007: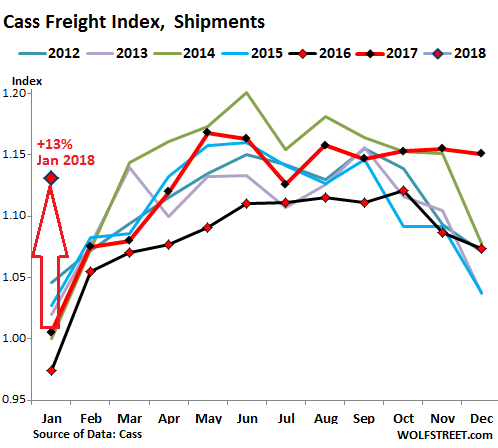 Note how the red line (2017) at first timidly and then more aggressively outpaced the black line (2016). In December 2017, shipments had been up 7.2% compared to December 2016. The index normally drops sharply in December with the end of shipping season, but this time the index edged down only a tiny bit.
The index, which is based on $25 billion in annual freight transactions, according to Cass Information Systems, covers all modes of transportation and is focused on consumer packaged goods, food, automotive, chemical, OEM, and heavy equipment — shipped via truck, rail, barge, and air. But it does not cover bulk commodities, such as oil and coal.
The chart below shows the year-over-year percentage changes in the Cass Freight Index for shipments. Note the transportation recession in 2015 and 2016 – and that phenomenal spike in January: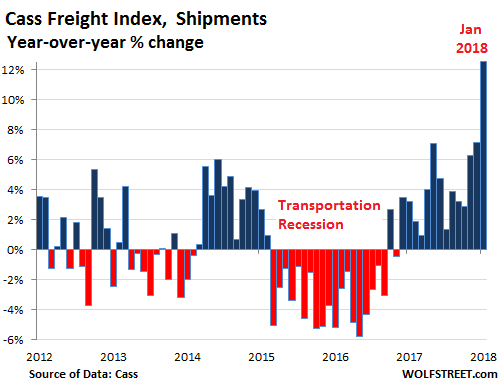 The report warns:
Volume has continued to grow at such a pace that capacity in most modes has become extraordinary tight. Pricing power has erupted in those modes to levels that spark overall inflationary concerns in the broader economy.
This surge in volume inevitably leads to increases in prices. The Cass Truckload Linehaul Index, which measures linehaul rates and does not include fuel surcharges, rose 6.5% year-over-year in January, to 133.5, just below December's all-time record.
This chart shows the year-over-year percentage change of the linehaul index. Note the transportation recession from March 2016 through March 2017, when rates declined on a year-over-year basis for 13 months in a row. January was the 10th month in a row of year-over-year increases: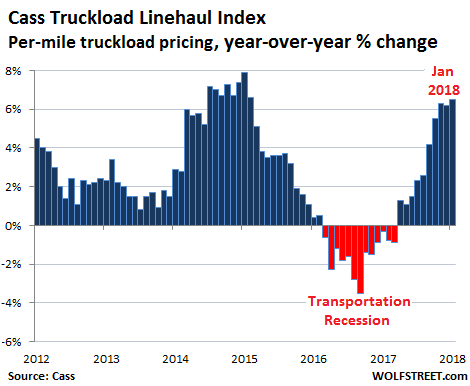 "In just the last seven months, our pricing forecast has increased from -1% to 2%, to 6% to 8%, and now giving us reason to believe the risk to our estimate continues to be to the upside," said Donald Broughton, analyst and commentator for the Cass Indexes.
With shipping volumes rising, and shipping rates rising, and with fuel surcharges still up year-over-year, the amount spent on shipping has soared. In January, the Cass Expenditure Index – which tracks the amounts spent on freight for all modes of transportation and includes fuel surcharges – soared 14.2% year-over-year, to 2.29, the highest level for any January in the data series. If expenditures follow seasonal patterns this year, they're going to be off the chart: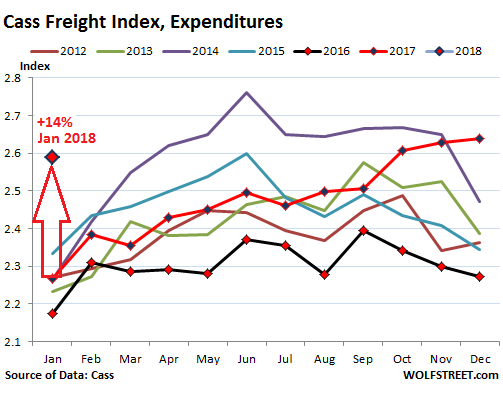 Note how the red line (freight spending on all modes of transportation in 2017) rose throughout the year, even blowing by what should have been a normal seasonal decline in December. The black line (2016) was lumbering along the bottom, mired in the transportation recession. The report:
January's 14.2% increase clearly signals that capacity is tight, demand is strong, and shippers are willing to pay up for services to get goods picked up and delivered in modes throughout the transportation industry.
Where do these costs go from here?
When demand is strong, companies will be able to pass these surging shipping costs on by raising the prices of their goods. This cascades through the entire supply chain. And in the end, the consumer pays for it – even if shipping is "free" – via higher prices of goods. It may only be a relatively small amount per item, but it spreads across the entire goods-based part of the economy.
This transmission of higher freight rates to the consumer doesn't happen overnight. But just like falling freight rates during the Transportation Recession were a factor in the so-called "low inflation" of 2015 and 2016, the surging freight rates now will be a factor pushing up consumer price inflation. These transportation costs – like so many other costs that have reversed direction and are now rising or surging – will be working their way bit by bit into consumer prices this year. It may not be a huge amount, but changes in the Consumer Price Index of some tenths of a percent are enough to rattle some nerves.
E-commerce is surging, but this comes at the expense of retailers in malls, and entire sectors have already been wiped out. Read… Brick & Mortar Meltdown Hits These Stores the Most
Enjoy reading WOLF STREET and want to support it? You can donate. I appreciate it immensely. Click on the beer and iced-tea mug to find out how:

Would you like to be notified via email when WOLF STREET publishes a new article? Sign up here.