They're the primary stores at malls.
It happens category by category as commerce shifts bit-by-bit to the Internet: Music stores and video stores got wiped out first, then came bookstores. Shops that are able to offer something the Internet does not offer can thrive, but the overall brick-and-mortar bookstore category is a mere shadow of its former self. Department stores got hit hard starting in 2001. Over the past few years, shoe stores got hit, when 15 years ago everyone said that no one would ever buy shoes online. Sporting goods stores are under fire. Small toy stores got mostly wiped out by big toy stores, such as Toys "R" Us, and by Walmart, Target, and other large retailers, But now the Internet is taking out the big toy stores…
Toys "R" Us, which filed for bankruptcy protection last September, had, not unexpectedly, a terrible holiday selling season. The holiday season would have been key for its survival in restructured form, and so it's spiraling into oblivion.
It already obtained court approval earlier in February to close 182 stores in the US and shed 4,500 workers along with them. Now it plans to close another 200 stores in the US and lay off more people, the Wall Street Journal reported last night, based on its sources. After the new round of store closings, the retailer will have slashed its footprint in the US by about half since the bankruptcy filing. Part of the blame goes to its inability – overburdened by debt as it was – to build a vibrant online presence.
Nevertheless, people still say that e-commerce is only a small-ish part of overall retail, and that it's therefore really no big deal. In Q4, the e-commerce share of retail was 9.1%, though up from 8.2% a year ago. But e-commerce sales in the fourth quarter soared nearly 17% from a year ago – the largest jump since Q1 2012 – to a new record of $119 billion.
But this surge in e-commerce is leaving the biggest retail categories largely untouched for now, though this is likely to change. They include auto dealers, gasoline stations, and grocery stores. These three categories alone, at $620 billion in Q4, accounted for 51% of retail sales. These are among the sectors that are still "online resistant."
Among the remaining 49% ($575 billion in Q4), some categories of retailers are holding on, but others have been getting crushed, and the list of those getting crushed is growing.
So I took a look at the specific categories that are being mauled the most by e-commerce, based on the categories used in the Commerce Department's retail sales reports. On one side is E-commerce; on the other side are these categories that have gotten hit the hardest so far:
Sporting goods, book, hobby, toy, game, and music stores
Electronics and appliance stores
Department stores
Shoe stores
Clothing, & clothing accessory stores
Together they accounted for or about 28% of the "under attack" segment. Their combined sales of $159 billion in Q4 2017 were just above where they'd been in Q4 2005 despite 11% population growth over the 12-year period and 30% in price increases as measured by the Consumer Price Index: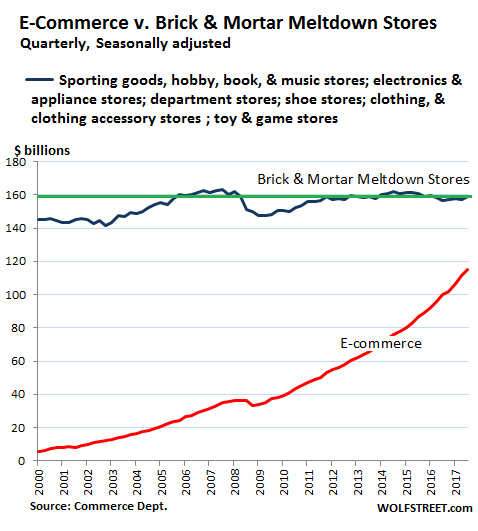 This category of "Brick & Mortar Meltdown Stores" contrasts with overall retail, which includes e-commerce but not sales at restaurants and bars. This measure of retail sales grew 5.7% year-over-year in Q4 2017, the hottest growth since 2012. Since 2005, retail sales have grown 36%, not quite matching the combined effect of price increases and population growth – so not much to write home about on a "real" per-capita basis. But at least superficially, the trend is up: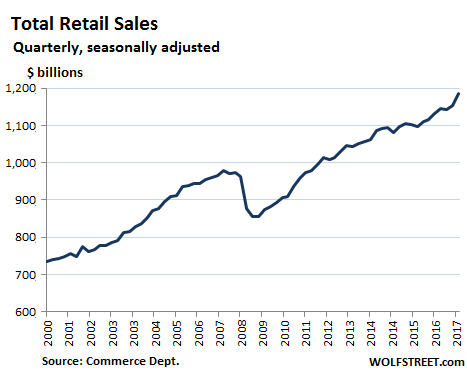 The chart below compares e-commerce sales to sales at clothing & clothing accessory stores, whose sales in Q4 were up only 10% in total over the past five years, despite 8% inflation as measured by CPI over the same period and 4% population growth. So the upward slope no longer looks so good, especially when compared to the slope of e-commerce sales:
Department stores were among the earliest stores to get clobbered by e-commerce. Sales peaked in 2001 and have since plunged 34%, despite inflation and population growth: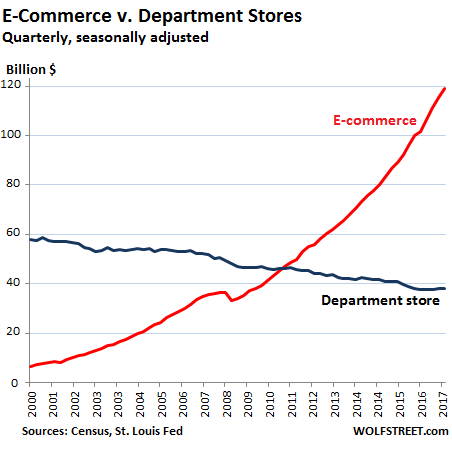 Other Brick-and-Mortar Losers included the two categories in the chart below:
Sporting goods, hobby, book, music, toy, and game stores: sales are down 1% over the past 10 years, despite inflation and population growth.
Electronics & appliance stores: sales are down 22% over the past 10 years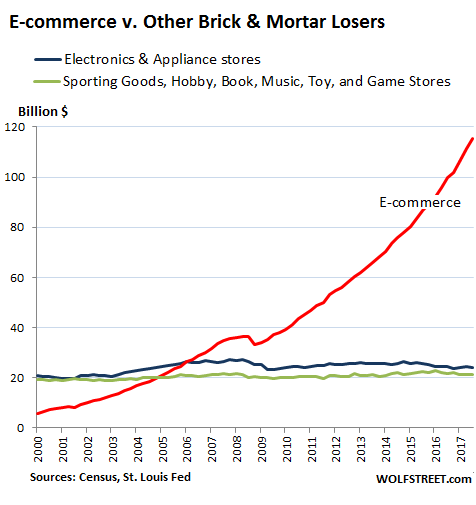 These are the sectors that have been losing the battle against e-commerce, starting 20 years ago. E-commerce will spread deeper into other categories as consumers become ever more comfortable buying things online that they didn't used to buy online. This conversion is happening constantly, as consumer preferences and technologies change. Many of the stores in those categories, like music stores before them, will essentially disappear over the next few years. And these stores are the primary occupants at malls.
For many mall landlords – despite what they may claim publicly – this means that they will have to find some other purpose for that piece of land. But that process doesn't happen overnight. It took 20 years to get this far, and it will take many more years of upheaval before some sort of equilibrium will be established among the survivors.
Surging home prices have primed the housing market for this. Read…  What will Spiking Mortgage Rates, High Home Prices, & the New Tax Law Do to the Housing Market?
Enjoy reading WOLF STREET and want to support it? You can donate. I appreciate it immensely. Click on the beer and iced-tea mug to find out how:

Would you like to be notified via email when WOLF STREET publishes a new article? Sign up here.