A big bad surprise for Wall Street's auto gurus.
New-vehicle replacement demand in the Houston metro area after Hurricane Harvey was supposed to be so huge that it would boost US auto sales overall and turn the year around. Over the first seven months of 2017, total new vehicle sales in the US had been down nearly 300,000 units compared to a year earlier. At the time, 2017 was shaping up as the first down-year since the Great Recession, and Harvey, as far as Wall Street auto-industry gurus and stock promoters were concerned, came just in time to fix this problem – not only for 2017 but also for 2018.
The numbers that were promoted as "replacement demand" grew bigger and bigger even before the Hurricane had disappeared and were so huge that they would make up for the new-vehicle-sales weakness in the rest of the nation.
This turned out to have been sheer hype.
After collapsing by 45.5% in August, as Hurricane Harvey was hitting, new-vehicle sales boomed in September, October, and November, but not nearly enough to pull US new-vehicle sales out of their funk. And by then, the fuel had been burned.
In early January, before we knew how sales had done in Houston in December, we got the bitter news: total new vehicle sales in the US fell 5.2% in December and ended the year down 1.8% from 2016, and down 1.4% from 2015.
Today, the Houston Automobile Dealers Association's InfoNation released the data for the debacle that had happened in December in the Houston metro: against all expectations, new-vehicle sales plunged 13.5% from the beaten-down levels a year ago to just 20,806 units, right back into oil-bust territory. And POOF went the "replacement demand" theory that was supposed to help out in 2018: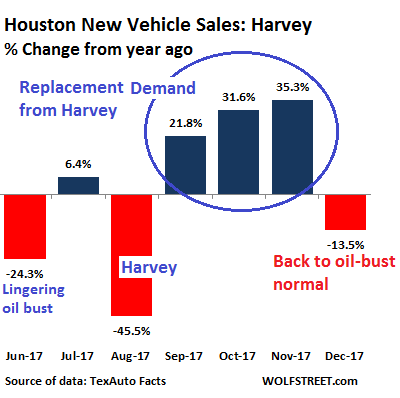 It brought sales for the rolling 12-month period to 290,354 new vehicles, according to TexAuto Facts, published by InfoNation, and cited by the Greater Houston Partnership. This was down 3% from the oil-bust levels in 2016, and down 23% from the levels of 2014 and 2015 (chart via Greater Houston Partnership, red marks added):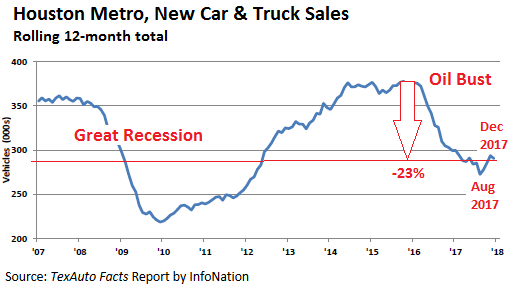 And here is the bitter disappointment, according to the report: "Harvey replacements accounted for an estimated 30,000 vehicles…." Just about 10% of Houston's beaten-down 2017 sales.
But here's the good news: Texans like trucks, SUVs, and crossovers, on which automakers slap massive Monroney stickers and even after discounts and incentives obtain fat margins. Dealers also fare better with them than with cars. In December, in the Houston metro, the share of trucks, SUVs, and crossovers reached a record 71.4% of total sales (for the US overall it was 63.9%).
Given the higher prices of the truck-and-SUV segment – average retail price of $40,803 in December, vs. $32,289 for cars – the average retail sales price for all vehicles reached an all-time record of $38,320.
The used-vehicle market in the Houston metro experienced the same kind of debacle: total used-vehicle sales in December dropped 14% from November to 53,965 and was down 35% from October – which had been the peak in used-vehicle replacement buying with 83,000 sales.
InfoNation's report added:
The DMV counted 232,429 flood damaged vehicles through the end of December, significantly fewer than InfoNation's estimate of 300,000. That may mean that a large number of owners never reported damage to the DMV.
InfoNation's initial estimate of a replacement demand of 300,000 new and used vehicles had been among the most conservative out there. Wall Street gurus promoted figures of 500,000 vehicles or even 600,000 vehicles.
"Many flood damaged vehicles were apparently sold out of state or salvaged without reporting a flood damage change to the vehicle title," said InfoNation's Steve McDowell.
Canadians, are you getting some real deals on used vehicles from south of the border? Flood cars can travel far to find inattentive buyers.
"Purchase of used vehicles to replace flood damaged vehicles was higher than anticipated, while replacement by new vehicles fell short of estimated volume," McDowell said, referring to his conservative estimates, and not the hype from Wall Street. "This was a result of a large inventory of late model used vehicles and consumer focus on repairing or replacing damaged housing, some of which is not yet completed."
With this data of December sales in Houston, the Wall Street propaganda about replacement demand pushing up new vehicle sales in 2018 has once and for all fallen flat. This demand was largely taken care of by November. New vehicle sales this year will get no push from Harvey's replacement demand. Instead, it will be the same tough slog on a downward slope as in 2017.
But this time, there's no Financial Crisis, and no QE in sight. Read…  Asset Class of Vintage Cars Drops More than during 2008/2009
Enjoy reading WOLF STREET and want to support it? You can donate. I appreciate it immensely. Click on the beer and iced-tea mug to find out how:

Would you like to be notified via email when WOLF STREET publishes a new article? Sign up here.