But this time, there's no Financial Crisis, and no QE in sight.
The asset class of beautiful machines is suffering. These assets range from a rare 1962 Ferrari 250 GTO Berlinetta, which sold for $38.1 million with impeccable timing in August 2014 before the peak, to American muscle cars that can be acquired for a few thousand bucks.
According to the Hagerty Market Index, prices of vintage automobiles that sold at private sales and at auctions fell 3% from a month ago, are down 7% for the year, and are down 17% from the all-time high in August 2015. This 17% drop from the peak is worse than the 16% drop from peak-to-bottom during the Financial Crisis.
The index in the January report, at 154.33, has now two declining years in a row under its belt.
The index provider, Hagerty, specializes in insuring vintage automobiles. Its Hagerty Market Index, unlike stock market indices, is adjusted for inflation via the Consumer Price Index. So these are "real" changes in price levels.
The chart below from Hagerty's January report shows how the index surged 84% on an inflation-adjusted basis from August 2009 to its peak in August 2015, how it surged 54% on an inflation-adjusted basis above its prior peak, and how it has since given up one-third of those gains. The 16% drop during the Financial Crisis was triggered by financial panic. But there is no Financial Crisis today, and no financial panic. Instead, financial conditions in the markets are ultra-easy, and something else entirely is causing these price drops (dates added):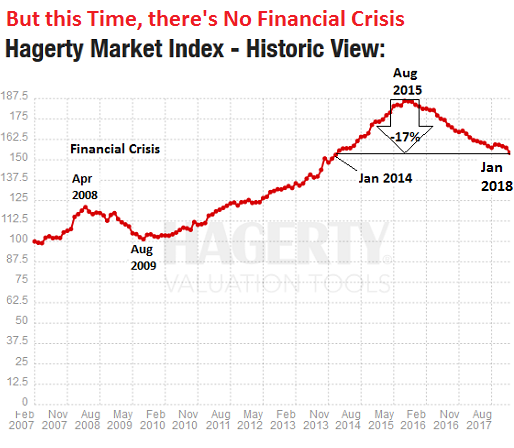 During the Financial-Crisis, the index peaked in April 2008 at 121.0 then plunged 16% in a little over a year to bottom out in August 2009 at 101.39. By then, the liquidity from the Fed's zero-interest-rate policy and QE was washing across the world, and all asset prices began to soar, and the owners of those beautiful machines received a powerful boost from the Fed's intention to create the "wealth effect," as Bernanke himself called it.
But this time it's different. This time, there is no Financial Crisis and therefore no QE in sight. The drop has now been going on for over two years, in an all-too-orderly manner. The peak occurred just before the Fed embarked on its rate-hike cycle in December 2015. And now the Fed is getting more serious about tightening, and the QE Unwind is already underway.
More data points from Hagerty:
Both the auction and private markets were down month-over-month.
The private market experienced a slight increase in December with a slight decrease for January.
"Auction activity saw the largest drop of any section this month."
In the survey, owners became more negative. The number of those who believe the values of their own vehicles are rising dropped further, "continuing the trend seen throughout almost all of 2017."
"Expert sentiment" was more upbeat. "Market observers cited optimism surrounding the auctions in Scottsdale as well as tax cuts for their positive outlook going into the beginning of the year."
The tax cuts are going to solve everything. That's the meme right now. That's what everyone is hoping for. Overpriced assets, no problem.
And there is always hope for the upcoming auctions. The Scottsdale auctions start this week and go into the weekend. But it was precisely prior auctions that have turned from hope to disappointment and have brought prices down over the past two years.
Maybe it'll be different this time. Maybe the tax cuts will boost prices. We can always hope. But it might not be a great idea to count on cryptocurrency billionaires and millionaires to swoop into Scottsdale with their "hot wallets" and bid ferociously and push up prices; at the moment, they're watching half or much more of their assumed wealth tied up in cryptos evaporate before their very eyes, and that is too painful an experience to have emotional room left to appreciate a multi-million-dollar beautiful machine.
Across the US, the blistering seven-year commercial real estate boom, backed by $4.3 trillion in bank loans, is ending. Read…  Commercial Real Estate Suffers First Down-Year since 2009
Enjoy reading WOLF STREET and want to support it? You can donate. I appreciate it immensely. Click on the beer and iced-tea mug to find out how:

Would you like to be notified via email when WOLF STREET publishes a new article? Sign up here.