A blistering boom, backed by $4.3 trillion in bank loans, ends.
In the era of the never-ending "Everything Bubble," where asset prices can do only one thing, namely surge, it might come as an unwelcome surprise: Commercial real estate prices had their first down-year since the Financial Crisis, according to the Green Street Property Price index, which ended December 2017 at 125.96, a notch below its level a year ago (126.66).
The index is flat with its level 18 months ago, in June 2016. This is when the index began to plateau, after a huge surge that pushed the index up 106% from May 2009 and leaves it 26% above the peak of the prior crazy bubble that imploded with spectacular results.
Even after inflation — according to the Fed's favorite measure, core PCE, consumer prices have risen 18% since May 2007 — the index is significantly higher than at the peak of the prior crazy bubble.
This chart of the Green Street Commercial Property Price Index shows the phenomenal eight-year boom that has now been teetering at an uneasy plateau for a year-and-a-half.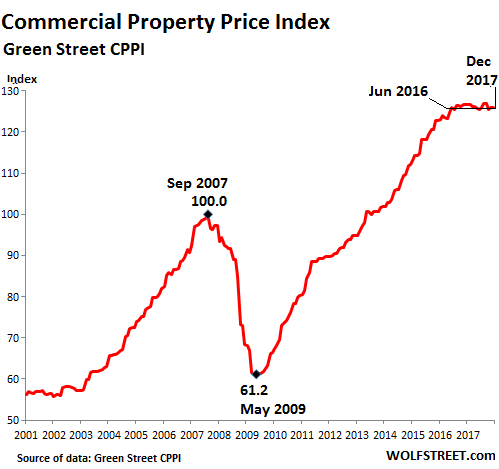 The chart below shows year-over-year percentage changes of the CPPI. Note how enormously volatile CRE prices can be when the math doesn't work out anymore (red columns), or when enthusiasm reigns (blue columns), with double-digit year-over-year price plunges and surges being part of the deal: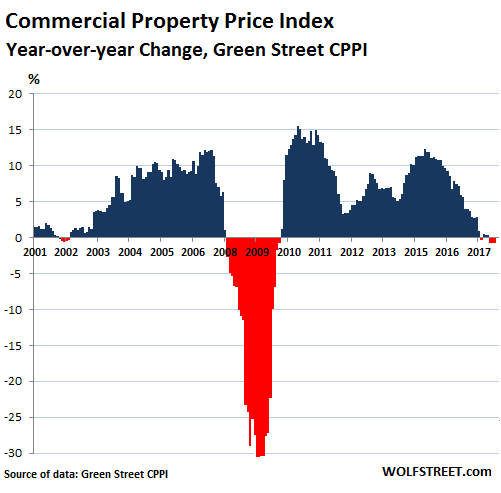 Commercial real estate is highly leveraged, backed by $4.3 trillion in bank loans, as of November 2017. Much of this debt is held by smaller banks with less than $50 billion in assets, concentrated in CRE in their local markets. And these banks are less able to withstand shocks to collateral values. Boston Fed President Eric Rosengren has been fretting about them for a while. The "significant decline in collateral values" of CRE was one of the root causes of the Financial Crisis, as he said in a presentation on the topic.
The CPPI is based on estimates of private-market value for REIT portfolios across the five major property sectors of institutional-quality commercial real estate, according to Green Street Advisors.
It was a mixed bag among the sectors.
Brick-and-mortar retail space is hurting. The index for strip retail fell 3% in 2017, and the index for mall prices dropped 11%.
Self-storage, formerly a white-hot sector, having surged 180% since the trough of the Financial Crisis, has turned cold after an onslaught of new supply, and prices are down 2% for the year.
Lodging took a 12% plunge that started in 2015 and never recovered. In 2017, the index rose 2% from the beaten-down levels in 2016. Lodging has been under attack from an invasion on its turf by home-sharing rentals, such as Airbnb. Even at its peak in 2015, the index barely hit its peak before the Financial Crisis, before dropping again. It is now down about 10% from its 2007 peak.
Industrial is hot. The index rose 9% for the year. Industrial includes warehouse space for "fulfillment centers," as Amazon calls them. They are in demand, not only from Amazon, which has been leasing them around the country, but also from other logistics and retail companies involved in the online retail boom. This is the irony of online retail: it involves a lot of "brick-and-mortar" facilities, but they're warehouses and distribution centers instead of malls.
The apartment sector is still hanging on by its fingernails, with prices up 1% for the year, but down a smidgen from their peak in early 2016, at which point the index had surged 40% above the bubble peak in 2007.
The office sector index rose 3% in 2017, a far cry from the price surges in past years.
Healthcare is up 4% for the year as the supply of healthcare facilities is sprouting everywhere, and as the industry takes up an ever larger slice of the economy.
CRE is now facing rising interest rates, in addition to unique challenges for each segment, including a flood of new supply of high-end apartments in some markets, such as in Seattle, oversupply in the self-storage segment, a surge of home-sharing in the lodging segment, or the inexorable structural shift of retail from malls to online – and often enough by the same retailers.
Retail sales are doing well, powered by online sales. But brick-and-mortar retail is struggling. On a daily basis, the details drive it home. On Thursday, Walmart suddenly closed 63 of its Sam's Clubs. Some of them will be converted to fulfillment centers for its online operations (see "Industrial" above). A few days earlier, Sears had announced more store closings, as had Macy's. But Walmart and Macy's, along with many other retailers that want to stay relevant, even as they're shrinking their brick-and-mortar footprint, are investing heavily in their thriving online platforms. Which is of no help to mall owners.
So what the heck had gotten into Walmart? "This is how fly-by-night companies operate." Read…  Walmart Suddenly Shutters Numerous Sam's Clubs without Notice, 11,000 Jobs Impacted, Chaos Breaks out on Twitter
Enjoy reading WOLF STREET and want to support it? You can donate. I appreciate it immensely. Click on the beer and iced-tea mug to find out how:

Would you like to be notified via email when WOLF STREET publishes a new article? Sign up here.