Rents fall most in the Amazon neighborhood, as new supply piles up.
In Metropolitan Seattle, there are currently 24,554 apartment units under construction and an additional 35,009 units in the development pipeline, counting only units in buildings with 50+ apartments, according to Apartment Insights. These are the towers that are sprouting like mushrooms. This does not include condos that are purchased by investors and then show up on the rental market. And it does not include units in smaller buildings.
This comes after nearly 12,000 units were completed in 2017. And according to Axiometrics, nearly 8,000 units are scheduled for completion in the first half of this year alone. This is the phenomenon that "crane counters" have been witnessing for a while.
In relative terms, how much of an onslaught is this, and how long might it take for renters to occupy these units (absorption)?
In 2017, in buildings with 50+ units, occupancy increased by 6,906 units. Anything completed in 2017 beyond that is vacant. The neighborhood of South Lake Union – think Amazon headquarters and biotech – has the largest share of this oncoming supply, according to Apartment Insights: 3,949 units under construction (16% of the total) and 3,521 units in planning stages. Redmond is number two, with 3,174 units under construction and 3,269 units in the planning stages.
So what does this onslaught of new supply – much of it in high-end high-rise buildings – mean for the rental market?
Vacancy rates:
Vacancies of "stabilized" apartment units – so called after the towers have been on the market long enough to have reached stable occupancy – "suffered," as the report says aptly, an increase of 0.8%, pushing the stablized vacancy rate to 5.4% in the fourth quarter.
This stabilized vacancy rate excludes recently completed buildings scrambling to rent out their units.
Across 37 submarkets, 32 experienced increases in stabilized vacancy rates in Q4. Vacancy rates ranged from 3.2% in Des Moines to 7.3% in Everett/Mukilteo. Vacancies increased by 2.5% in South Lake Union, the largest increase of any area. This is also the neighborhood with the most new units under construction and in the pipeline. This is going to get interesting.
Absorption:
During Q4, occupancy in buildings with 50+ units increased by 908 units. In other words, 908 units were absorbed. But occupancy also decreased in some neighborhoods, with Kent losing the most (89).
For the year, occupancy increased by 6,906 in the Seattle Metro. South Lake Union experienced the largest increase, with 1,057 units absorbed during the year, but this is where 3,949 units are under construction and an additional 3,521 units are in planning stages, and it is already experiencing a jump in vacancies.
Rents:
Rents are high in that segment of the multi-family market but somewhat less high than they were. In Q4, the average monthly gross rent fell 2.9% from the prior quarter, to $1,647 ($2 per square foot). They ranged from $2,328 in Seattle Downtown to $1,212 in SeaTac.
The most expensive neighborhood, Seattle Downtown, experienced the steepest rent decline of 6.6% from the prior quarter, but was still up 4.5% from a year ago.
Apartment Insights converts these and other data points into five indices: absorption, vacancies stable, vacancies all, gross rents, and net rents. These indices show a rising slope in a chart when things go the way of developers and landlords (rents rise, vacancies drop, etc.) and a declining slope when they head the other way (falling rents, rising vacancies, etc.). This is the chart of the five indices over the past five quarters: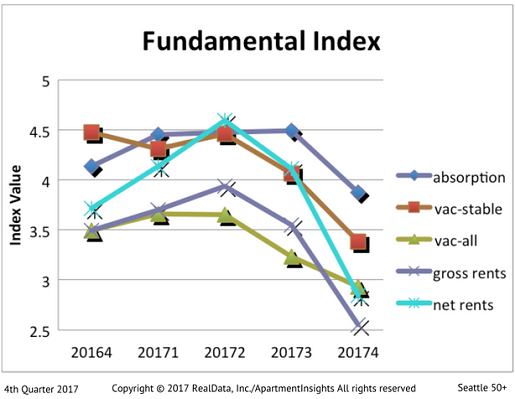 What I gather from this chart is a deterioration over the past two quarters – in a market that remains strong but where the onslaught of new supply is now showing some impact.
A week ago, I reported that the median "asking rent" across the Seattle Metro in all multifamily buildings, including just-completed new construction – a different measure than gross rent in 50+ unit stabilized buildings – was up about 1% from a year ago but was down from the peak , with the one-bedroom asking rent down 7% from its peak in August 2017, and the two-bedroom asking rent down 8% from its peak in April 2016.
What emerges from this data is the picture of a market where there is no "housing shortage." There are plenty of move-in ready units available, and landlords are eager to rent them out. But there is a shortage of apartments that people who don't work for Amazon or in biotech can afford. In this aspect, Seattle parallels other expensive cities, such as San Francisco, which has its own boom of high-end high-rise construction, putting plenty of units on the market, but not in a price category that the median wage earner in the City can afford. This factor will put downward pressure on rents across the spectrum.
Rents tank in the most expensive US metros. Even Seattle cools off, awash in new supply. But now there's a twist. Read…  Suddenly, US Rental Markets Diverge by Bedrooms
Enjoy reading WOLF STREET and want to support it? You can donate. I appreciate it immensely. Click on the beer and iced-tea mug to find out how:

Would you like to be notified via email when WOLF STREET publishes a new article? Sign up here.