Shares Soar. Bond market on cloud 9.
Wall Street gushed over Netflix's "earnings" Monday after-hours, sending its shares up 8.5% to $246, from around $10 five years ago, giving it a market capitalization of over $100 billion for the first time. Actually, what everyone gushed over were the metrics that Netflix wants everyone to gush over, namely the number of subscribers that pay monthly fees and subscriber additions, and they're growing. Revenues jumped 32% to $11.7 billion for the year 2017. And there were some gems in its earnings report today:
Its voracious cash-burn requires massive borrowing
Netflix had a "free cash flow" (FCF) of negative $524 million in Q4, which brought the total for 2017 to negative $2 billion. FCF is a measure of the amount of cash it earns or burns. For 2018, Netflix expects to burn $3 billion to $4 billion in cash, it said. This is not exactly a propitious trend: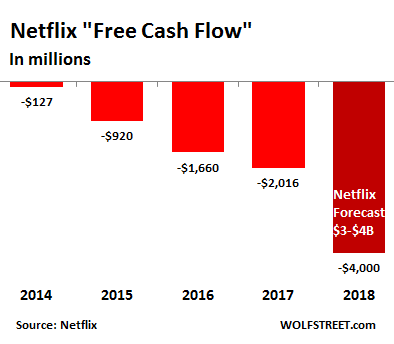 A company that has been publicly traded for 15 years should have figured out by now how to be cash-flow positive. But no way. That's not the goal. The goal is to create new content no matter what the costs, and borrow the money to do it, and hope that revenues will eventually catch up. That's what it said:
When we develop a title like Bright, the cash spend is 1-3 years before the viewing, associated membership growth, and P&L expense. Thus, the faster we grow our originals budget (particularly for self-produced content), the more cash we consume. We are increasing operating margins and expect that in the future, a combination of rising operating profits and slowing growth in original content spend will turn our business FCF positive.
Meanwhile, back at the balance sheet, to make ends meet under these conditions, Netflix has to sell a running ton of debt, including about $3 billion of bonds in 2017:
$1.6 billion in 10.5-year notes rated B+ (four notches into junk) at yield of 4.875%, in October 2017;
€1.3 billion (currently $1.6 billion) of 10-year unsecured junk bonds at a yield of 3.625% to take advantage of the ludicrously low borrowing costs for junk-rated companies in the Eurozone.
The $3 billion in borrowing in 2017 was up from $1 billion in 2016, and up from much smaller amounts in prior years. And 2018 issuance will be a doozie – "We anticipate continuing to raise capital in the high yield market," it said – given its cash burn of $3-$4 billion.
So the pile of debt has ballooned in the year 2017 at a disconcerting speed:
Non-current liabilities rose 15% to $3.33 billion.
Long-term debt soared 93% to $6.5 billion.
Total liabilities jumped by 41%, or by nearly $5 billion, to $15.4 billion.
The "net income" mirage
The company reported "net income" of $185 million for Q4 and $559 million for the year 2017. It said it burned $2 billion in cash. And then it said something else:
The new limitation on deductibility of interest costs is not expected to affect us.
The new tax law limits the extent to which companies can deduct interest expense from income. Under the old tax law, 100% was deductible. But in order to be able to deduct it, and thus save on taxes, a company must have taxable income to deduct it from. A company that loses money doesn't pay income taxes, neither under the old tax law nor under the new tax law.
For 2018, there are limitations on the deductibility of interest expense, but these limitations don't "affect" Netflix. Why? Because Netflix does not expect to pay any income taxes. In other words, on its tax return to the IRS, Netflix expects to report a loss.
Is the bond market on cloud 9?
So why would the bond market continue to fund a junk-rated operation with a voracious cash-burn rate, and with nearly $10 billion in long-term debt and "non-current liabilities" that will likely grow to $13 billion or $14 billion in 2018? Why would the "high-yield" end of the bond market fund that $3 to $4 billion Netflix will burn in 2018? Netflix provided part of the answer: "High yield has rarely seen an equity cushion so thick," it said.
In other words, the junk-bond market has rarely seen this kind of share price and market capitalization, and the sky-high share price itself – or the "value of the firm," as Netflix put it – "is what also ultimately secures our debt."
This shows that the corporate bond market, and particularly the high-yield end of it, is still on cloud 9, even as the Treasury market is starting to keel over. Investors buy anything with a slightly higher yield, for now. And as long as they do, Netflix can get funding at a very low cost despite its junk rating. And given the supply of easy funding, its share price can stay sky-high, and the sky-high share price guarantees this funding. If this sounds circuitous, it's because it is. But hey, that's what a bond market and a stock market on cloud 9 will do.
The US government bond market has soured, even the 10-year yield is surging, and mortgage rates have jumped. Read… What Will Rising Mortgage Rates Do to Housing Bubble 2?
Enjoy reading WOLF STREET and want to support it? You can donate. I appreciate it immensely. Click on the beer and iced-tea mug to find out how:

Would you like to be notified via email when WOLF STREET publishes a new article? Sign up here.