One of the "bigger fears": dip buyers get burned, turn into sellers, "get an exponential move to the downside."
As far as the stock market is concerned, it took a while – in fact, it took eight years, but retail investors are finally all in, bristling with enthusiasm. TD Ameritrade's Investor Movement Index rose to 8.59 in December, a new record. TDA's clients were net buyers for the 11th month in a row, one of the longest buying streaks and ended up with more exposure to the stock market than ever before in the history of the index.
This came after a blistering November, when the index had jumped 15%, "its largest single-month increase ever," as TDA reported at the time, to 8.53, also a record: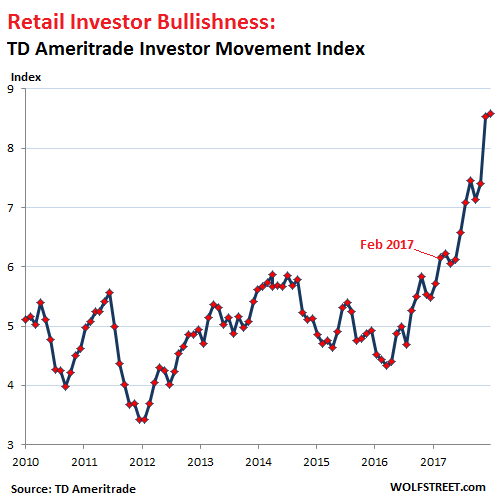 Note how retail investors had been to varying degrees among the naysayers from the end of the Financial Crisis till the end of 2016, before they suddenly became true believers in February 2017.
"I don't think the investors who are engaging regularly are doing so in a dangerous fashion," said TDA Chief Market Strategist JJ Kinahan in an interview. But he added, clients at the beginning of 2017 were "up to their knees in it and then up to their thighs, and now up to their chests."
The implication is that they could get in a little deeper before they'd drown.
"As the year went on, people got more confident," he said. And despite major geopolitical issues, "the market was never tested at all" last year. There was this "buy-the-dip mentality" every time the market dipped 1% or 2%.
But one of his "bigger fears" this year is this very buy-the-dip mentality, he said. People buy when the market goes down 1% or 2%, and "it goes down 5%, then it goes down 8% — and they turn into sellers, and then they get an exponential move to the downside."
In addition to some of the big names in the US – Amazon, Microsoft, Bank of America, etc. – TDA's clients were "believers" in Chinese online retail and were big buyers of Alibaba and Tencent. But they were sellers of dividend stocks AT&T and Verizon as the yield of two-year Treasuries rose to nearly 2%, and offered a risk-free alternative at comparable yields.
And he added, with an eye out for this year: "It's hard to believe that the market can go up unchallenged."
This enthusiasm by retail investors confirms the surge in margin debt – a measure of stock market leverage and risk – which has been jumping from record to record, and hit a new high of $581 billion, up 16% from a year earlier.
And as MarketWatch reported, "cash balances for Charles Schwab clients reached their lowest level on record in the third quarter, according to Morgan Stanley, which wrote that retail investors 'can't stay away' from stocks," while the stock allocation index by the American Association of Individual Investors "jumped to 72%, its highest level since 2000…" as "retail investors – according to a Deutsche Bank analysis of consumer sentiment data – view the current environment as "the best time ever to invest in the market."
So we're assured that absolutely nothing can go wrong, now that retail investors have become true believers and have put every cent to work in the stock market.
This comes just as the Fed has started to unwind QE, shedding Treasuries and mortgage-backed securities, as the ECB has tapered its QE to €30 billion a month, down from €80 billion, and as even the Bank of Japan, after tapering its purchases for a year, has actually allowed its colossal balance sheet to decline for the first time since 2012. Read… QE Party Over, even by the Bank of Japan
Enjoy reading WOLF STREET and want to support it? You can donate. I appreciate it immensely. Click on the beer and iced-tea mug to find out how:

Would you like to be notified via email when WOLF STREET publishes a new article? Sign up here.