Tripped up by "eroding affordability and persistently low inventory."
Pending home sales in California, based on signed contracts, fell 2.6% in October compared to a year ago, the fourth month in a row of year-over-year declines, after having dropped 6% in September, 3.5% in August, and 2.6% in July.
"A continued scarcity of housing inventory, which drove up home prices, may squeeze the market heading into the closing months of the year," explained the California Association of Realtors (C.A.R.) in the report.
Of the three major regions, only the Central Valley booked gains.
San Francisco Bay Area: Pending home sales dropped 10.5% year-over-year in October, after having dropped 10.8% in September, 11.6% in August, 11.5% in July… the 13th month in a row of year-over-year declines. In the two counties that make up the core of Silicon Valley – the counties of San Mateo and Santa Clara – pending sales plunged 10.9% and 21.4%! San Francisco County was "the anomaly," as the report put it, with pending sales jumping 15.1%.
Southern California: Pending home sales fell 7.3% after having fallen 7.1% in September, and 3.8% in August. In July, they'd still inched up 1.4%. The counties with the sharpest declines were San Diego (-11.4%), Riverside (-14.0%), and San Bernardino (-10.4%). But year-over-year declines also hit Los Angeles (-4.7%) and Orange (-4.9%).
Central Valley region: Pending home sales rose 5.1% year-over-year, driven by the 6.6% increase in Sacramento County, where pending sales had plunged 16.8% the prior month.
As the sharp reversal of the Sacramento data from September to October shows, pending home sales can be volatile. But if they start pulling long enough and hard enough in the same direction, they're an indication of what actual sales might look like over the next few months. In the Bay Area, pending homes sales have been plunging in the double digits for months. And even Southern California is no longer immune.
What's the biggest concern among brokers?
44% cited "declining housing affordability/inflated home prices/rising interest rates." The interest rate concern is fascinating because 30-year fixed-rate conforming mortgages are still quoted below 4%, which is historically low.
Another 30% of brokers cited a lack of available homes for sale as their biggest concern.
Others cited "a slowdown in economic growth, lending and financing, and policy and regulations."
In a separate report on sales and median prices of single-family detached houses – not including condos and townhouses – C.A.R. blamed the decline in actual sales of houses (-3.4% in October compared to a year ago) on these factors:
As we enter the fall home-buying season, we're seeing signs of the market slowing as eroding affordability and persistently low housing inventory cut into home sales.

Moreover, the looming tax reform bill that eliminates important incentives that help first-time homebuyers and existing homeowners will only further adversely impact the housing market.
The statewide median price – half sell for more, half sell for less – of single-family detached houses declined for the second straight month in October to $546,430, after a record August, and remains up 6.1% from a year ago. Active listings dropped 11.5% from a year ago:
Since the beginning of the year, active listings have declined by more than 10% every month, and the number of available listings for sale has trended downward for more than two years.
At the current sales rate, unsold inventory dropped to 3.0 months' supply in October, down from 3.4 months' a year ago.
And the median price of single-family detached houses (not including condos and townhouses) has reached these levels, according to C.A.R. – the craziest ones in red: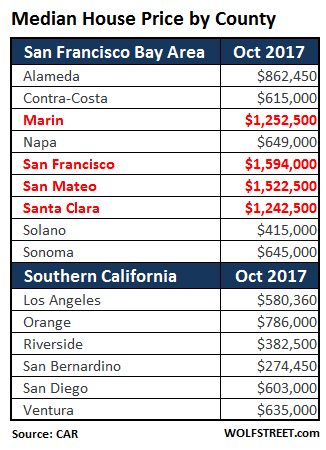 But these are the median prices for single-family detached houses only. Condo and townhouses are not included. And that makes a difference. For example, in San Francisco condos outsell single-family houses by 60%. The median house price soared 13% in October year-over-year, to $1.59 million, after a record number of luxury home sales. But the median condo price fell a smidgen year-over-year to $1.13 million as a flood of new supply has been coming on the market [read… San Francisco House Prices Go Nuts, Condo Prices Stall].
Across California, listing prices of the homes under contract got cut more often: In October, 32% had their listing price reduced, up from 26% in September.
Sales above asking price have declined, and sales below asking price have increased:
23% of pending sales were above asking price in October, down from 29% in September – at an average premium of 9%.
46% of pending sales were below asking price, up from 28% a month earlier – at an average discount of 12%.
30% sold at asking price, down from 43% a month ago.
What gives? After years of surging prices, buying a home has moved out of reach for many households. And existing homeowners who have trouble moving up to a nicer place don't put their current homes on the market. Hence the tight supplies of houses – but not of condos. This is causing some shifts in the dynamics of the market, with the condo market already showing signs of weakness in the pricing arena.
How much have home prices in Silicon Valley surged beyond the prior bubble peak? And by how much have household incomes inched up? Read… The Cities in Silicon Valley with the Biggest Housing Bubbles
Enjoy reading WOLF STREET and want to support it? You can donate. I appreciate it immensely. Click on the beer and iced-tea mug to find out how:

Would you like to be notified via email when WOLF STREET publishes a new article? Sign up here.