It actually wasn't that lousy.
Voices will once again clamor with renewed vigor – after having been muffled yesterday by the mini-spike in inflation – for the Fed to back off its tightening trajectory, given today's reports on retail sales and industrial production. But the headlines got it wrong.
So yes, comparing August to July, retail sales were ugly. To make any sense at all out of these monthly comparisons, the data is adjusted for seasonal variation and holiday and trading-day differences and are only as good as these adjustments.
And in August, according to the Commerce Department, total retail sales fell 0.2% from July, the largest monthly decline in six month, mostly triggered by a 1.6% drop in sales at new- and used-vehicle auto dealers and auto parts stores.
These sales at auto and parts dealers differ from the monthly numbers that automakers report — they report the number of units delivered to customers, new vehicles only. But today's numbers are in dollars and include sales of new and used vehicles and auto parts.
Nevertheless, they share the impact of hurricane Harvey. Automakers reported earlier this month a 6.4 % year-over-year decline in the seasonally adjusted annual rate of sales of new vehicles. In the last week of August, hurricane Harvey had brought new and used vehicle sales in a large auto market to essentially zero. This weighs in today's numbers: Sales at auto and parts dealers are by far the largest category, accounting for 21% of total retail sales!
Those changes in seasonally adjusted sales from July to August were the focus of the headlines. But on a year-over-year basis, comparing August 2017 to August 2016, without seasonal adjustments, total retail sales rose 3.5%.
This chart of year-over-year changes in total retail sales, not seasonally adjusted, shows the same middling range of sales increases we've had for years. Note that these percentage changes are not adjusted for price changes: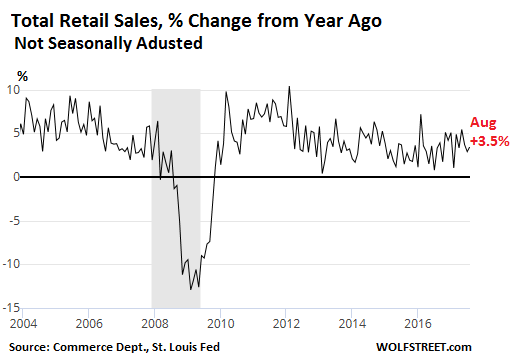 Within those retail sales, sales at non-store retailers (mostly online) rose 8.4% year-over-year, building materials 8.4%, and even auto and auto parts sales rose 1.5%  year-over-year. Yup, despite Harvey. New vehicles are struggling, but their prices are up, and used vehicles are hot.
The only year-over-year decliners were sales at electronics and parts stores (-3.5%), sporting goods, hobby, book, and music stores (-1.4%), and at department stores (-0.8%), many of them tangled up in the brick-and-mortar meltdown.
The crummy industrial production numbers that the Federal Reserve released today paint a similar picture. On a monthly basis, seasonally adjusted industrial production in August fell 0.9% from July, the first monthly decline in seven months and the largest monthly decline since May 2009.
The declines were booked at manufacturers (-0.3%), utilities (-5.5%), and mining (-0.8%). Production declined for business equipment (-0.4%), consumer goods (-0.7%), and construction (-0.6%). But auto production rose 2.2%, after a 4.2% drop July.
Harvey hit oil-and-gas drilling activities, the vast refining and petrochemical sector around Houston, manufacturing plants, utilities by taking down power lines, creating blackouts, cutting off water supplies in some areas… The Federal Reserve explains:
Hurricane Harvey, which hit the Gulf Coast of Texas in late August, is estimated to have reduced the rate of change in total output by roughly 3/4 percentage point. The index for manufacturing decreased 0.3 percent; storm-related effects appear to have reduced the rate of change in factory output in August about 3/4 percentage point. The manufacturing industries with the largest estimated storm-related effects were petroleum refining, organic chemicals, and plastics materials and resins.
And yet, the industrial production index, at 104.7 in August, was up 1.5% from August 2016. Note in the chart how the energy bust had crushed overall industrial production in 2015 and 2016: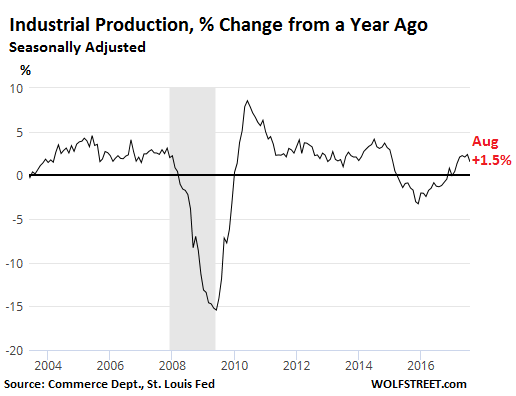 There are plenty of things to worry about, including the auto sector, were production is down 3.6% over the past year. The weakness in the auto sector in terms of new vehicle retail sales started in mid-2016, and production has to follow. And growth in manufacturing overall has been nothing to write home about for years.
Harvey and Irma are going to impinge on US economic numbers – first one way, then the other. But overall, these are essentially the same economic conditions that persisted a year ago, when the Fed began in earnest its tightening cycle, and there is nothing in these numbers that is outside the new normal, and nothing that would lower the Fed's will to continue on its "gradual" path of tightening.
With its infamous, mind-numbing, relentless flip-flopping from 2013 into early 2016, the Fed took its credibility out the back and shot it. And that'll be a problem for the markets. Read…  "You Should Take the Fed at Their Word"
Enjoy reading WOLF STREET and want to support it? You can donate. I appreciate it immensely. Click on the beer and iced-tea mug to find out how:

Would you like to be notified via email when WOLF STREET publishes a new article? Sign up here.