Store traffic already spirals down at Albertson's, Safeway.
Something ugly happened to Albertsons Companies, Inc., the owner of Albertson's, Safeway, and smaller supermarket chains totaling 2,329 stores, 27 distribution centers, and 18 manufacturing facilities: Amazon, on its first day as new owner of Whole Foods, slashed prices on many items by the double digits, some of them by over 30%, and reportedly by up to 43%.
Ferocious price competition from Amazon – a stock-market darling that doesn't need to make money on grocery sales – is the last thing Albertsons Companies needs.
But that's what it got. Amazon's $13.7-billion acquisition of Whole Foods and the price cuts slammed all grocery store chains, and their shares took a beating, but Albertsons Companies is particularly vulnerable, and this comes at a very inconvenient time.
Private equity firms led by Cerberus acquired the supermarket chain Albertson's in a 2005 leveraged buyout. In January 2015, it acquired Safeway in another LBO, which it hoped would eliminate much of the competition. It also acquired regional supermarket chains. Then in 2015, the PE firms wanted to sell the whole schmear, now named Albertsons Companies, via an IPO to the unsuspecting public. But in October 2015, as brick-and-mortar retail began to melt down, it scrapped the IPO.
But they're still trying to unload their investment – now bogged down in $12 billion in debt – to the public. On August 22, just a couple of days before news of Amazon's price cuts at Whole Foods clobbered the industry, Albertsons Companies filed an amended S-1 Registration Statement with the SEC, showing that it wants to keep its hopes for an IPO alive.
The filing's two most revealing operational eye-openers are ongoing nasty losses and declining same-store sales on plunging customer traffic.
First the losses:
Given a series of acquisitions by Albertsons Companies over the years, total revenues rose. These are the revenues and net losses for the past three fiscal years:
Fiscal 2014 revenues: $27.2 billion; Net loss: $1.23 billion
Fiscal 2015 revenues: $58.7 billion (boosted by Safeway acquisition in January 2015); Net loss: $502 million
Fiscal 2016 revenues: $59.7 billion (boosted by acquisition of 29 Haggen Stores and 76 A&P stores); Net loss $374 million
In the first quarter of fiscal 2017 (ended in June 17), revenues of $18.46 billion edged up a tiny 1/3 of a percent year-over-year, while the quarterly net loss of a salty $205 million was 53% higher than the loss in Q1 a year earlier. This is not a propitious trend.
Same-store sales:
Sales at stores open at least one year in fiscal Q1, 2017 (ended in June) fell once again, this time 2.1%, the third year-over year decline in a row. In the chart, note the sharp downturn since Q3 2015: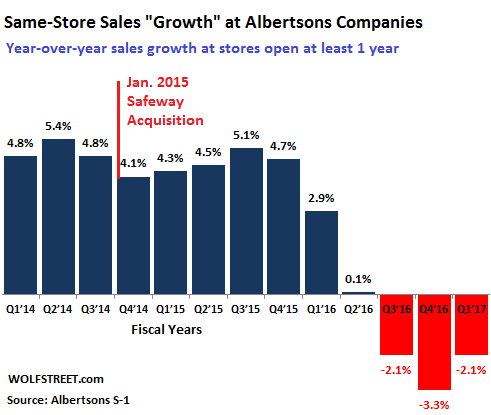 The company blamed the same-store sales decline in Q1 on a 3.7% drop in "customer traffic." This is far worse than the 1.9% drop in customer traffic in the prior quarter revealed in a June filing. Going to hell in a hand basket in just a few months?
The decline in customer traffic was partially "offset" by an increase of 1.6% in average ticket size.
And it blamed "competitive pressures" – this was before Amazon's price cuts at Whole Foods – on the decline in same-store sales: It said it was "negatively impacted by food price deflation in certain categories, including meat, eggs and dairy, together with investments in price to respond to competitive pressures."
But on the eve of the Amazon price cuts at Whole Foods, hope is maneuvered to the front:
[W]e believe our operating playbook has enabled us to improve our competitive positioning in the food retail channel during the period. As a result, we believe we are well-positioned to take advantage of projected food price inflation in the latter half of fiscal 2017 and during fiscal 2018.
We'll get to that hope of "projected food price inflation" in a moment.
The price cuts at Whole Foods were just the latest salvo. It came after two German deep-discounters Aldi and Lidl started firing their own salvos in the US. Aldi announced in June that it would invest $3.4 billion to expand its presence in the US to 2,500 stores by 2022, more than Albertsons currently has! Lidl started muscling into the US market in June and is planning to expand from there. Kroger, Walmart, Target, and all the other grocery sellers have started to respond in what has become a full-fledged price war with powerful new players in the stagnating US grocery market.
But Albertsons' 3.7% drop in customer traffic shows that it's losing customers to competitors. And this started in fiscal Q1 2016, when competition pushed previously strong same-store sales growth off the cliff.
So under the heading, "Risks related to our business and this offering," the filing said: "Competition in our industry is intense, and our failure to compete successfully may adversely affect our profitability and results of operations."
No kidding!
The section, "Risk Factors," lists a slew of competing categories, from supercenters and farmers' markets to "meal solution companies" that will squeeze Albertsons from all sides.
Then there's "consumers' growing desire" to shop online. Although Albertsons has a "growing internet presence," with home delivery and in-store pick-up, "there is no assurance that these online initiatives will be successful." And even if these initiatives are successful, they "may have an adverse impact on our profitability as a result of lower gross profits or greater operating costs to compete."
Nowhere in this endlessly long SEC filing does the company mention the new force breathing down its neck: Amazon's Whole Foods strategy, which doesn't need to make money on grocery sales, and what this will do to the pricing environment. So Albertsons' feverish hopes for "food price inflation in the latter half of fiscal 2017 and during fiscal 2018" is already turning into a pipe dream.
The Chicago grocery sector is an example. Bankruptcies don't help. Even the big chains are closing stores. Read…  Grocery Store Turmoil in Chicago
Enjoy reading WOLF STREET and want to support it? You can donate. I appreciate it immensely. Click on the beer and iced-tea mug to find out how:

Would you like to be notified via email when WOLF STREET publishes a new article? Sign up here.