Its largest & second largest markets. In how much trouble is it?
Hyundai Motor Group is getting brutally crushed in its largest market, China, where it is, or rather was, the third largest automaker behind GM and Volkswagen. And it is getting mauled in its second largest market, the US, where it is the seventh largest automaker behind the Big Three US automakers and the Big Three Japanese automakers.
Hyundai Motor Group came about in 1998 after the Asian Financial Crisis, when it obtained a controlling stake in Kia after Kia went bankrupt. The Korean conglomerate, in addition to automakers Hyundai and Kia, has other affiliates, including Hyundai Steel, logistics company Hyundai Glovis, and auto components supplier Hyundai Mobis, all of which are listed separately on the Korean stock exchange.
These entities support and supply the automakers Hyundai and Kia and are dependent on what the automakers sell. And both automakers are in the same boat in China, where things were already hard before the 2017 collapse began.
In 2016, both brands combined sold 1.79 million vehicles in China. For this year, the company set a lofty target of 1.95 million vehicles, a 9% increase. That would have been a push under the best conditions. In 2015, their sales fell to 1.65 million vehicles, from 1.77 million in 2014, according to Carsalesbase. In other words, 2016 sales were up only 1.4% from 2014.
So that targeted 9% increase in China in 2017 might have been illusory to begin with. Overall sales in China were up only 3% in the first half of 2017. All global automakers are battling it out in China, by far the largest market in the world, and they're battling a slew of domestic automakers that are rapidly learning how to make cars — and sell them for less.
Then came 2017. The problem shifted into high gear in March. Sales in China for Hyundai and Kia combined plunged by 62% in June year-over-year, to only 54,000 vehicles. For the four months of March, April, May, and June combined, sales plunged 61% compared to the same period last year, despite huge discounts: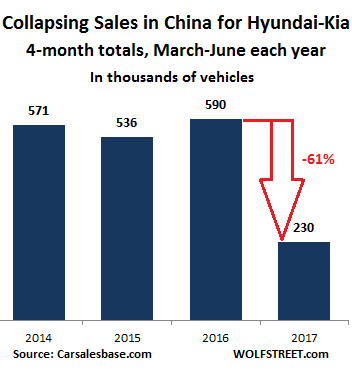 Why did this fiasco happen?
Hyundai's explanation – with a lot of truth to it – is that this is out of its control, that this is due to a diplomatic dispute between China and Korea over the installation of the US THAAD anti-missile system in South Korea that has riled the Chinese government, which then artfully engineered a consumer boycott against Korean brands though they're manufactured in China.
China is good at this. Japanese automakers went through it, as did Apple, and other companies. It's part of China's communication tool set.
But even before the diplomatic imbroglio erupted, Hyundai-Kia sales in China were under pressure, for a number of reasons.
"GM, Nissan, and Toyota launched inexpensive models in China to compete effectively with local brands. But Hyundai had no such strategy," Kim Pyeong-mo, an analyst at Dongbu Securities in Seoul, told the Nikkei.
China is one of the most unforgiving markets in the world, and strategic errors get expensive in a hurry.
"The sharp drop in sales of Korean auto brands is not simply due to the THAAD effect. We believe there is a wide range of factors, such as changes in the auto market structure in China, the rise of local automakers, and the increased competitiveness of Japanese brands," Cho Cheol, a researcher at the Korea Institute for Industrial Economics and Trade, told the Nikkei.
The Korean brands hadn't kept up with changes in the Chinese market. As the quality of the domestic brands has improves, they squeeze Korean brands from the bottom up. At the same time, US, Japanese, and European automakers are squeezing them from the top down.
But the conglomerate's problems are not limited to China. In the US, in June, Hyundai vehicle sales plunged 19% year-over-year, and Kia sales 10%, according to Autodata. For the first six months, sales of both brands combined dropped 9% year-over-year. Hyundai is getting crushed in car sales, down 24% year-over-year in June, and Kia is getting crushed in truck sales (small SUVs), down 23%, even though small SUVs are hot in the US.
In the US, new car sales are plunging for three main reasons:
Rental car companies are overfleeted and are curtailing their purchases;
Recent-model-year used cars are getting cheaper and are plentiful, competing with new vehicles, but cost a lot less;
And American car buyers continue to switch to trucks (pickups, SUVs, crossovers, vans).
All major automakers are getting hit by the first two factors. But the Korean automakers don't seem to have a compelling lineup in the trucks segment and cannot benefit from the switch to trucks. The models they do have are getting long in the tooth.
Then there's another problem in the US: Hyundai's aura of good fuel economy took a hit, along with its reputation, when it settled allegations for $41 million in fines that it had been misleading US car buyers with exaggerated fuel-economy claims.
"Since the fuel economy issue had popped up, sales of Hyundai Motor in the US market have been stagnant or declined," Lee Sang-hyun, an analyst at IBK Securities, told the Nikkei. "Hyundai could not claim anymore that it produces the best fuel-efficient models in its class."
Even globally, Hyundai-Kia sales fell by nearly 9% in the first half of 2017.
The diplomatic row in China will eventually blow over, as it did with the Japanese automakers. But it will take time and will be very costly for Hyundai-Kia and the conglomerate's affiliates supplying the two. It will give Chinese brands more time to move into the space and get established. So the damage may not be temporary. And the other problems Hyundai and Kia have, such as in the US, are even more intractable, where the shift from cars to trucks has thrown the entire market into turmoil.
Carmageddon in the US: GM is now holding discussions with the UAW over cutting out six models. Entire plants at risk. Read…  As Sales Plunge, GM Might Cancel Six Car Models
Enjoy reading WOLF STREET and want to support it? You can donate. I appreciate it immensely. Click on the beer and iced-tea mug to find out how:

Would you like to be notified via email when WOLF STREET publishes a new article? Sign up here.