The death spiral of the department store.
Retail sales overall were not a disaster in May. But there were some disaster areas. Total retail sales in May dropped 0.3% from April, to $473.8 billion and were about flat with January, adjusted for seasonal variation and holiday and trading-day differences, but not for inflation, according to the Commerce Department this morning. But year-over-year, retail sales were up 3.8%.
This year-over-year increase was in the middle of the five-year range of 1.6% to 5.2%.
The Consumer Price Index rose 1.9% in May, year-over-year, according to the Bureau of Labor Statistics this morning. So the increase in "real" retail sales, adjusted for inflation, was 1.9% year-over-year. This is also in the middle of the five-year range of 0% to 4.3%. In other words, in May, "real" retail sales grew at the same lackadaisical rate we've seen for years: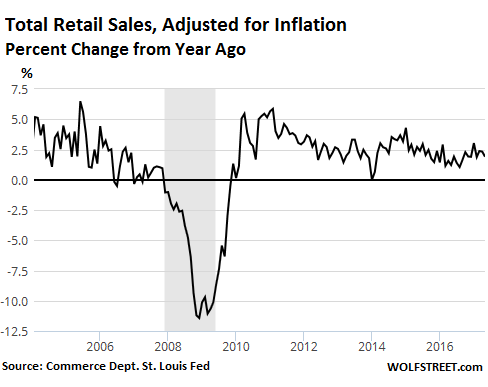 Sales at motor vehicle and parts dealers, which account for 21% of total retail sales, rose 3.7% year-over-year, not adjusted for inflation. This includes sales at used vehicle dealers. While new vehicle sales have been struggling, the used market is booming. It's powered by a flood of auction cars from rental car companies, lease turn-ins, and increasingly repossessions, and powered also by lower prices.
Used vehicle prices at the retail level – so these are not the wholesale prices I normally report on – fell 4.3% year-over-year, according to the CPI report today. This demand for used vehicles, at lower prices, is one of the key factors hurting new vehicle sales. New and recent-model used vehicles compete, often on the same dealer lot, and used vehicles have a bigger edge. There's nothing like lower prices and loads of supply to stimulate demand.
Despite the demand for used vehicles, total vehicle and parts sales remain 3.3% lower on a seasonally adjusted basis from the peak in December.
On a year-over-year basis, most categories of retail sales were up, some in the double digits, like sales at building materials and garden supplies stores (+10.8%) and sales at "non-store retailers" which includes parts of ecommerce (+10.2%).
But sales at electronics and appliance stores fell 1.8% year-over-year, and sales at sporting goods, hobby, book, and music stores fell 4.7%.
Clothing sales in May were flat with May two years ago, which is part of the department store fiasco. As clothing sales have moved online in a stagnant apparel market, online grabs a larger share, and brick-and-mortar retailers are losing it.
So sales at department stores fell 3.7% year-over-year. Department stores are in a structural death spiral that will never reverse. They're at the core of the brick-and-mortar retail meltdown.
This chart of department store sales shows that long-term plunge. With sales in May down to just $12.5 billion, they're 11% below where they'd been in January 1992 (back then, $14.1 billion)! This chart is not adjusted for inflation. So figure 25 years of inflation into it, and the real fiasco that department stores are in becomes apparent: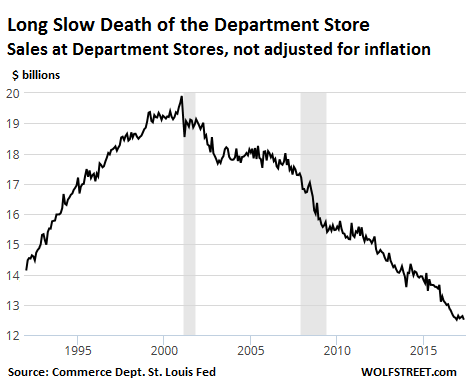 The Fed isn't fretting about the fate of department stores. That's a structural change – one type of shopping being replaced by another. The Fed is glancing at overall demand from consumers, and this overall demand is experiencing about the same unexciting slow growth that it has been when the Fed embarked on its rate-hike cycle.
So what would Yellen do? Indications are that the Fed has its eyes firmly fixed on soaring asset prices in the various markets and on financial conditions, which are now looser than they were before the rate-hike cycle started. And there is nothing in this retail report to throw the Fed off course.
Aldi's $5 billion bet in the US comes at a brutal time. Read…  Albertson's Reveals Supermarket Meltdown as Global Deep-Discounters Promise Price War in Stagnating US Market
Enjoy reading WOLF STREET and want to support it? You can donate. I appreciate it immensely. Click on the beer and iced-tea mug to find out how:

Would you like to be notified via email when WOLF STREET publishes a new article? Sign up here.