Fed lays out plan to unwind QE by $600 billion a year. Markets shrug. But "Painful sell-offs eventually materialize…"
Yellen sounded "surprisingly hawkish," the experts said after the news conference today. She saw a strong labor market and downplayed slightly softer inflation as temporary. The Fed forecast economic growth at the same miserably slow rate we've seen for years, with the median projections of 2.2% growth in 2017, 2.1% in 2018, 1.9% in 2019, and 1.8% in the "longer run."
So the FOMC voted eight-to-one to hike by a quarter point the target for the federal funds rate to a range between 1.0% and 1.25%. It maintained its forecast of one more hike this year. And it laid out its plan on how to unwind QE.
The Fed is no longer speculating whether or not to start unloading its $4.5-trillion balance sheet. It has a specific plan. The nuts and bolts are in place. It was agreed to by "all participants," it said in the Addendum. And it's going to start "this year."
QE and the zero-interest-rate policy have driven asset prices into a frenzy, and the asset bubbles have become legendary. Now it is being reversed.
The Fed will "gradually reduce" its balance sheet by letting maturing securities roll off without replacement. For example, when the US Treasury pays off a maturing bond that the Fed holds, the Fed will take the money but not reinvest it. Just like it created the money to buy the bond, the Fed will destroy the money by not reinvesting it. This money just disappears.
The Fed specified the pace at which this money will disappear.
It will shed $6 billion of Treasury securities the first month – which could start as soon as September. It will increase the monthly rate by $6 billion every three months. After 12 months, it will unload $30 billion a month in Treasury securities.
Same principle with mortgage-backed securities, starting at $4 billion a month to be increased every three month by $4 billion until it reaches $20 billion per month.
Combined, the Fed plans to unload $10 billion the first month and raise that to $50 billion in 12 months. Then it will continue at that pace. That's the plan. It didn't say how far it will go with this "balance sheet normalization." $50 billion a month or $600 billion a year will disappear. It's the reverse of QE, with reverse effects.
How have markets taken this?
The Treasury market has responded at the short end of the yield spectrum. The 3-month yield, at 1.01%, has edged into the federal funds target range.
But longer-dated Treasuries have taken to opposite direction. Long-term yields have been falling, and thus bond prices have been rallying. The 30-year yield dropped 8 basis points today to 2.79%, and the 10-year yield dropped 6 basis points to 2.15%.
This has flattened the yield curve. The chart below shows the yield curve for today's yields (red line) across the maturities and the yield curve on December 14 (blue line), when the Fed got serious about rate hikes. Note how the red line has flattened compared to the blue line: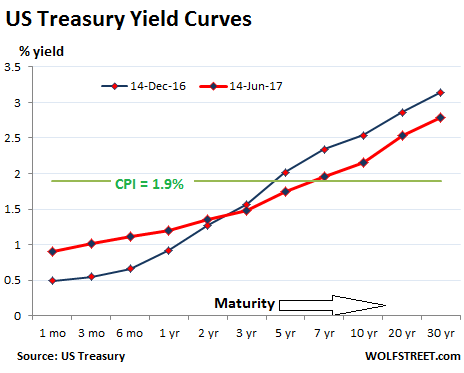 Yields of junk bonds at the riskiest end (rated CCC or below) surged in the second half of 2015 and in early 2016, peaking above 20% on average, in part due to the collapse of energy junk bonds. Riskier companies were practically locked out of the credit markets and couldn't borrow money anymore. During this period, the Fed engaged in phenomenal flip-flopping: talking about rate hikes and then backtracking. This was carried out by the endless cacophonous appearances of Fed heads, disagreeing with each other until they became the laughing stock of the financial markets.
But late last year, everything changed. The flip-flopping stopped. The Fed went on a mission. It has been one rate hike every other FOMC meeting since. And QE is going to get unwound.
Yet stocks have surged since December and the average yield of junk bonds rated CCC or below fell from 12% on rate-hike-day in December to 10% currently: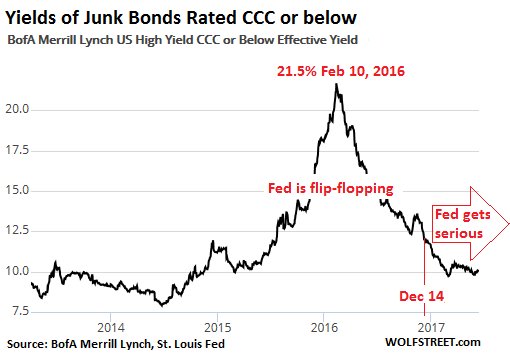 This is a sign that markets are loosening "financial conditions" rather than tightening them. The St. Louis Fed's index that tracks these financial conditions, the "Financial Stress Index," has dropped to near record lows.
In this chart of the Financial Stress Index, the blue line (=zero) represents "normal financial market conditions." Values below zero indicate below-average financial market stress. Financial conditions have almost never been easier despite the current series of rate hikes: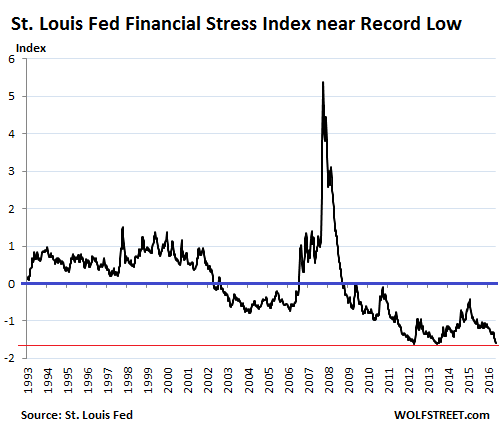 And the stock market is hovering near all-time highs. So markets – except the short-term corner of the bond market – have blown off the Fed. But…
"There is absolutely nothing unusual about financial market conditions easing amid Fed rate hikes," wrote John Lonski, Chief Economist at Moody's Capital Markets Research. This is what happened the last two times.
The Fed started raising the federal funds rate in June 1999, taking it from 4.75% to 6.5% by May 2000. From June 1999 through March 2000, stocks surged; it had taken about 9 months before financial markets began to react.
When they did, they reacted with a "financial event," the dotcom crash. From March 2000 through October 2002, the market value of US stocks plunged by a cumulative 43%.
Similar scenario when the Fed started hiking rates in January 2004, taking the federal funds rate from 1% to 5.25% by July 2006. Throughout that period of tightening, the stock market surged and the housing market became a mega-bubble. This scenario ended with another financial event: the Financial Crisis.
Corporate borrowing too can balloon when the Fed raises rates. This is the case right now, and it was the case during the past two episodes. Companies across the bond rating spectrum go out and borrow in record amounts to take advantage of the low interest rates while they still last. (And home buyers do the same thing).
"In summary, markets often prosper during episodes of Fed tightening," writes Moody's Lonski. "However, painful sell-offs eventually materialize…."
The Fed has set its sights on the asset bubbles that can, when they blow up, take down the lenders or worse. It is trying to engineer some kind of soft landing, by deflating them gently. And it will continue with a dual policy of unwinding QE and raising rates until markets react sufficiently. But as the last two financial events have shown, this can get very messy and may turn into anything but a soft landing for asset prices.
So is the Fed still bound to economic data? The data has been weak for years. But the Fed has started on its mission. Read…  What Would Yellen Do, with these Retail Sales?
Enjoy reading WOLF STREET and want to support it? Using ad blockers – I totally get why – but want to support the site? You can donate. I appreciate it immensely. Click on the beer and iced-tea mug to find out how:

Would you like to be notified via email when WOLF STREET publishes a new article? Sign up here.

Classic Metal Roofing Systems, our sponsor, manufactures beautiful metal shingles:
A variety of resin-based finishes
Deep grooves for a high-end natural look
Maintenance free – will not rust, crack, or rot
Resists streaking and staining
Click here or call 1-800-543-8938 for details from the Classic Metal Roofing folks.