New listings soar as sales plunge. Prices drop 6% in just one month.
The magnificent house-price bubble in Toronto, which has raised eyebrows even across the jaded asset-bubble world, is hissing hot air.
Residential property sales in Greater Toronto plunged 20% in May year-over-year to 10,196 homes, according to the Toronto Real Estate Board (TREB), with sales of condos dropping 6.4% and sales of detached homes plunging 26.3%.
At the same time, new listings – the new supply suddenly coming out of the woodwork – soared nearly 50% year-over-year. The report tried to put a positive spin on it: "Homeowners, after a protracted delay, are starting to react to the strong price growth we've experienced over the past year by listing their home for sale to take advantage of these equity gains."
And it has already impacted prices. The "TREB MLS Average Price" for all types of homes, dropped 6.2% from April to C$863,910. It remains up 14.9% year-over-year, given the crazy surge in prices over the past months, including the 33% year-over-year gain in March, when prices had gone totally nuts!
What pulled the rug out from under Toronto's magnificent housing bubble? Three factors:
One, Canada's largest alternative mortgage lender, Home Capital Group, which caters to new immigrants and subprime borrowers spurned by the banks, has been melting down after a run on its deposits that crushed its funding sources. And now the industry is worried about contagion.
Two, the provincial government of Ontario announced a laundry list of measures, including a 15% tax on purchases by non-resident foreign investors, to tamp down on the house and condo price bubble that left many locals unable to buy even a modest home.
And three, a newly found sense that somewhere out there, hidden behind all the industry hype, lurks reality.
May was the first full month of housing data since those three factors took effect.
"In effect, the market has stalled and is rapidly reversing from a seller's to a buyer's market," said one of two sets of boots on the ground in Toronto. Neither of them wants to be identified. "Sellers are in a panic to offload their properties, especially those who have speculated in flipping homes. And buyers are starting to open their eyes."
Given the soaring listings in May, boots-on-the-ground said, it's "now common to see several properties with For-Sale signs next to each other." Boots-on-the-ground took some sample photos. This photo shows two for-sale signs in Cooperage Lane, Ajax (GTA):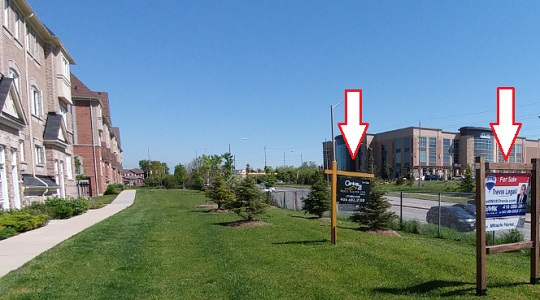 This photo shows three for-sale signs on Glenanna Drive, in Pickering (GTA):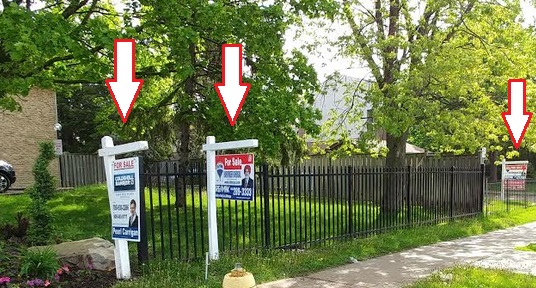 This corner sports four for-sale signs. The one on the right was knocked down by the wind: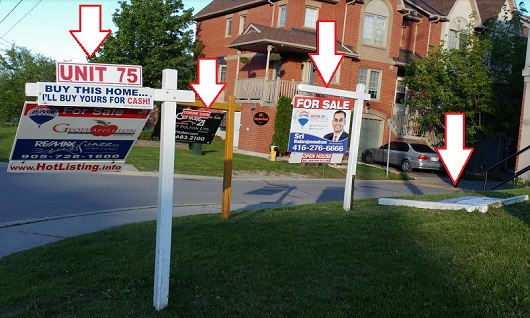 The real estate industry is still trying to get buyers to bid above asking price, by making them believe in ongoing bidding price wars, but the phenomenon of multiple buyers desperately bidding fantasy numbers on a property has disappeared.
"In a recent sale, the listing agent instructed the buying agents to wait one week after the house was on the market before placing their bids," boots-on-the-ground said. "The sold price was C$50,000 above listing. But there was only one bid. The family who bought the property paid above the asking price not realizing they were the only bidder, and not realizing that the party was over."
Homes are starting to languish on the market – a rarity in past years. As recent as March, properties were selling before or just after they were listed on the Multiple Listing Service (MLS). The listing agents would utilize the phrase "Coming Soon" on the sign. The homes would be snapped up. But that changed in late April.
How long homes have been on the market can be viewed on the housing website Zoocasa by searching from "oldest to newest," boots-on-the-ground pointed out. For homes listed "3 months ago," the inventory starts adding up, and for homes listed "2 months ago," the inventory gets rich and thick.
When the market was hot, there was no need to have open houses. However, now open houses are conducted not just on weekends, but even during the week, boots-on-the-ground said. "It seems that brokers have their work cut out as clients want their property sold immediately at top price, but it's not working anymore."
After not getting a single visitor to an open house over the weekend, Carissa Turnbull, a Royal LePage broker in Oakville (GTA), told Bloomberg: "We are seeing people who paid those crazy prices over the last few months walking away from their deposits. They don't want to close anymore."
Century 21 Millennium brokerage owner Joanne Evans, focused on Toronto suburbs such as Brampton, summed it up this way: "The frenzy is over – it's over."
So what's next for the big Canadian banks? It gets endlessly repeated that a US-style housing bust that hit US banks can't happen in Canada. But that may be wishful thinking. Read… Can US-style Housing Crisis, "Jingle Mail" Hit Canada's Banks?
Enjoy reading WOLF STREET and want to support it? You can donate. I appreciate it immensely. Click on the beer and iced-tea mug to find out how:

Would you like to be notified via email when WOLF STREET publishes a new article? Sign up here.