Tech skills are suddenly "abundant" in San Francisco & Silicon Valley
Hiring dropped 4.1% in May year-over-year in the Bay Area, which includes Silicon Valley, San Francisco, Oakland, San Jose, and other cities, according to LinkedIn's new Workforce Report. This contrasted with the US overall, where hiring rose 2.4%, "the strongest month for hiring since June 2015," as the report put it.
On a seasonally-adjusted basis – this irons out large seasonal variations, such as the drop-off in December due to the holidays or the surge over the summer due to seasonal work and student internships – hiring plunged 11.1% in May from April.
This measure of hiring activity is based on the 138 million workers in the US who have profiles on LinkedIn. That would be 86% of what is deemed to be the "civilian labor force" of 160 million people and about 42% of the total US population.
So not everyone is part of this sample. It's a sample of people interested in other jobs and in making themselves visible to recruiters and companies. The data may be skewed in that direction and away from people who are not looking or who have skills that are not very marketable on LinkedIn.
But it's a huge sample, and May's 4.1% year-over-year drop in hiring in the Bay Area – so this is not a drop in employment, but a drop in hiring activity – is significant.
There's more. The report includes a section on the "skills gap" – the mismatch between the skills employers need (demand for skills) and the skills workers have (supply of skills). The report explains:
There is an abundance of skills when supply exceeds demand. There is a scarcity of skills when demand exceeds supply. A city with a scarcity of skills needs more workers with certain skills, while a city with an abundance of skills has too many workers with certain skills.
And the Bay Area has the largest mismatch of skills of any other area in the report (ahead of Washington DC, Austin, and Los Angeles).
Below are the types of skills that are relatively "abundant" and those that are relatively "scarce" – with some surprising entries:
The "most abundant" skills in the Bay Area:
Perl, Python, and Ruby programming skills
Integrated Circuit Design
Cloud and Distributed Computing
Mobile Development
Software Development
C and C++ programming skills
Java Development
Scripting Languages
Computer Network and Network Administration
Web Programming.
We used to hear a lot about the skills shortage for tech jobs in the Bay Area, and how companies had to bring in people in large numbers and at great expense from across the country and from other parts of the world, but that has apparently petered out (more data on that in a moment).
LinkedIn data also shows that this level of "abundance" has been increasing consistently since February 2016. So based on this data, February 2016 might have been the peak in tech job growth in the Bay Area.
And here's the other end of the spectrum, the "scarce" skills in the Bay Area. Note that many workers such as construction workers, drivers, and the like, who don't often try to find jobs via a profile on LinkedIn, are not adequately represented in this list below.
The "most scarce" skills in the Bay Area:
Healthcare Management
Sales
Education and Teaching
Purchasing and Contract Negotiations
Microsoft Windows Systems
Retail Store Operations
Marketing Event Management
IT Infrastructure and System Management
Nursing
Crime Prevention and Security Law.
So if young teachers, retail managers, and nurses cannot afford to live in the Bay Area – mostly due to ludicrous housing costs – without a long and costly commute, they're going to go where they can afford to live. For example, San Francisco and other cities in the Bay Area have been grappling with an acute teacher shortage. This has all become part of the "Housing Crisis" where Housing Bubble 2 is pushing out the middle class.
While the Bay Area pulled in highly paid tech workers over the past years, it has pushed out workers in professions that pay less. Now with employment growth in tech slowing down, that has led to an "abundance" of tech skills and a "scarcity" of many other skills.
A week ago, I postulated how the housing bubble in San Francisco has started to deflate with an audible hiss. I added various charts, including the following two on the employment situation, and LinkedIn has now confirmed their essence from another angle. The first chart, based on data from the Employment Development Department, shows how growth of both the labor force and employment in San Francisco is fizzling:
The labor force in April dropped to the lowest level since June 2016 and is up only 4,500 people from April last year.
Employment has been flat in 2017 and is up only 7,000 jobs year-over-year. I say "only" because year-over-year employment gains have crashed since the heady days of 2014, following the hype of the Twitter IPO in late 2013: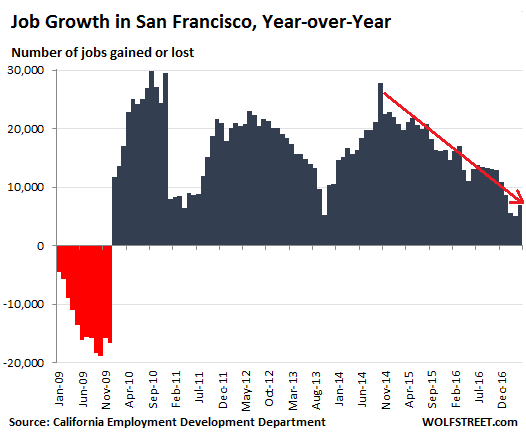 So employment gains are fading in San Francisco. LinkedIn's report confirms for the whole Bay Area from a different angle that hiring activity for skills posted on LinkedIn is falling. That the once booming tech-job market in the Bay Area is cooling off will have broader impact, as it always does here. The signs and numbers are already lining up. Read… Will these 2 Forces Crush San Francisco's Housing Bubble?
Enjoy reading WOLF STREET and want to support it? You can donate. I appreciate it immensely. Click on the beer and iced-tea mug to find out how:

Would you like to be notified via email when WOLF STREET publishes a new article? Sign up here.