Santander, top subprime auto lender, verified income on only 8% of loans: Moody's.
"Liar loans" were a factor in the housing bust during the Financial Crisis that brought down the banks. Bank regulators now require lenders to verify income and employment of mortgage applicants and take other steps to make sure buyers can afford the mortgage payment. But in auto loans, no such requirement exists. So here we go again…
Moody's Investors Service analyzed $1 billion of Asset Backed Securities (ABS) backed by subprime auto loans that Santander Consumer USA Holdings, one of the largest subprime auto lenders, had issued. "Subprime" means the borrower has a credit score of 620 or below. Turns out, Santander had verified the income of the borrowers on only 8% of the subprime loans.
Moody's found other lapses, including loans with very low or no credit scores and no co-signer.
Back in February, Moody's had rated these subprime-auto-loan-backed securities as high as Aaa. Among the institutional investors that bought them was Massachusetts Mutual Life Insurance, according to Bloomberg.
Moody's contrasts Santander's lack of even basic due diligence, such as verifying income and employment, with an auto-loan based securitization issued by GM's finance subsidiary AmeriCredit. Moody's compared the two because they are the top issuers of subprime auto-loan ABS. Turns out, AmeriCredit had verified income on 64% of the loans in the securitization. Bloomberg:
Data tied to Santander show that it packaged riskier loans into bonds, as seen in higher loan-to-value ratios, longer maturities, more used cars, lower credit scores and a greater percentage of loans granted to borrowers whose incomes weren't verified, Moody's said.
The report said that the missing verification of income and employment "creates more uncertainty around whether borrowers will be able to afford their monthly payments, which becomes particularly important if they have poor credit records and risky loan terms."
Lacking income and employment verification compounds a problem that UBS had pointed out last week: about 20% of auto-loan borrowers had admitted on a survey that their loan applications contained inaccuracies. The report suggested that loan fraud could be a bigger problem than lenders are prepared for.
The UBS report also found that borrowers are getting better at manipulating up their credit scores via tactics they learned by Googling them. As a result, credit scores have been broadly rising, though actual credit risk may not have improved in parallel. Thus credit scores have become less reliable as a predictor of default, and auto lenders may have more risk in their portfolio than they think. The report warned: "Loan terms are stretched out, interest rates are aggressive, but there may be an over-reliance on credit scores, and that's the danger."
Moody's pointed out that the missing due diligence may be one reason for the higher loan losses experienced by Santander's securitizations.
So far, investors in these bonds have been protected against losses by an extra loan-loss buffer that Santander built into the bonds, Santander treasurer Andrew Kang told Bloomberg. Up to a certain point.
The findings by Moody's and UBS explain to some extent the surge in auto loans in recent years. The boom in debt, made possible with easy credit and loose underwriting standards, has funded record auto sales. Auto loan balances outstanding have soared nearly 60% since 2010, to $1.12 trillion: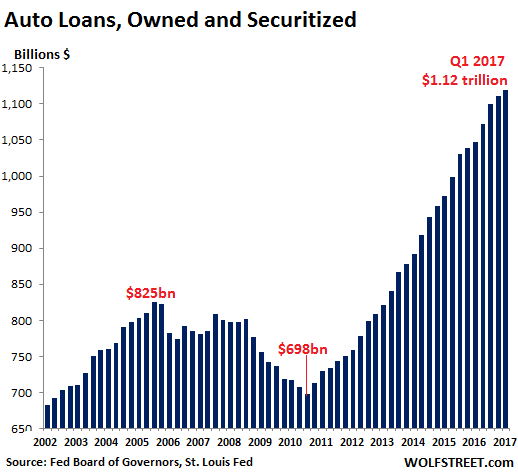 The risks are packaged into the $1.12 trillion in loans. Default rates on subprime auto loans are shooting up. Fitch Ratings reported earlier this year that its subprime Annualized Net Losses (ANL) index had jumped above 10% for the first time since 2009.
Santander already got into hot water for making loans to customers who couldn't afford the payments. It settled the allegation in two states for $25 million. Bloomberg:
Around 42% of Santander Consumer's subprime auto loans made between 2009 and 2014 by dealers identified as "high risk" in Massachusetts and Delaware have defaulted or will default, an amount that is substantially higher than the losses in the overall lending portfolio, Moody's said in a separate report. "Information in the settlements indicate that some loans in these deals were underwritten based on inflated income and inflated value of collateral," according to Moody's.
And it's just the beginning: 30 other states are probing into its underwriting and securitization activities, according to Santander's most recent 10-Q filing.
A broader side effect is that customers may be stuck in cars whose payments they cannot afford, or can afford only by curtailing other essential spending, which puts an additional damper on consumer spending in other areas.
While subprime auto loans are not big enough to tear up the financial system, they're big enough to dent new and used car sales. Any pressure in used car sales may cause further erosion of used car wholesale prices, pull the rug out from under new car sales, wreak more havoc among rental car companies, hobble auto leasing companies, and spread turmoil among automakers.
The Office of the Controller of the Currency and other bank regulators have been fretting about auto loans for the past two years. Now lenders seem to be getting the drift and some have started tightening their lending standards. This pressures already falling auto sales and spreads more pain in an industry that accounts for over 20% of US retail spending. It impacts manufacturing not only by automakers but also their vast network of component suppliers. It impacts railroads, trucking, and the finance and insurance business. Since the Financial Crisis, the booming auto sector has been a hefty prop under in the wobbly US economy. But last year, the prop cracked. And this year, it's crumbling.
The #Carmageddon data is just relentless. Read…  Used Vehicle Trade-in Values Sink, Hit New Vehicle Sales
Enjoy reading WOLF STREET and want to support it? You can donate. I appreciate it immensely. Click on the beer and iced-tea mug to find out how:

Would you like to be notified via email when WOLF STREET publishes a new article? Sign up here.