This is how.
We have long lamented the persistent understatement of soaring US housing costs in the Consumer Price Index, and thus the understatement of overall inflation as experienced by people with a roof over the head. But now two economists from the National Bank of Canada spell out their doubts about the housing inflation component in Canada's overall CPI.
The Consumer Price Index in Canada rose 1.6% in April year-over-year seasonally adjusted, Statistics Canada reported last week, same as in March, but down from 2.0% in February. Over the past four years, CPI inflation ranged from 0.4% to 2.4%.
For inflation lovers, it was too tame. But Canadians – like Americans who're in a similar boat – have long complained that life overall is getting a lot more expensive a lot faster than reflected in the CPI. And a big part of that expense is housing costs for owners and renters.
Canada's house price bubble has become one of the hottest and longest-running in the world, having barely dipped during the housing bust in the US. The Teranet-National Bank House Price Index, which uses a similar methodology of sales pairs that the Case-Shiller index in the US uses, has surged over 100% since 2006 (red line, right scale). The year-over-year increases in much of 2016 and all of 2017 have been in the double digits (blue columns, left scale):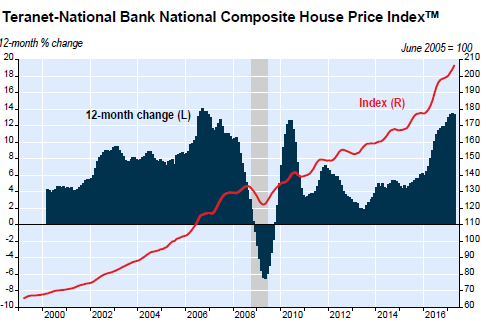 Everyone except the housing industry is fretting about Canada's house price bubble – from international organizations to the Bank of Canada. The provinces of British Columbia and Ontario have undertaken drastic measures, given the limited tools they have, to put a damper on the house price bubbles in their main urban areas, Vancouver and Toronto. And just today, a Bloomberg View article proclaims, "Canada Must Deflate Its Housing Bubble," and "The central bank needs to raise interest rates, and soon."
That has been the obvious but ignored solution for years. Now some observers and the housing industry are saying wait… inflation is only 1.6%; why raise rates?
StatCan's CPI report detailed that "shelter costs" rose only 2.2% in April year-over-year, same as in February and March. "The homeowners' replacement cost index (+3.9%) was the main upward contributor to the 12-month change in the shelter index, despite slowing growth since November 2016," it said. That's like so benign – compared to reality.
Stéfane Marion, Chief Economist and Strategist at Economics and Strategy at National Bank of Canada, and Matthieu Arseneau, Senior Economist at the same shop, came out with a note today debunking the low rate of housing inflation and the low rate of overall inflation:
Canadian CPI inflation continues to surprise on the downside despite robust GDP growth, low unemployment, surging home prices, and a depreciating currency. What's helping keep inflation down? Shelter costs!

This heavyweight component of the CPI (27% of the index) is currently growing an anemic 2.2% annually compared to a more robust 2.7% for all other services (a two-year high by the way).
The note points out that the price of shelter was "only up a cumulative 5.7% since 2014 compared to 8.2% for all other services (that's a sizable difference of 44%)." In other words, the CPI shelter (red line) rose more slowly than CPI for all other services (blue line):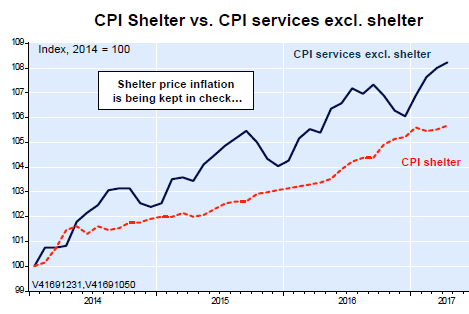 In order to understand the divergence, we dug a little deeper and found that the new home price index (NHPI) for Vancouver that is used in the CPI calculation [dotted blue line] is essentially unchanged since 2008 for both its house and land components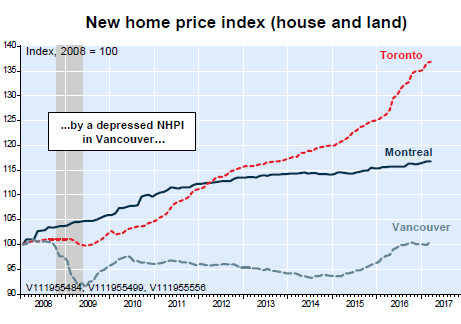 As a result, the Homeowner's Replacement Cost component of the CPI (20% of shelter costs) is no higher in British Columbia than it was in… 2005!
Yet home prices, according to the Teranet-National Bank index for Vancouver have surged 80% since 2008: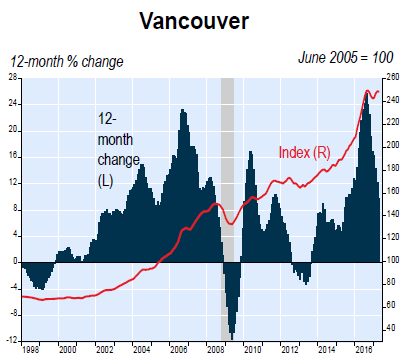 The National Bank's report goes on:
Note that the NHPI is also used for the calculation of the Mortgage Interest Cost component of the CPI (12% of Shelter costs) which, incidentally, remains stuck at a decade low.

We are also baffled by the reported cumulative increase of only 37% for the Toronto NHPI since 2008 (vs. 118% according to resale market data).
This chart of the Teranet-National Bank house price index for Toronto shows that 118% surge since 2008 in resale prices in all its glory: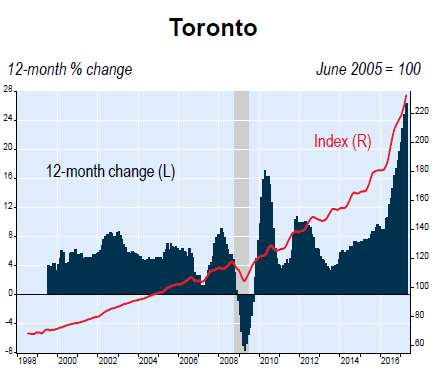 So the note concludes:
Also helping keep inflation in check, the Rent component of the CPI (22% of shelter costs) shows rent inflation averaging near a record low of 1% in Toronto, Montreal and Vancouver. Bottom-line: Shelter Cost inflation reported in the Canadian CPI report is eerily low.
"Eerily low" may be one of the best descriptions I've heard – and from the Chief Economist at the seventh largest bank in Canada – to describe the housing inflation component of CPI and overall increases in CPI. This principle of understating the increases of the actual costs of living by understating the impact of soaring housing costs is also true for the US where the housing component of inflation and therefore overall inflation as measured by CPI remain "eerily low" as well.
What are Canadian homes and mortgages actually worth when push comes to shove? Read…  Chilling Thing Insiders Said about Canada's House Price Bubble
Enjoy reading WOLF STREET and want to support it? You can donate. I appreciate it immensely. Click on the beer and iced-tea mug to find out how:

Would you like to be notified via email when WOLF STREET publishes a new article? Sign up here.