It's always associated with a recession: last time, the Financial Crisis.
Over the past five decades, each time commercial and industrial loan balances at US banks shrank or stalled as companies cut back or as banks tightened their lending standards in reaction to the economy they found themselves in, a recession was either already in progress or would start soon. There has been no exception since the 1960s. Last time this happened was during the Financial Crisis.
Now it's happening again – with a 1990/91 recession twist.
Commercial and industrial loans outstanding fell to $2.095 trillion on May 10, according to the Fed's Board of Governors weekly report on Friday. That's down 4.5% from the peak on November 16, 2016. It's below the level of outstanding C&I loans on October 19. And it marks the 30th week in a row of no growth in C&I loans.
Based on the Fed's monthly reports, C&I loans outstanding at the end of April, at $2.095 trillion, were down a smidgen from October's $2.098 trillion and were down 4.3% from the peak in November. This marks the seventh month in a row of no growth in loans.
This chart shows C&I loans outstanding at all US banks going back to 2012. Note how that 30-week stagnation-period is unique in this time span: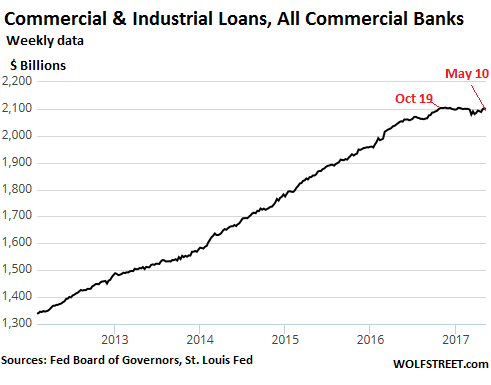 Since the Financial Crisis, the mantra has been: credit growth no matter what. Businesses have been exhorted to borrow, money has been cheap, and borrow they did. There have been periods of four or five weeks of stalling C&I loan growth, only to be succeeded by a vigorous surge. But after ballooning in this manner for six years straight, C&I loans have now languished for 30 weeks. And it's not the oil bust; banks are lending to the oil patch again.
C&I loans are tightly connected to the real economy. They're an indication of what businesses are up to, from a shop needing a loan to buy a piece of equipment to the multinational funding its receivables. C&I loans show whether companies in aggregate are expanding their needs and activities or whether they're curtailing them.
The chart below shows how any significant decline of C&I loans outstanding in the debt-addicted US economy is associated with recessions. Note the turning points: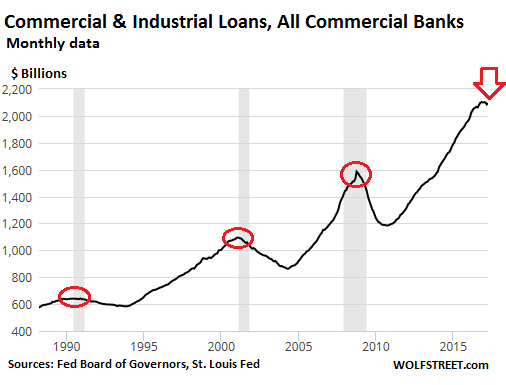 What happened during the Financial Crisis was, let's say, special: Credit froze up, banks stopped lending, businesses stopped asking for loans, and C&I loans fell off a cliff. More typical scenarios would be the prior two recessions. In 2001, C&I loans peaked in February 2001 and then declined. The official recession began in March 2001 and ended in November 2001. But C&I loans kept falling until May 2004.
It's difficult to see in the above chart what happened around the 1990/91 recession due to the destruction of the dollar and the growth of the economy since then. So below is a chart for that period, showing the C&I action in all its glory. C&I loans outstanding flattened out for 13 months. The official recession began in July 1990, eight months into the stall. In January 1991, C&I loans began to decline. The recession ended in March 1991. C&I loans finally hit bottom in December 1993. So the "turning point" was actually a "turning year":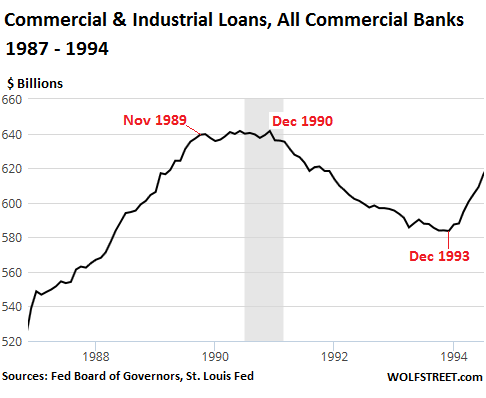 Going back in the data to the 1960s, we see that similar patterns played out over and over again.
Where does that leave us today? In the first quarter, GDP grew at a desperately anemic 0.7% annualized, meaning that at this rate, growth for the entire year would be 0.7%. But it's not a decline. This type of stagnation would be far below the lamentably anemic 1.6% growth in 2016 and the standard issue projection by the Fed of around 2% growth in 2017. The second quarter looks better though there isn't nearly enough data so far to support this assertion with conviction. Nobody is projecting a recession.
The experience of the 1990/91 recession could turn out to be instructive. A while after the recession was over, the NBER, which calls the official recessions in the US, determined that the recession began in July 1990, so eight month after C&I loans began to stall.
The current seven-month stall is a big red flag – though it is unlikely that history repeats itself in that level of detail. These stalling C&I loans don't fit at all into the rosy credit scenario. Something is seriously wrong. So economists might be assuring each other that C&I loans are now a meaningless indicator, that times have changed, that C&I loans no longer matter, or that they'll begin to surge once again. And who knows; we live in crazy times with way too much liquidity, and they might be right. But there are other signs out there that speak of changing dynamics.
The #Carmageddon data is just relentless. Read…  Used Vehicle Trade-in Values Sink, Hit New Vehicle Sales
Enjoy reading WOLF STREET and want to support it? You can donate. I appreciate it immensely. Click on the beer and iced-tea mug to find out how:

Would you like to be notified via email when WOLF STREET publishes a new article? Sign up here.