Even the biggest.
The closure of thousands of retail chain stores last year and this year, with many more to come – from big anchor tenants such as Macy's to smaller stores such as Payless Shoes – and the bankruptcies and debt restructurings ricocheting through the industry are having an impact on retail malls. And mall investors – that may include your retirement account – are getting crushed.
The commercial real estate industry has been claiming that these shuttered retail spaces are being converted into restaurants or fitness centers or smaller shops or whatever. And zombie malls are leasing out their parking lots to car dealers to store their excess new vehicle inventory, and that everything is going to be fine.
But investors in publicly traded Real Estate Investment Trusts that were for years among the stars in the S&P 500 are voting with their feet.
It's not that these REITs are doing all that badly on an operational basis. They're hanging in there. But many of the announced store closings and bankruptcies haven't worked their way through the pipeline.
Shares of these REITs all peaked together at the very end of July 2016 and have since then plunged in unison.
Kimco Realty Corp (KIM) says it's "one of North America's largest publicly traded owners and operators of open-air shopping centers," with "interests" in 517 shopping centers with 84 million square feet of retail space in 34 states and Puerto Rico. Shares fell 2.6% to $19.42 on Monday and 13% over the past month. They're down 40% from the peak of $32.23 at the end of July 2016: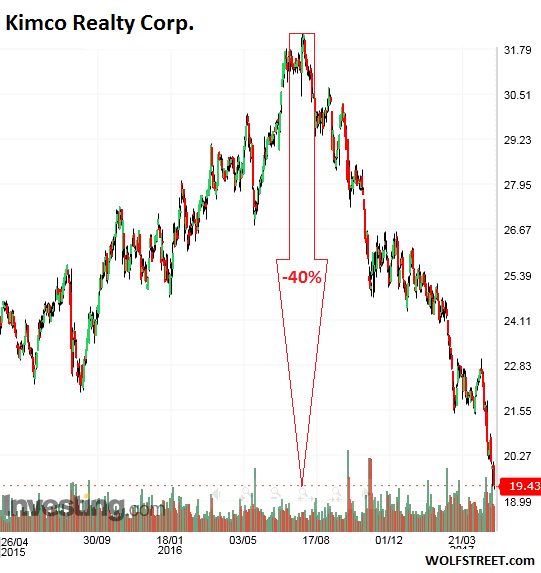 Macerich (MAC), with 54 million square feet of retail space at 48 regional shopping centers, calls itself "one of the country's leading owners, operators and developers of major retail real estate." It disclosed that revenues in Q1 fell 3.5% year-over-year, and that mall portfolio occupancy edged down to 94.3%, from 95.1% a year earlier.
It's starting to feel the pain, but it's not the end of the world. But its shares dropped 2.5% on Monday and 8.3% over the past month. They're down 36% from the peak at the end of July, 2016: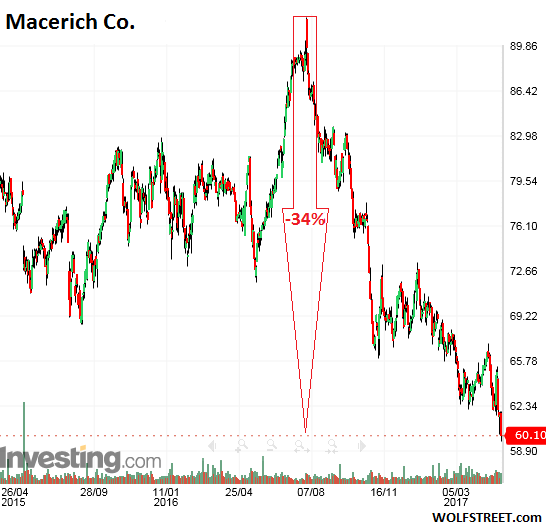 Simon Property Group (SPG), "the world largest publicly traded real estate company," as it says, fell 1% to $162.84 on Monday and 7% over the past month. It's down 29% since the peak at the end of July. And this despite a massive share buyback program, that included buying back 870,692 shares in Q1: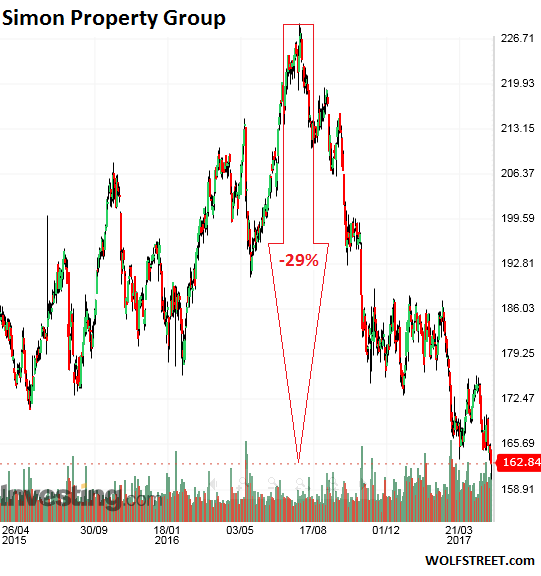 GGP, formerly General Growth Properties, is also trying to use share buybacks to prop up its share price. In Q1, it bought back 2.57 million shares for $59.6 million. Nevertheless, shares fell 12% over the past month to $22.19 as of Monday and are down 30% from the peak at the end of July: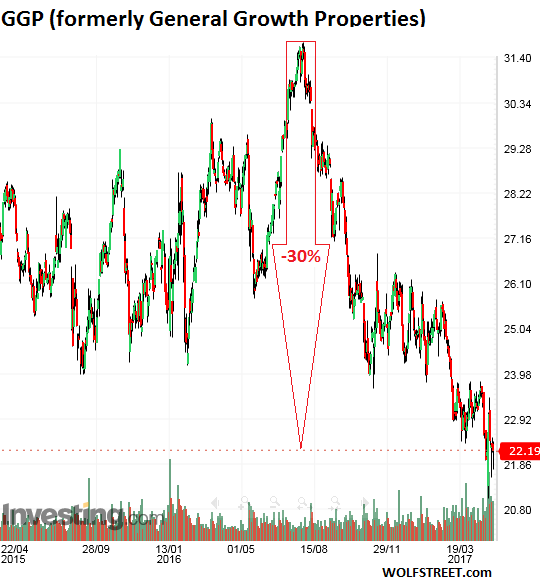 Federal Realty Investment Trust (FRT) has 98 malls with a total of 23 million square feet of retail space in "major coastal markets." It also has over 1,800 apartments. So you gotta get creative during tough times. In its Q1 earnings report, it said:
March 28, 2017 – Federal Realty announced its exclusive partnership with Freight Farms, a Boston-based company that retrofits shipping containers with vertical farming technology capable of growing acres' worth of produce in a fraction of the space of traditional farms. The partnership empowers anyone to use this technology while repurposing Federal Realty's unused parking spaces as a place to locally and sustainably produce food that benefits the shopping centers' tenants, customers, and community.
Its shares fell 1.8% on Monday and 3% over the past month. They're down 24% from the peak at the end of July 2016: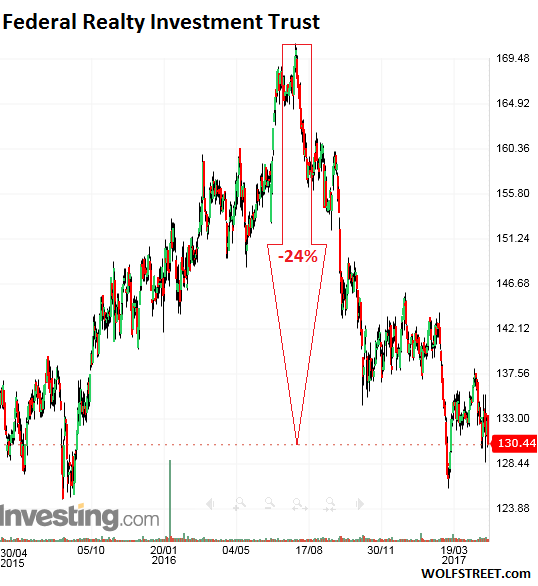 Regency Centers Corp (REG), with 429 shopping centers totaling 57.2 million square feet of retail space, focuses on "grocery-anchored retail centers located in the most attractive U.S. markets." Its shares fell 1.9% to $61.49 on Monday and 8% over the past month. They're down 28% from the peak at the end of July: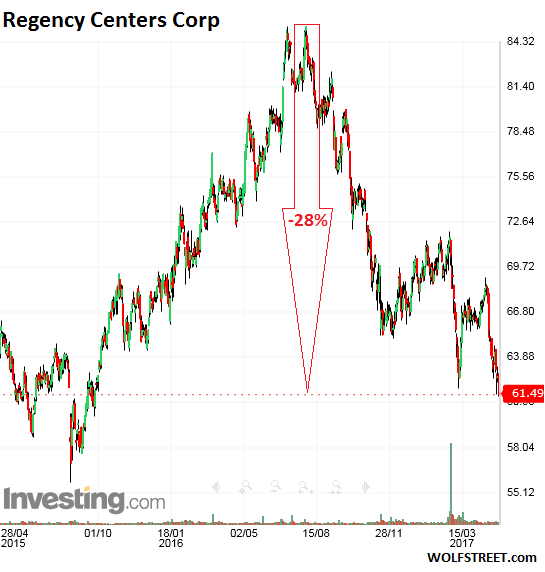 This is how the brick-and-mortar pain is translating into pain for mall-REIT investors. But why have share prices gotten crushed when, operationally, the REITs are still hanging in there and are paying fat dividends? That can best be answered by a look at the meteoric rise of those shares over the years leading up to July 2016.
Some of the share prices more than doubled over those years, as part of the commercial property bubble that got so huge that the Fed keeps publicly fretting about it, naming it as one of the reasons for raising interest rates, precisely to tamp down on the valuations. The Fed is worried that an implosion of these inflated commercial property values can take down the banks.
Mall REITs were part of this inflated commercial property universe, and they soared with it. That entire universe is now peaking. But separately, mall REITs are also caught up in the relentless brick-and-mortar retail meltdown, as online shopping is taking over. This is a structural shift that will continue to progress. Mall owners are already trying to find a way to "repurpose" their malls. But this isn't going to be smooth.
As so many times, Private Equity firms are in the thick of it. Read… I'm in Awe of How Fast Brick-and-Mortar Retail is Melting Down
Enjoy reading WOLF STREET and want to support it? You can donate. I appreciate it immensely. Click on the beer and iced-tea mug to find out how:

Would you like to be notified via email when WOLF STREET publishes a new article? Sign up here.