Lousy consumer spending & the "weather." Inflation hits Fed target. 
The US economy surprised economists to the downside once again, a terrible habit it has picked up over the past years. GDP adjusted for inflation inched up only 0.7% "compound annual rate of change." This means that if the economy keeps growing at this rate for four quarters in a row, economic growth for the entire year would only be 0.7%.
By comparison, in 2016, economic growth was 1.6%, matching 2011 for the worst rate since the Financial Crisis. So 0.7% is ugly. It was the weakest growth since Q1 2014.
Not annualized, growth in Q1 from Q4 2016 was a near-zero 0.17% (rounded 0.2%), according to the "advance" estimate of the Bureau of Economic Analysis. This rate extrapolated to four quarters produces the 0.7% "compound annual rate of change." This chart shows that rate of change" going back to Q1 2003: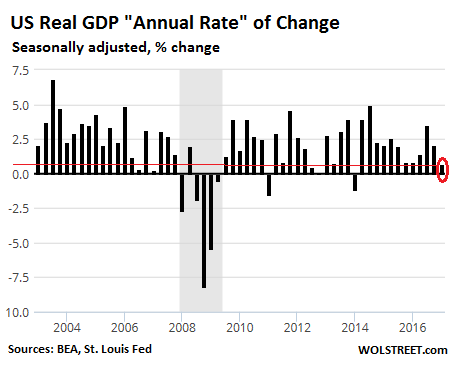 Economists blamed the weather. It was too warm this time around, rather than too cold, which is the usual explanation for Q1 debacles.
And they blamed the IRS refund checks that had been delayed due to last year's spectacular identity theft problem. Everyone blamed everything on these delayed refund checks, including the auto industry and the restaurant industry. But by mid-February, a veritable tsunami of checks went out, and by the end of February, the IRS was pretty much caught up. So March should have been awash in consumer spending. But no. So we'll patiently wait for that miracle to happen in second quarter.
The positive factors in this crummy GDP number:
Residential investment jumped 13.7%. Multi-family construction has become part of the historic construction boom in major cities around the country and "crane counting" has become a thing.
Business fixed investment jumped 10.4%. This includes the office construction boom that has reached historic proportions (and is part of the "crane counting" thing) and the renewed drilling activity in the oil patch.
Trade overall didn't move the needle much: Exports rose 5.8%, and thus added to GDP, but imports rose by 4.1% from a larger base than exports, and reduced GDP. The net impact of both combined was a wash.
The real culprit for the crummy GDP reading? Consumer spending rose, and thus added to GDP, but it was the smallest rise since Q4 2009. Yep, weak sales at auto dealers. It's not as if this is a surprise to people who read our musings on the auto industry. And the warm weather, which dragged down sales by utilities.
There were also some "negative contributions" from business inventory investment and spending by federal, state, and local governments, which fell 1.7%, the biggest drop in four years.
But don't worry, inflation is alive and well, and the Fed sees it too: The price index for gross domestic purchases rose 2.6%. This was up from 2% in Q4. Another measure in the GDP report, the PCE price index increased 2.4% in the quarter, up from 2.0% in Q4. And the PCE index without food and energy – the "core PCE" index which the Fed likes to hang its hat on – rose 2.0%, up from 1.3% in Q4. This core PCE inflation index has now reached the Fed's target number.
Personal income increased, but for the wrong reasons: "The acceleration in personal income primarily reflected an acceleration in government social benefits to persons." Oh boy…. Disposable personal income adjusted for inflation inched up only 1.0% in the quarter, compared to 2.0% in Q4.
So very crummy. Let's just hope that the boom in multi-family housing and office construction will last forever.
How accurate were the forecasts?
The New York Fed's Nowcast, in its most recent forecast on April 21, expected the economy to grow at an annual rate of 2.7% in Q1, compared to the 0.7% the BEA handed us today. So that forecast was way off the mark.
Blue Chip "consensus forecast," cited by the Atlanta Fed's GDPNow yesterday, was 1.3%, ranging from 0.9% to 2.1%. So too they were off target.
The Atlanta Fed's GDPNow Forecast, last updated yesterday, saw economic growth in Q1 of 0.2% "annual rate" so even worse, but only slightly worse, than the BEA's "annual rate" of 0.7%. So my hope yesterday "that some internal gears might be jamming up" the GDPNow forecasting model, because of its ugly forecast, did not entirely come true. So kudos to the GDPNow model of the Atlanta Fed, which pretty much nailed it!
But it's not all careening downhill, at least not for everyone. Read…  Internet Ad Revenues Surge, Only 2 Companies Get the Spoils
Enjoy reading WOLF STREET and want to support it? You can donate. I appreciate it immensely. Click on the beer and iced-tea mug to find out how:

Would you like to be notified via email when WOLF STREET publishes a new article? Sign up here.