The Fed is way behind the curve, but at least it now sees the curve.
Retail sales in February were lousy, and even lousier after inflation, though it was reportedly the warmest February in 100 years, without a big winter storm keeping the all-important consumers cooped up at home instead of shopping.
Total retail sales, including online and food services, edged up 0.1% to $474 billion in February, from January, the slowest increase in 6 months, the Commerce Department reported today. This came after an upwardly revised 0.8% jump in January. General merchandise sales and auto sales showed negative "growth."
These numbers are adjusted for seasonal and calendar factors, but not for inflation. We'll get to that in a moment.
On a year-over-year basis, not seasonally adjusted, total retail sales in February rose by $9.5 billion, or 2.2%. Gasoline sales alone soared by $7.2 billion, or 22%, on a juicy 30.7% price increase (more in a moment). And sales at non-store retailers jumped by $3.4 billion, or 8%.
Without those two factors – gasoline price increases and non-store retail sales – total retail sales would have fallen by $1.1 billion from a year ago. And this still doesn't account for inflation.
As consumers had to spend more on non-discretionary items, such as housing and healthcare, discretionary items got hit: sales at sporting goods stores, general merchandise stores (particularly department store sales), and electronics and appliance stores fell, as did auto sales.
The delay in tax refunds – the IRS has been trying to get its arms around large-scale problems of identity theft and fraudulent tax returns related to certain tax credits – can be blamed for some of that debacle. These tax refunds are immediate spending money for most people.
Inflation can be blamed too: As prices rise in things consumers must have, they cut back on things they don't necessarily need to have. When prices rise in non-discretionary goods and services, such as healthcare and housing, consumers cut back on discretionary items.
And prices are now rising, particularly in services. The Bureau of Labor Statistics reported today that the Consumer Price Index for all urban consumers (CPI-U) rose 2.7% in February from a year ago, the biggest 12-month increase since March 2012:
Despite years of scaremongering about deflation, there were only few dips in a relentless upward trend of inflation that is now accelerating. This chart shows the Consumer Price Index, not seasonally adjusted, going back to 2000. Since 2010, CPI has increased 12.8%: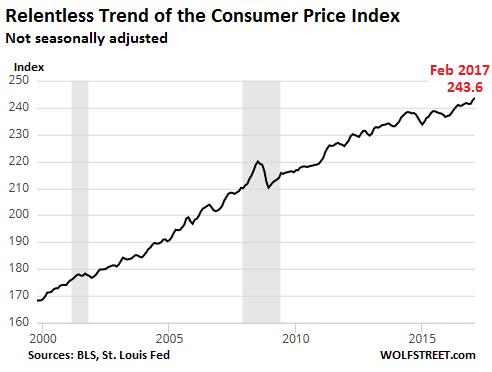 Core CPI rose 2.2% year-over-year. This strips out food and energy. While prices of "food at home" edged down 1.7% year-over-year, energy prices jumped 15.2%. Within that, gasoline prices soared 30.7%. And this too hit people in their pocket books.
Prices of used cars fell 4.3%, which is helpful for used-car buyers, but a phenomenon the new-vehicle industry and auto lenders, particularly those targeting subprime borrowers, have been dreading for a while. Used car values represent the collateral of the loans and trade-in values for new-car sales. Ripples are already spreading through the industry.
And here is where inflation hurts consumers the most: Services. That's where consumers spend the majority of their money. Prices of services (less energy services) rose 3.1% year-over-year. This includes shelter, up 3.5%; medical care services, up 3.4%; and transportation services, up 3.6%.
This chart by Doug Short of Advisor Perspectives, shows inflation trends for different goods and services. Healthcare (top line, red) has skyrocketed 87% since 2000: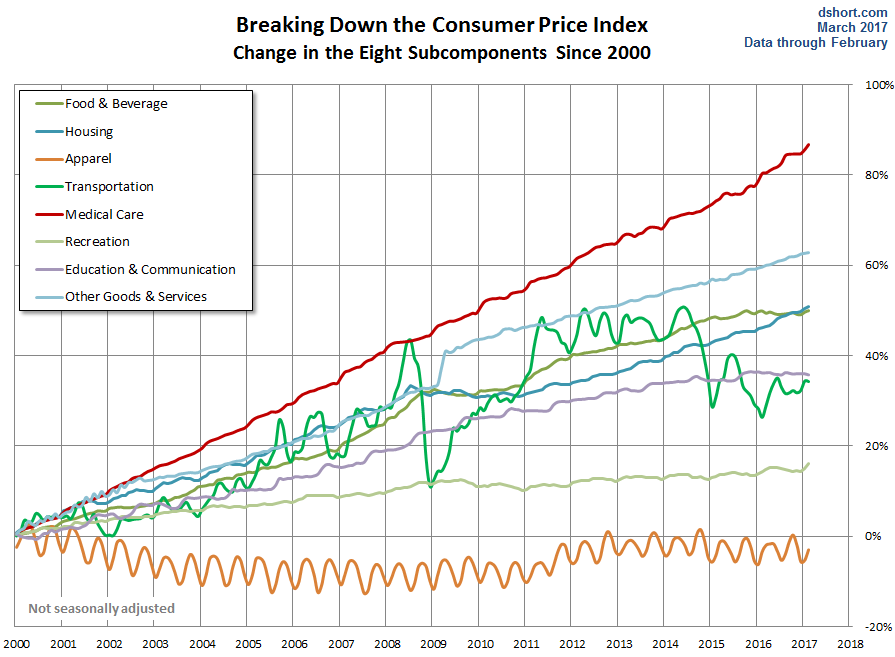 The Fed is still way behind the curve. Its target for the fed funds rate is still low, despite three mini-rate hikes since December 2015, including today's. At 0.75% to 1.0%, the target rate is still highly stimulative. And it has been outpaced by inflation.
If the "effective" fed funds rate is 0.9% going forward, it will imply a real (inflation adjusted) fed funds rate of negative -1.8%. Even the 10-year Treasury yield, currently between 2.5% and 2.6%, is below the rate of inflation and no longer compensates bondholders for inflation. Inflation is outrunning them all. There is a term for this phenomenon: "Financial Repression."
That's why the Fed is a mile behind the curve. But at least it has now acknowledged seeing the curve in the distance.
Mortgage rates too are behind the curve since they're mostly a function of long-term Treasury yields, which are behind the curve. They all have a long way to go. But mortgage rates have begun to rise, from their historically low levels.
Fixed 30-year mortgage rates averaged 4.5% in the week ending March 10, the Mortgage Bankers Association reported today. This is the highest rate since April of 2014. But by any standard, rates are still very low, given that inflation is at 2.7%. And they're likely to zigzag higher.
Everything will now be seen in the light of inflation: savers might make a little more money as rates edge up, but that will be more than swallowed up by higher prices. Inflation will eat dividend yields. And it will eat into wages. These are income streams consumers count on for their spending money. But these income streams are not keeping up with price increases. So consumers either cut back where they can (discretionary spending), or they borrow at rising rates to fill the holes, thus building up an increasingly costly debt that will down the road raise their costs of living even further.
Inflation can have a pernicious impact after years of a super-low interest-rate environment. As markets adjust to higher rates, our super-inflated asset prices across the board, and especially in highly leveraged sectors such as residential and commercial real estate, are likely to struggle for years to come.
But with impeccable timing, after a blistering 7-year price boom in commercial real estate, and just when it hit the ceiling, foreign investors jump in at record pace. Read…  Foreign Investors Pile into US Commercial Real-Estate Bubble
Enjoy reading WOLF STREET and want to support it? You can donate. I appreciate it immensely. Click on the beer and iced-tea mug to find out how:

Would you like to be notified via email when WOLF STREET publishes a new article? Sign up here.