With impeccable timing, after a blistering 7-year price boom.
2016 might later be called the peak year in terms of commercial real estate, or even the post-peak year, depending on the metric. Overall office sales in 2016 fell 7% from 2015, to $140.5 billion, according to JLL research cited by CommercialCafé, a sister company Yardi Matrix. And leasing activity was hampered by office tenants that were "reluctant to make any major moves pending the conclusion of the presidential election."
But graciously, foreign investors jumped in with both feet to help out. The report by CommercialCafé:
[T]he market has become a haven for offshore investors, who are pumping record amounts of capital into US office assets, especially in primary urban cores. According to JLL research, foreign office investment surpassed $20 billion in 2016, accounting for 16% of the overall acquisition volume.

And while, historically, Canadians have been the most active foreign players on the market, Asian and German investors are now stealing the spotlight.
Of the 50 largest office deals that closed in the US in 2016 – the trophies that get global attention – offshore buyers accounted for 43%! And those from Asia alone accounted for 16%:
Mixed foreign and US: 9 deals for $7.1 billion, 19% of total
Asian: 8 deals for $6.0 billion, 16% of total
European: 5 deals for $2.3 billion, 6% of total
Canadian: 1 deal for $914 million, 2% of total
Notable purchases by foreign entities included China Life's $1.64 billion purchase of 1285 Avenue of the Americas in New York, in a joint venture with RXR Realty (New York); and Hong Kong Monetary Authority's $1.15 billion acquisition of 1095 Avenue of the Americas.
So how is their market timing?
The Greenstreet Property Price Index in February was flat for the fourth month in a row. You have to go back to the early 2000s to find a flat spot this long. During the Financial Crisis it peaked, and without dilly-dallying around, it plunged, and then, fired up with the Fed's free money, it soared. But this time, there is no crisis. It just hit the ceiling.
Year-over-year in February, the index rose only 2%, not even keeping up with consumer price inflation, a bitter disappointment after nearly eight years of a blistering boom during which the index soared 107%: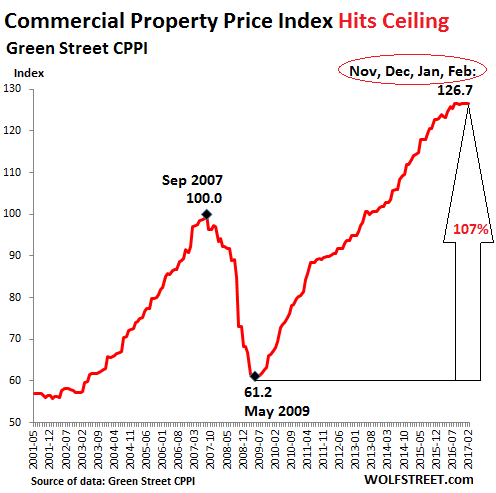 As the chart shows, CRE is highly cyclical. Even the Fed, which rarely worries about asset bubbles and has a passion for inflating them, is officially worried about the CRE bubble and what its implosion might do to the lenders. Its efforts to make monetary policy less accommodative are in part targeting the CRE price bubble. So it is unlikely that the plateau of the past four months will just remain a plateau.
The biggest culprit was the apartment segment. The sub-index fell 3% in February and is down 4% from a year ago. The office sector still rose 2% for the month and 5% year-over-year. Self-storage which had been white hot, having surged nearly 160% since the trough in 2009, declined in February for the first time since that trough, but was still up 8% year-over-year.
The remaining segments – industrial, mall, strip retail, health care, and lodging – were essentially flat year-over year, except malls where the index still eked out a gain of 3%, despite the store-closing and bankruptcy turmoil taking over the brick-and-mortar retail industry.
Commercial real estate loans have not yet seen any such plateau, and leverage has continued to soar, even as valuations have hit the ceiling, and even as transaction volume declined last year. In February, commercial real estate loans at all US commercial banks increased once again, to hit a new all-time record of $1.99 trillion: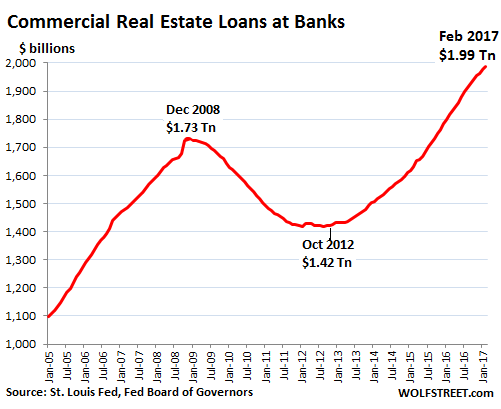 So thank you, foreign buyers, for stepping in at these red-hot prices when we need help the most. But foreign buyers were obviously not the only ones still buying.
The largest office building transaction was the $1.93 billion purchase of the AXA Equitable Center at 787 Seventh Avenue in Manhattan, by CalPERS in California, the largest public pension fund in the US. The deal was one of CalPERS' largest ever investments. It closed in January 2016, before the dark clouds had started to waft over CRE. AXA Financial was the seller.
CalPERS is counting on 7% annual returns every year, for all years to come, and even then it is woefully underfunded. So it's going out on a thin limb to get those returns, and a glitzy office complex, acquired at peak dollars after seven years of booming prices, is one of its efforts in that direction.
And borrowing money to fund these transactions is going to get more expensive, which makes the equation tougher to solve for potential buyers. This is an issue for commercial as well as for residential real estate. "Many fear the Fed is behind the curve. The market is even further behind: This is clearly a dangerous situation." Read… Bond "Carnage" hits Mortgage Rates, Aims at Housing Bubble 2
Enjoy reading WOLF STREET and want to support it? You can donate. I appreciate it immensely. Click on the beer and iced-tea mug to find out how:

Would you like to be notified via email when WOLF STREET publishes a new article? Sign up here.