It would be comic if the facts behind it weren't so ugly.
Toshiba shares crashed 25% in early trading in Tokyo today, temporarily plunging straight through the Tokyo Stock Exchange's daily downward limit of 20%, before being nurtured back above it. This episode forms part of Toshiba's ongoing serial collapses and dead-cat bounces that would be comic, if the facts behind them weren't so ugly.
In late December, Toshiba shares had plunged 42% in three days, hitting the 20% downward limit repeatedly and actually closing at that limit on the second day of the collapse. At the end, its shares traded for ¥253.
In their Lazarus-like manner, however, they keep bouncing after getting crushed. After the December massacre, they bounced 18% in six days, to 300 yen, only to get re-crushed, this time by 28% in six days, including today's collapse, to ¥215. This daily chart shows the last three months of the dead-cat bounce and the collapse since the end of December: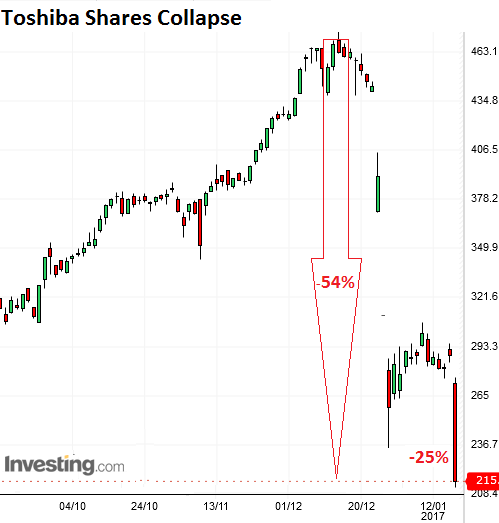 These are just the latest two episodes of this saga.
Today's plunge was caused when more details were leaked to Kyodo news agency about the write-offs, cost-overruns, and general fiasco related to its nuclear reactor business in the US. Not just any details, or complex details even, but a simple number. The amount of the new total write-off: ¥700 billion ($6.1 billion).
This in itself is stunning because Toshiba had acquired its nuclear business, namely Westinghouse Electric, in 2006 for $5.4 billion. At the time, Westinghouse was regarded as the nuclear industry's heavyweight with next-generation reactor projects in the US and China. How can you write off another $6.1 billion on a business you acquired for $5.4 billion? Realities of the nuclear industry just keep on giving.
On December 27, Toshiba had announced that cost overruns at CB&I Stone & Webster – a nuclear construction company Westinghouse had bought from Chicago Bridge & Iron last year – could trigger "several billion dollars" in charges. It would likely take till February to get the exact magnitude of the write-down, it said back in December.
On January 12, the new figure that surfaced at Kyodo was ¥500 billion ($4.4 billion). So now, as February is getting closer, it's up to ¥700 billion. But February is still a couple of weeks away. And who knows what the next number is.
"Toshiba declined to comment on the reports," Reuters said today. Which just made things worse.
Toshiba's entities are trying to complete eight reactors in the US and China. With cost overruns threatening to sink the entire company, it still hasn't fully disclosed the extent of the problems. All we know is that it is always much worse than previously assumed.
Toshiba is already on a watch list of the Tokyo Stock Exchange and is barred from raising equity capital by issuing new shares to prop up its finances. Its big hope – and apparently the hope of the stock jockeys and hedge funds that keep piling into this stock – was that it could sell a minority stake in its profitable semiconductor business in order to improve its equity position. According to unnamed sources barely two days ago, Toshiba has lined up some potential buyers, including Western Digital Corp.
These are just the latest episodes to make it into the public light. In 2015, the Nikkei uncovered a $1.3 billion accounting scandal and cover-up that crushed Toshiba's shares and pushed them to a low in February 2016 of ¥155.
But it didn't take long for the Whac-a-Mole comedy to take over again, and stock jockeys and hedge funds piled back into the shares and drove them up 206% in 10 months to ¥475 by mid-December. Most of the gains have now once again evaporated.
This scandal-ridden company never discloses even massive issues unless forced to, or found out about, or ratted out. Still, even today, no one outside the company really knows what's going on inside, except that it's always much worse than it appears, and much, much worse than had been previously disclosed under fire.
But stock jockeys and hedge funds are feeding on this, hoping perhaps for a trade on the bounce that they themselves can engineer by piling into the stock in a big way, and hoping to sell their position to some hapless latecomers and true believers in some new hype and get out before another leak or investigation once again sinks the shares ever closer to nothingness. For the prior episodes of this fiasco company, read… Scandal & Cover-Up Plagued Toshiba Re-Implodes
Enjoy reading WOLF STREET and want to support it? You can donate. I appreciate it immensely. Click on the beer and iced-tea mug to find out how:

Would you like to be notified via email when WOLF STREET publishes a new article? Sign up here.