What would Yellen do?
"Waiting too long to begin moving toward the neutral rate could risk a nasty surprise down the road – either too much inflation, financial instability or both," Fed Chair Janet Yellen warned her rapt listeners at the Commonwealth Club in San Francisco on Wednesday.
Investors in US Treasuries are an edgy lot these days. Yellen is considered a dove, and when she exudes hawkish overtones, investors listen.
So Treasuries took another beating today, a milder one than yesterday's. And as Treasury prices fell, yields, which move in the opposite direction, rose. The 10-year yield jumped 5 basis points today to 2.47%. It's up 16 basis points since January 17, when yields bounced off 2.31%.
Treasury bondholders had been granted the much needed break from the brutal beatings they'd taken since July last year. At the time they'd been in Nirvana – those who buy government bonds for capital gains, and not for yield – with bond prices sky-high, and the 10-year yield bottoming out at 1.38%. But after that, it became tough. And after the election, it became a bloodbath, as prices plunged and yields soared to hit 2.61% intraday on December 15. A lot of paper wealth went down the drain.
The 3-week rally since then brought yields down 30 basis points, but now the beatings have resumed and will continue until the mood improves.
Yet the kinds of radical moves seen after the election are unlikely, unless something extra-fancy happens. And yields could temporary drop as well, particularly if stocks get hit.
The chart of daily yields since October captures the full beauty of the post-election bond massacre, when yields soared. Note the break from the selloff after December 15, with yields fell from peak to trough nearly 30 basis points. And note the current resurgence: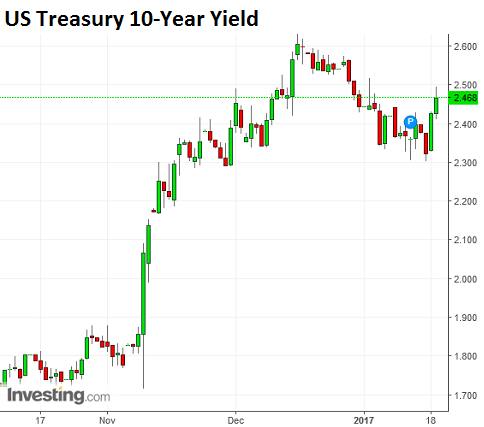 So what would Yellen do?
In December, the Fed raised rates for the second time in this tightening cycle. It took a year of relentless flip-flopping to accomplish that. But now it seems the flip-flopping is over.
Yellen told her audience in San Francisco that Fed officials expect to raise the target for the fed funds rate "a few times a year," including this year, until it's close to 3% by the end of 2019.
The fed funds rate target range is currently between 0.5% and 0.75%. So that's about 9 rate hikes till 3%! And that would just be "neutral."
"Right now our foot is still pressing on the gas pedal, though, as I noted, we have eased back a bit," she said. "Our foot remains on the pedal in part because we want to make sure the economic expansion remains strong enough to withstand an expected shock, given that we don't have much room to cut interest rates."
So in its view, the Fed isn't tightening yet. It's just backing off the accelerator a wee bit. Tightening might then start at above 3%?
All this is far in the future and may be beyond reach. In an economy with over-indebted businesses, households, and governments at all levels, short-term "risk-free" rates at 3% or higher, and long-term rates, such as for mortgages, at much higher levels could cause some serious, let's say, adjustments – of prices.
Even if rates don't quite make it there before all heck breaks loose, the Fed is now seriously on track to take the "foot off the accelerator." The idea of letting the infamous balance sheet shrink and thus reverse QE is also getting a public hearing from time to time.
Inflation may still be below where the Fed would like it to be, but consumers are already feeling the bite. The Consumer Price Index rose 2.1% in December year-over-year and has been on a decided upward trajectory since September 2015. Many consumers, particularly those paying rents and health care expenses, experience inflation rates that are far higher.
The Fed's preferred "trimmed mean PCE" (Personal Consumption Expenditure) inflation gauge rose 1.8% in November from a year earlier. It too has been on an upward trajectory and is headed for the Fed's 2% target.
And average hourly earnings are up 2.9% year-over-year. That's frazzling the Fed – that wages rise faster than inflation, when it's all about cheap labor [The Thing in the Jobs Report that Gives the Fed the Willies].
Yellen has taken notice: "Waiting too long to begin moving toward the neutral rate could risk a nasty surprise down the road," as she warned.
So, despite these higher yields, a lot of Treasury buyers would still get hit by inflation without compensation. For example, the five-year Treasury yield is currently 1.96%. While up from 1.23% before the election, it's below the rate of inflation as measured by CPI. Our hapless 10-year note buyers aren't out the woods either. If CPI rises to a range between 2.5% and 3%, they'll see the purchasing power of their principle deteriorate faster than the current yield can fill the hole.
Bondholders can hold their bonds to maturity. Thanks to the Fed, the government will never run out of money and will always redeem these bonds. But during that time, they'll get the puny coupon payments while rising inflation eats into the purchasing power of their principle, which will leave them with a loss after inflation.
But if they sell the bond before it matures, depending on when they bought it, and at what price, they get to eat the loss now.
It matters because the US bond market, all kinds of bonds combined, is a $47 trillion monster, far larger than the stock market (with a market capitalization of around $27 trillion). And even moderate losses have a big impact.
And these bondholders face a toxic trifecta. Read…  China's Holdings of US Treasuries Plunge at Historic Pace
Enjoy reading WOLF STREET and want to support it? You can donate. I appreciate it immensely. Click on the beer and iced-tea mug to find out how:

Would you like to be notified via email when WOLF STREET publishes a new article? Sign up here.