But bank stocks have skyrocketed over the past three months.
Citigroup hit back at Goldman Sachs, after Goldman Sachs had slammed Citigroup in September. Citi analyst Keith Horowitz, in a note to clients, downgraded Goldman from the already dismal "hold" to a rare "sell" rating, citing Goldman's valuation. He said Goldman would need an additional $4 billion in full-year revenues above current estimates – which, according to Reuters, are pegged at $32.3 billion – to get to a return on equity (ROE) that would justify the valuation.
"While we expect Goldman will see improved trading revenues going forward, the path is relatively uncertain and the bar is relatively high," he wrote.
Goldman is scheduled to report earnings on January 18. So time to take profits and move on, according to Citi.
Shares of Goldman Sachs have jumped 55% since early October when the possibility of a Trump victory started moving into the foreground. Stock market participants have been betting that Trump would be a boon to Goldman, and they drove up the stock price. It was one of the big winners of the "Trump Trade" (via Investing.com):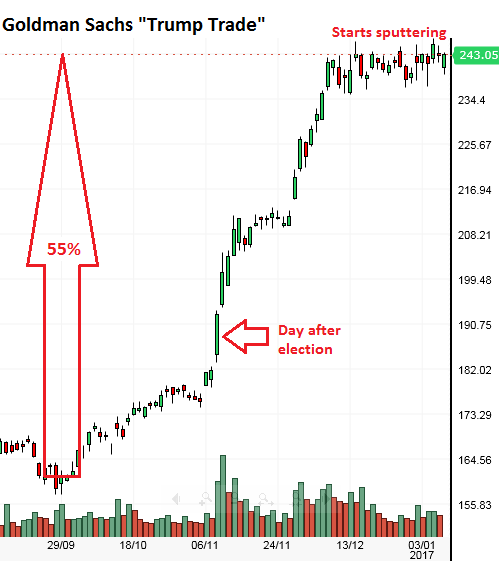 By now, Goldman's former executives are accumulating in the Trump administration. So the bet might have been a wise one in that regard. But the "Trump Trade" has gone a long way and has recently been sputtering. So the risk/reward relationship of owning Goldman shares, at this nose-bleed price, has flipped, according to the analyst.
While at it, Horowitz also downgraded Comerica to "sell." Shares of the bank have soared 43% since early October and are up 128% from a year ago. He clung to his "buy" ratings on Wells Fargo and Bank of America. It had been party time for banks in general since early October: the KBW Bank Index (BKX) has soared 32% in those three months.
Trump's victory played a role, particularly his campaign promise to loosen banking regulations. This coincided with the Fed's new determination to nudge interest rates higher, which would allow banks to make more money in the near term, especially if the yield curve steepens, with longer-term debt carrying higher interest rates, which would raise lending margins for banks. But this steepening yield curve could pose big problems for banks down the road.
But is there more to Citi's downgrade of Goldman?
In September, it had been Goldman's turn to downgrade Citigroup, from "buy" to "neutral." Analyst Richard Ramsden, in a note to clients, cited the prospect that Citi might miss its profitability goals.
"Despite investments in higher return businesses like credit cards, we do not see a path to a meaningful inflection without an improvement in the macro environment," he mused.
Analysts are all over the place on banks. Here are their ratings, based on Wall Street Journal data, of Goldman and Citi. For many analysts, "hold" is as close as they're going to get to an outright "sell" rating. And "consensus" is not exactly the right word to describe this:
Goldman's Ramsden justified his downgrade of Citi in September with the same concerns over ROE, figuring that "growth in higher return businesses and expense discipline will not be enough to take ROE all the way to its 10% ROE target."
Tit for tat? We've seen that before. During the Financial Crisis, banks belatedly got bearish on each other, slapping each other with downgrades, back and forth, sort of like a circular financial firing squad. It took them a long time to get to a sell rating, often long after the shares had already collapsed. And they were right, even if late.
So Citi's early warning might be a breath of fresh air. However brutal, so to speak, that downgrade to "sell" may have been, it dented Goldman's shares only briefly before they recovered almost all the way and closed down only 0.07%.
Now a friendly chat among billionaires who presumably see eye-to-eye on business dealings. Read…  What 1 Million US Jobs? Dreading a Trade War, China Sends Alibaba's Jack Ma to Trump for some Fence Mending
Enjoy reading WOLF STREET and want to support it? You can donate. I appreciate it immensely. Click on the beer and iced-tea mug to find out how:

Would you like to be notified via email when WOLF STREET publishes a new article? Sign up here.