Exports get blamed, despite the crushed loonie.
Many countries, including the US, report GDP on a quarterly basis. Canada reports on a monthly basis. So today Statistics Canada reported GDP for October. What's disconcerting isn't so much that GDP fell 0.3% on a monthly basis – these things happen – though it disappointed economists along the way…
The "results were surprisingly bad," wrote Krishen Rangasamy, senior economist at Economics and Strategy, National Bank of Canada.
"The GDP report is an ugly snowball of reality to the face of the economy to end the year after a nice run earlier in the fall," said Douglas Porter, chief economist BMO .
But what was disconcerting was just how much the goods producing sectors are getting hammered across the board.
This chart by NBF Economics and Strategy shows the decline in October (blue bars, left scale), and it also shows that this type of monthly decline, during our mediocre economic era, is not rare. The red line (right scale) shows the annualized rate for the last three months, which is still positive, but careening lower: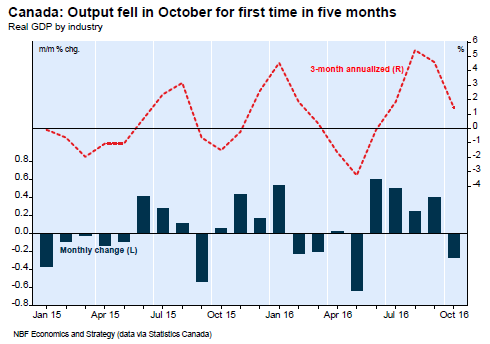 Output of the overall goods producing industries caved 1.3% from September. It was broad-based, with manufacturing, mining, quarrying, and oil & gas extraction, construction, utilities, agriculture, and forestry all declining. It more than wiped out the gains of the goods producing sectors in September.
Manufacturing, which contributes about 10% to GDP, has taken a big beating, despite the loonie that the Bank of Canada has successfully devalued over the past few years to make exports more competitive, particularly in the US. But manufacturing output fell 2% on a monthly basis, the largest monthly decline since December 2013. It has gone nowhere since February 2014 (red line):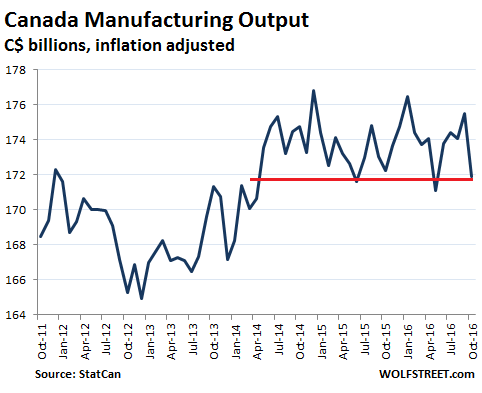 Both durable and non-durable manufacturing fell. StatCan:
Durable manufacturing was down 2.1%, the third decrease in four months. Almost all industrial groups were down, with the largest declines in terms of output registered in machinery, fabricated metal products and primary metal manufacturing.
StatCan blamed the usual suspect, despite the loonie that the Bank of Canada has lowered so adroitly over the years: exports.
Non-durable manufacturing fell 2.0%, driven by petroleum and coal products manufacturing – down 6.5%, for which StatCan blamed "maintenance and turnaround work at some facilities" – and food manufacturing.
Output of the services sector inched up 0.1% to another record, on gains in wholesaling, retailing, real estate, and well, the public sector – which includes education, the national health system, and public administration. However, transportation and warehousing edged down, and output by the finance and insurance sector fell sharply.
This chart shows the divergence between the services sector, which is creeping higher, and the goods-producing sector whose output is back where it had been in 2013: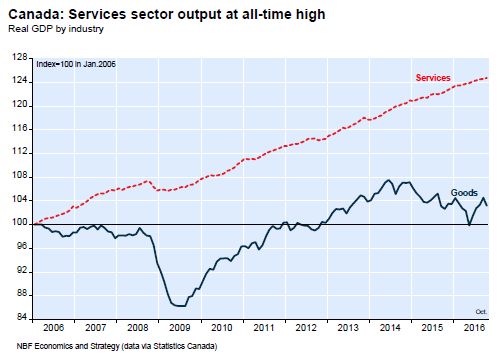 So, inevitably, GDP growth forecasts for Q4 are being lowered once again. But new hope is now on the horizon: Canadian exporters are expected to benefit unilaterally from the implementation of the Comprehensive Economic and Trade Agreement, Canada's controversial and almost sunk trade pact with the EU; and they're expected to "benefit from a stronger US economy," as Rangasamy put it.
Clearly, the world is now hooping that Trump will work his magic in the US and around the globe, such as imposing a new 10% tariff on imports into the US, renegotiation of NAFTA (but knowing Trump, possibly not for the benefit of Canada), and if other countries dare to retaliate, a trade war.
So it's hard to see, if these elements come to pass, how the Canadian economy would benefit. What Canada really needs is a price of oil at well above $120 a barrel and a divine guarantee that the housing bubble can be inflated further for all eternity, and that debt levels on households will never be too high and will never cause these households to buckle. But that guarantee may not be forthcoming, so even the OECD frets about Canada's house price bubble and its consequences. Read… What Will Happens "If the Boom Ends with a Bang?"
Enjoy reading WOLF STREET and want to support it? You can donate. I appreciate it immensely. Click on the beer and iced-tea mug to find out how:

Would you like to be notified via email when WOLF STREET publishes a new article? Sign up here.