Going down the drain, putting this wondrous stock market at risk?
Companies in the S&P 500 spent about $3 trillion since 2011 to buy back their own shares, often with borrowed money. It's part of a noble magic called financial engineering, the simplest way to goose the all-important metric of earnings per share (by lowering the number of shares outstanding). And it creates buying pressure in the stock market that drives up share prices.
With buybacks, you don't need to sell one extra iPhone to boost your earnings per share. So the amounts have grown and grown. With ultra-cheap money available to borrow endlessly, companies take on debt and hollow out shareholder equity. It has worked like a charm. Stock prices have soared. Declining revenues and earnings, no problem. But something is happening that hasn't happened since the Financial Crisis.
Share buybacks in the third quarter plunged 28% year-over-year, to $115.6 billion, the biggest year-over-year dive since Q3 2009, according to FactSet. It was the second quarter in a row of declines, from the glorious Q1 this year, when buybacks had reached $168 billion, behind only Q3 2007 before it all came apart.
From that great Q1 2016 to Q3, buybacks plunged 31%, or by $52 billion.
"Only" 362 of the S&P 500 companies bought back shares in Q3, the second lowest number in three years, with Q2 having been the lowest number (blue line in the chart below).
However, the third quarter has historically produced the most buybacks as companies are feverishly trying to put some lip gloss on their annual earnings per share. But not this time.
In this chart by FactSet, I circled the phenomenon of that $52-billion two-quarter plunge (blue bars). Only the $58-billion two-quarter plunge in 2007/8 was bigger: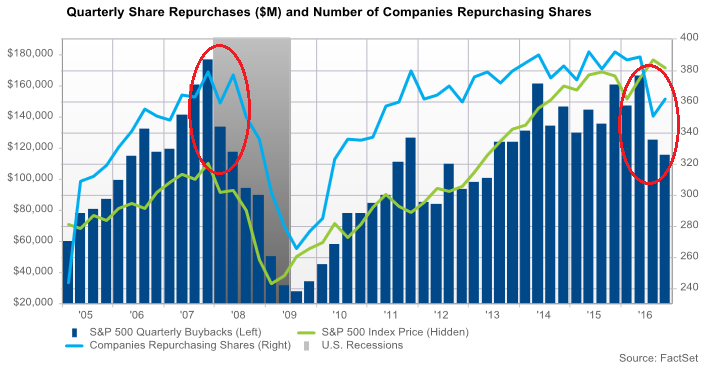 Even the near-record share buybacks in Q1 could not overcome the plunge in Q2 and Q3 and pull out the tally for the trailing 12 months, which declined 2.6% from a year ago to $556.6 billion. That's still a lot of moolah dedicated to nothing but propping up their shares.
The number of S&P 500 companies making buybacks of $1 billion or more dropped from 43 a year ago to 33 in Q3.
Apple retained its crown in this elect field with $7.2 billion in buybacks in Q3, followed by GE, distantly, with $4.3 billion. Over the past 12 months Apple repurchased 31.1 billion of its shares, GE $21 billion. Here are the ten biggest buyback queens:
Apple: $7.22 billion
GE: $4.29 billion
Microsoft: $3.55 billion
Allergan: $3.19 billion
McDonald's: $2.77 billion
Citigroup: $2.53 billion
JP Morgan: $2.29 billion
AIG: $2.26 billion
Home Depot: $2.14 billion
Yum! Brands: $2.09 billion
Tech, thanks to Apple and Microsoft, remained the largest "buyback sector" – this sort of financial engineering lingo grows on you after a while – with $27 billion, or 23.4% of total buybacks. Financials are in second place with $25 billion, or 21.7% of total buybacks.
But buybacks by all major "buyback sectors" declined. Major excludes the Real Estate, Telecom, and Utility sectors, which averaged less than $2 billion a quarter in buybacks. Buybacks among Financials declined only 3.6%. The remaining "buyback sectors" experienced double-digit plunges. There are the most magnificent "buyback sector" dives, in Q3, year-over-year:
Energy: -62%
Materials: -55%
Information technology: -41%, dragged down by new-found stinginess at Oracle, Intuit, Motorola, and Apple.
Industrials -36%, dragged down by Honeywell, Quanta Services, and Caterpillar.
Despite the decline, buybacks remained a huge buying force in the market. At the end of Q3, trailing 12-month buybacks ate up 66% of net income, about the same as a year ago, with 119 companies in the S&P 500 blowing more on buybacks than they generated in earnings. And 109 companies blew more on buybacks than they generated in free cash flow. As ludicrously high as this sounds, it's the lowest count since Q2 2013.
And much of it is funded with debt. Over the past three years, aggregate debt of the S&P 500 companies has grown 1.7 times faster than aggregate cash and short-term investments, according to FactSet.
Even Apple, which is swimming in cash, has borrowed megatons because much of its cash is registered "overseas" and represents profits that have been sheltered from US corporate income taxes by being registered "overseas" though much of the "cash" is already invested in US securities but it can't be used for buybacks [read… Come on Moody's, Spare us these Falsehoods: That $1.3 Trillion "Overseas Cash" is Already in the US].
This is a nasty wrinkle in the buyback scenario. But there's hope. Trump has pledged to change the corporate tax code, and/or give corporations a tax holiday on this "overseas" cash so that they can "repatriate" it, by selling their US Treasurys and other investments and using the proceeds to buy back their own shares. That's what happened last time the government granted this kind of tax holiday in 2004. And everyone is hoping that it will happen again. I suspect that's one of the reasons for the surge in stock prices since the election.
If not, and if this major stock-buying force continues to wheeze like this, our eternally wondrous stock market might be in serious trouble.
GM has been reacting to its fabulously ballooning inventory glut by piling incentives on its vehicles. But that hasn't worked all that well. Now it's time to get serious. Read…  "Car Recession" Bites GM: Inventory Glut, Layoffs, Plant Shutdowns
Enjoy reading WOLF STREET and want to support it? You can donate. I appreciate it immensely. Click on the beer and iced-tea mug to find out how:

Would you like to be notified via email when WOLF STREET publishes a new article? Sign up here.