But GM already booked those vehicles on dealer lots as revenues.
GM has been reacting to its fabulously ballooning inventory glut by piling incentives on its vehicles. But that hasn't worked all that well though it cost a lot of money. Now it's time to get serious.
It will temporarily close five assembly plants in January and lay off over 10,000 employees, spokeswoman Dayna Hart said today. Plants that assemble cars will be hit, according to the AP:
The company's Detroit-Hamtramck factory and Fairfax Assembly plant in Kansas City, Kansas, each will be shut down for three weeks, while a plant in Lansing, Michigan, will be down for two weeks. Factories in Lordstown, Ohio, and Bowling Green, Kentucky, each will be idled for one week.

The factories make most cars in the General Motors lineup including the Chevrolet Cruze, Camaro, Corvette, Malibu, Volt, and Impala; the Cadillac CT6, CTS and ATS; and the Buick LaCrosse.
While retail sales for the 11 months of the year edged up less than 2%, GM expects sales to rental companies to drop by about 75,000 vehicles this year. And rental companies buy mostly cars.
Sales of trucks and SUVs accounted for nearly 62% of all GM vehicles sold in November in the US, a record percentage. But car sales stank.
With car sales slowing for months, GM has kept production up, trying to move the iron with incentives, but that hasn't worked. And overall inventory on dealer lots has soared to 874,162 vehicles at the end of November, up 26.5% from a year ago, up 28% from last July, and the highest level in eight years when GM was skidding into bankruptcy during the Great Recession. This pile of vehicles translates into 87 days' supply.
Normally, 60 days' supply is considered healthy. This is what the inventory debacle looks like: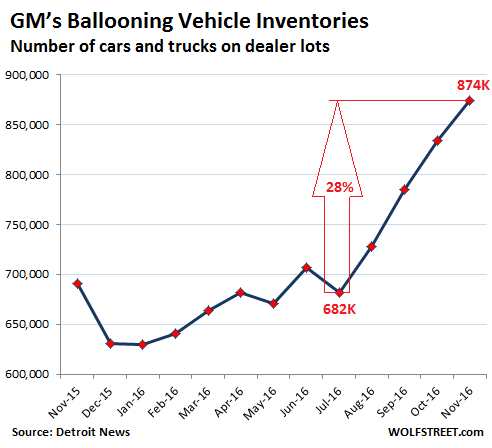 But that's the overall inventory level – cars, trucks, and SUVs combined.
Cars have reached 105 days' supply, up from 75 days a year ago, according to Detroit Auto News. In specific product lines, days' supply at November sales have reached near catastrophic levels, with four models approaching half a year:
Chevy Camaro: 177 days
Chevy Corvette: 170 days (Nearly half a year! You should be able to get a deal!)
Chevy Spark: 170 days
Chevy Cruze: 121 days
Chevy Malibu: 84 days
Buick LaCrosse: 168 days
Cadillac ATS: 119 days
Cadillac CTS: 132 days
Cadillac CT6 110 days
"We're going to be responsible in managing our inventory levels," Chevrolet spokesman Jim Cain explained.
Here's what you should know about these inventory numbers.
These are vehicles on dealer lots. Dealers have already been invoiced for them and have paid for them (usually via "floor plan" financing). These cars belong to the dealers. And the automaker, in this case GM, has already recognized these vehicles on its financial statements as revenues!
For financial statement purposes, automakers consider a vehicle sold at a point somewhere between assembly and shipment to the dealer. It's up to the dealer to sell it to the public. So GM's revenues for the third quarter, for example, included the vehicles still languishing on the dealer lots at the end of October. It's called channel stuffing.
In contrast to these revenues on automakers' financial statements, the "sales" reports that automakers release monthly are based on new vehicle unit sales by dealers.
Automakers fret about those unsold units because dealers slash their orders when vehicles are filling their lots while more vehicles arrive every day. For dealers to reorder, GM must help them move the iron. Hence the costly incentives. But if it doesn't work and dealers slash their orders – that's now happening as a result of these ballooning inventories – GM's revenues will get hit.
And GM hasn't skimped on incentives. In November, it spent over $4,800 on average per vehicle, according to J.D. Power PIN, cited by the Detroit News. That's up by over $1,100 from a year ago. Automakers overall raised their incentives on average by $650 in November to deal with their inventory glut.
They're all doing it.
In October, Ford announced that it would temporarily shut down production at one of its F-150 assembly plants (Kansas City), along with production at a plant that assembles the Escape and the Lincoln MKC (Louisville), plus two plants in Mexico. It would also lay off about 13,000 workers, 9,000 in the US and 4,000 in Mexico. Ford's inventories on dealer lots at the end of November edged down from a year ago to 649,800 vehicles. But that too amounts to 83 days' supply overall, and 88 days for cars.
And Fiat Chrysler decided to discontinue two car models, the Chrysler 200 and the Dodge Dart, in what is becoming a very tough environment. It's inventories soared 5% in just one month to 596,500 vehicles on dealer lots at the end of November, a dizzying 93 days' supply overall (up from 76 days a year ago). Its supply of cars has surged to 103 days.
This is how the automakers are struggling with what Ford has termed the "car recession." But there are deeper problems than just slowing car sales: six million Americans are 90-plus days delinquent on their auto loans! Read…  Subprime Auto-Loan Delinquencies Surge to NY Fed's Attention
Enjoy reading WOLF STREET and want to support it? You can donate. I appreciate it immensely. Click on the beer and iced-tea mug to find out how:

Would you like to be notified via email when WOLF STREET publishes a new article? Sign up here.