What are they seeing from their perch that we don't?
The Big Bullish signal with a capital B – for those who believe in this kind of religion – was that the Dow Jones Transportation Average jumped to a new high on Wednesday for the first time since 2014, and that it rose again on Thursday to another record, even as the Dow also hit new records. The theory goes that transportation stocks predict the broader market in some manner.
There were other bullish signals. Everyone is finding them suddenly everywhere. The hopes are flying high that whatever Trump is going to do – from instigating trade wars to letting Goldman Sachs run the Trump administration – it's suddenly all good for stocks.
Then why are insiders at banks and industrial companies selling their share as if there were no tomorrow?
Banks had a blistering run. The shares of Wells Fargo, the most hated bank in America these days, soared 28% over the past 30 days, Citigroup 25%, JP Morgan 26%, Goldman Sachs, which is successfully placing its people inside the Trump administration, 37%. It has surged 50% since the end of October, when insiders figured that Trump had a big chance of winning: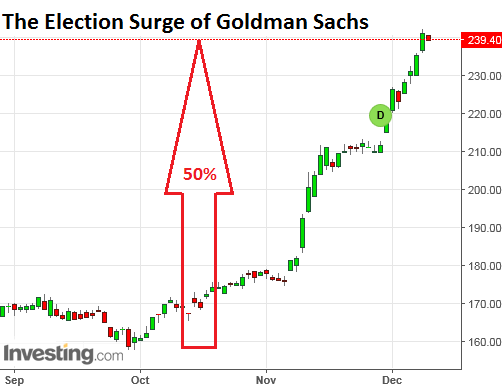 In fact, financials have become the S&P 500's best-performing sector.
Not that everything is going all that great. Wells Fargo already offered some titillating tidbits on Tuesday, when CEO Tim Sloan said at an investor conference that interest rates that have jumped recently and currency fluctuations have caused some of its securities – he was talking about hedges – to decline in value and hit profits. Reuters:
While Sloan did not specify how big the impact on reported results would be, he pointed for comparison to a $379 million first-quarter hedge accounting gain from a sharp decline in interest rates and foreign currency moves.

"So far interest rates and foreign currency fluctuations have moved even more than in Q1, and in the opposite direction," he said.
Other banks may see a similar reversal of erstwhile profitable hedges and trades. No matter. Bank stocks have soared. But high-ranking insiders have been dumping their shares faster than at any time in the data going back to 2003. These executives are considered the "smart money."
Citing data from research firm InsiderScore, The Wall Street Journal reported:
Right on cue, insiders at US-listed banks, brokerages, and financial-services companies are poised to set records for the sheer number of people selling stock and the dollar value of shares sold in the fourth quarter, based on data since 2003.

Ben Silverman, director of research at InsiderScore, said a similar pattern holds for industrials, up 9% over the past month.
But the Wall Street Journal was quick to pooh-pooh the bearish signal. In fact, there are no bearish signals. Everything is bullish, even bearish signals. So, couched in words like "might" and "could," it pointed out that there must have been bullish reasons for those insiders to sell:
But insiders might choose to sell their stock for reasons that don't necessarily match the incentives of the typical individual investor.

Some insiders could be locking in profits or exercising options that are close to expiration. Many banking executives in particular have held underwater options in the years following the financial crisis. Bank of America Corp. and Morgan Stanley, for example, have rallied back to mid-2008 levels. If this postelection rally was the first chance to sell, it is hard to argue against doing so no matter how they feel about the future. That activity differs from more-diversified mom-and-pop investors.
But the report admits that at the beginning of this year, when bank stocks were getting clobbered, insiders were heavy buyers, with impeccable timing: Jamie Dimon bought $26 million of JP Morgan shares on February 11. Since then, JPM has jumped 60%. So now, for them, seeing what they see from their perch, it's once again time to unload, and do so at record pace – perhaps with impeccable timing once again.
These bank executives are among the households for whom the stalled US economy has performed a miracle, according to the Fed's current progress report. Read… Who the Heck are these Households that are Worth $90 Trillion?
Enjoy reading WOLF STREET and want to support it? You can donate. I appreciate it immensely. Click on the beer and iced-tea mug to find out how:

Would you like to be notified via email when WOLF STREET publishes a new article? Sign up here.