The bond market is doing the math.
Traders got even more nervous on Friday, after having been twitchy all Thursday, and they alleviated this condition by selling government bonds.
In July, government bonds were sitting ducks with their low yields, and perfectly ripe for a good plucking. This plucking has now proceeded relentlessly and has entered its sixth week in a row, after an already rough four months.
The price of the 10-year Treasury note swooned on Friday. The 10-year yield, which moves in the opposite direction, rose 6 basis points to 2.47%, the highest yield since June 2015. Since early July, the 10-year yield has jumped by 1.08 percentage points! That's a 77% move (via StockCharts.com):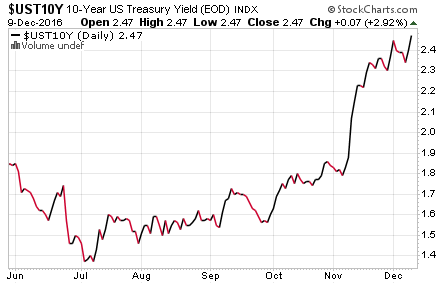 The 30-year Treasury yield jumped 7 basis points on Friday to 3.15%, the highest yield since June 2015, which elegantly crowns a 50% move in six month (via StockCharts.com):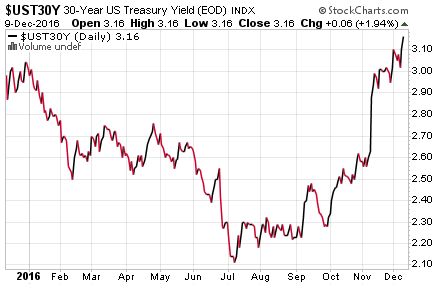 US government bonds are considered among the most conservative investments in the world because they'll never default. They will always get redeemed at face value since the government, via the Fed, can always print enough money to take that risk off the table, though the bonds' purchasing power might get crushed in the process.
Investors buy 30-year bonds to get some extra yield. But now they experience the bitter irony of duration risk. The CME CBOT 30-Year US Treasury Bond Price Index has lost over 8% since the election, and 15.4% since July 2015 (via StockCharts.com):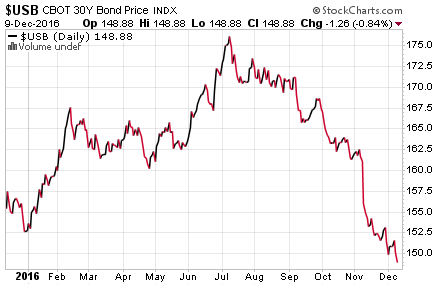 There's real money involved – not just percentages. In November alone, the Bloomberg Barclays Global Aggregate Total Return Index lost $1.7 trillion in value, "the deepest slump since the gauge's inception in 1990," as Bloomberg put it.
And investors have gotten the memo. They've yanked $34 billion out of global bond funds over the past six weeks straight, according to a weekly fund-flows report from Bank of America Merrill Lynch, cited by MarketWatch. This amounts to the longest period of declines since the infamous Taper Tantrum during the summer of 2013 when it dawned on the bond market that QE Infinity would not be "infinity" after all.
Some of the hottest bond funds saw the biggest outflows, including those focused on emerging markets that investors loved because they offered slightly higher yields in a low-yield era. And losses are beginning to mount.
The Emerging Market fund EMB, after the red-hot rally from mid-February to early September, has since lost 7.4%. But even much lower risk funds, such as PIMCO's Total Return Active ETF is down 4%, and back where it had been during the selloff early this year. And PIMCO's Long Duration Total Return fund is down 11% since July.
Mortgage lenders have responded in kind. On Friday, the average lender hiked the 30-year fixed rate conventional mortgage for top tier borrowers to 4.25%. According to Freddie Mac, the average 30-year fixed-rate mortgage rate rose 5 basis points to 4.13% during the December 8 reporting week, the highest since July 2014: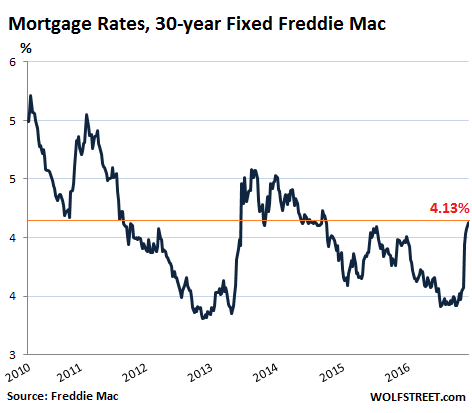 But home prices have soared in recent years. Since July 2014, the last time when rates were at this level, home prices have risen by well into the double digits in many markets, making the median home in some of the horrendously expensive markets even more unaffordable for the median home buyer – thereby creating demand problems.
On Friday, bond traders were particularly edgy. The Fed will meet next week. Fed-funds futures have elevated the chances of a rate hike to near certainty. It would be the first rate hike in a year, and the second rate hike in almost a decade. The Fed has been making noises about more rate hikes in 2017 and beyond, and there's a sense that since the election, the Fed has turned more hawkish – even the doves.
Stock markets are blissfully ignoring the possibility of higher costs of capital, and what that would entail for companies, but bond markets are not. They're going through a condition variously labeled with propitious terms like "bloodbath," "rout," "carnage," and "meltdown," something that is likely to continue in some form or other, though there will be the inevitable bounces.
Why? Because the bond market is doing the math. Read…. Get Used to Lousy Growth AND Rising Rates: Fed Dove Dudley
Enjoy reading WOLF STREET and want to support it? You can donate. I appreciate it immensely. Click on the beer and iced-tea mug to find out how:

Would you like to be notified via email when WOLF STREET publishes a new article? Sign up here.