"Entire Swaths of our neighborhood covered with For-Sale signs"
The numbers about the inglorious end of the totally insane house price bubble in Vancouver are bad enough. But the photos of "For Sale" signs along entire city blocks speak louder than the numbers ever could – in fact, they make us doubt the numbers.
The Real Estate Board of Greater Vancouver (REBGV) today reported that in November, residential home sales in Greater Vancouver plunged 37.2% year-over-year to just 2,214 homes. By category of home:
Sales of detached homes down 52.2%.
Sales of attached homes down 40.9%.
Sales of condos down 22.7%.
In essence, the market has frozen up, especially for detached homes.
The total number of properties listed for sale on the Multiple Listing Service (MLS) in Greater Vancouver rose 3.6% year-over-year to 8,385. Which leaves us wondering, given the for-sale signs along entire blocks – we'll get to the photos in a moment.
REBGV president Dan Morrison tried to portray this situation in the best possible light: "While 2016 has been anything but a normal year for the Metro Vancouver housing market, supply and demand totals have returned to more historically normal levels over the last few months."
The reason home sales plummet is this:
One, potential buyers get the memo instantly that the market has turned. From one moment to next, they lose their blind enthusiasm. They figure the longer they wait, the lower the price will be. Some of them will buy if prices drop enough. But prices haven't dropped enough, so they don't buy.
Two, sellers refuse to look at the memo. They cling to their hopes. They have a fantasy number in mind. The number that will make them rich. They put the home on the market and wait. And wait. And wait. Then they pull it off the market, and re-list it. If they're not forced to sell, they'll hang on by their fingernails to their hope, waiting for prices to rise, even as they're falling month after month.
It's not until sellers start reading the memo and start slashing their prices that deals are being made, and that volumes tick up. But Vancouver isn't there yet. Far from it.
The MLS Home Price Index, which tracks the composite benchmark price for all residential properties in Greater Vancouver, fell 1.2% from October, and 2.7% over the past three months, to C$908,300.
Over the past three months, price declines were unequally spread among the areas. For example:
In Vancouver East: -2.7% to C$965,100
In Vancouver West: -2.0% to C$1,227.500
In tony West Vancouver: -9.5% to C$2,510,300, driven by single family detached homes, whose prices dropped -10.2% in three months
The composite price index for Greater Vancouver, though down 2.7% over the past three months, is still 20.5% higher than it was a year ago.
But the year-over-year price inflation is coming down. In June, before the 15% transfer tax (aimed at non-resident foreign investors) was implemented, the benchmark price skyrocketed 32.1% from a year earlier to $C917,800; in July, it skyrocketed 32.6% to $930,400. That was about the peak. Since then, the benchmark price has dropped to C$908,300, and the year-over-year price increase is down to 20.5%.
So Angela Johnson, a WOLF STREET contributor and our boots on the ground in Vancouver, reported that "entire swaths of our neighborhood are covered with for-sale signs."
And she went out and took a series of disturbing photos of for-sale signs lined up and down entire blocks in her neighborhood. The type of photo we saw during the US housing crash in some of the hardest hit areas.
This photo was taken on December 1, on the 700 block on Renfrew St. in East Vancouver (we'll get to the other side of that street in a moment, so hang on):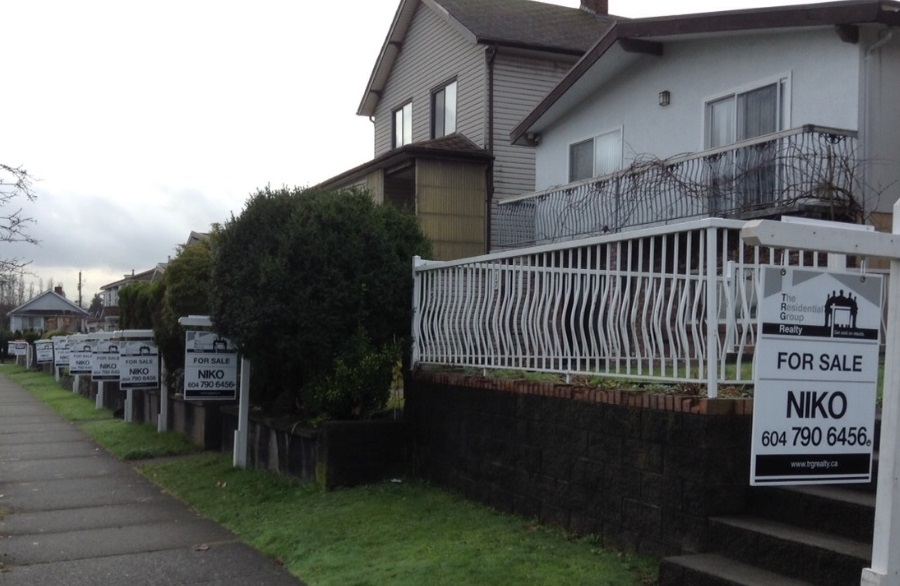 The photo below is looking east on the 2700 block of Broadway, near the intersection with Renfrew. Broadway is a main artery perpendicular to Renfrew. I circled some of the signs barely visible on the right side of the street. None of the signs sport "Sold" (photo taken December 1):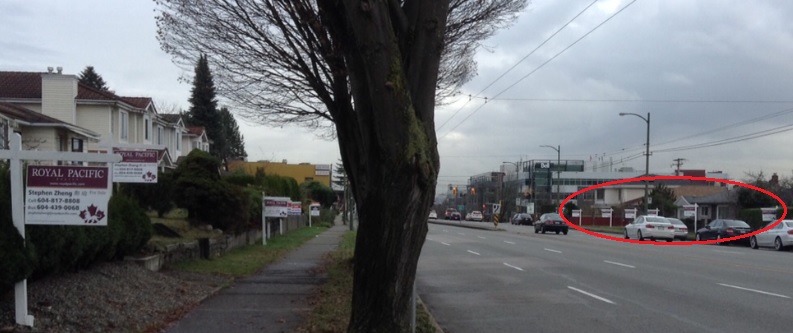 The photo below shows more homes for sale on Broadway on the other side of the intersection with Renfrew (taken on December 1):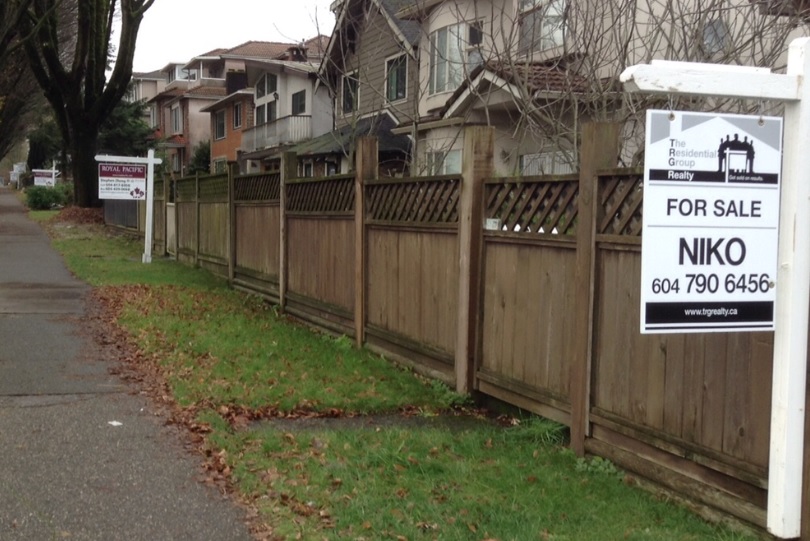 Also on Broadway, facing west. Note that there are six for-sale signs behind the first one: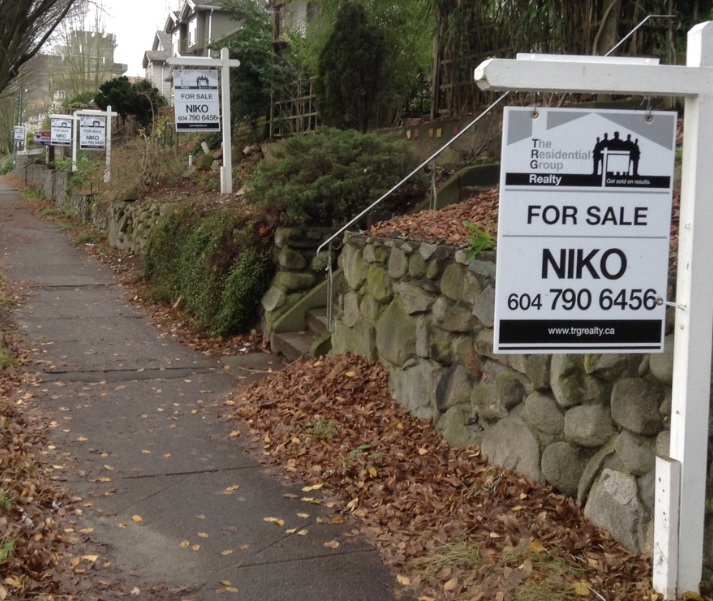 Now to the other side of the 700 block of Renfrew. Angela took the photo below on October 19, but the signs began appearing earlier – that's how long these homes have been languishing on the market. It's a little hard to see, but the for-sale signs line the entire block all the way back. And there's a duplex under construction at the end (click to enlarge):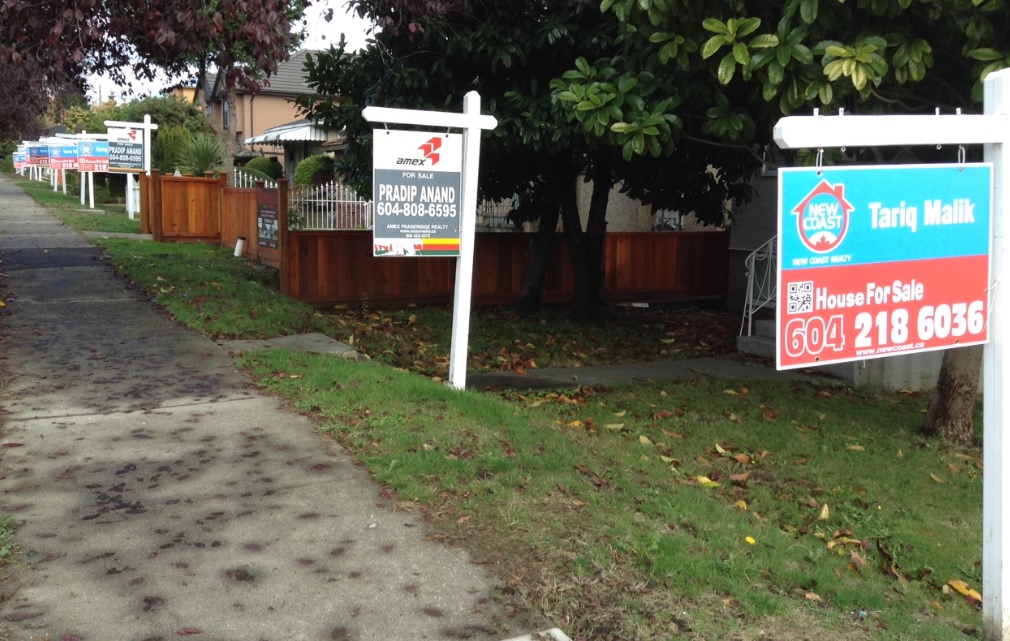 But these homes ended up becoming part of a large "land assembly" deal. A developer bought them, hoping to get the city to rezone the area to allow the construction of a multi-story mixed-use building. The rezoning is expected to take two to three years, if it happens at all. Once rezoned, the homes will be torn down. That includes the unfinished duplex at the very end of the photo below. The builder will likely rent out the homes until then. And so these homes sold for C$17.5 million combined, at the peak of the market, to be torn down: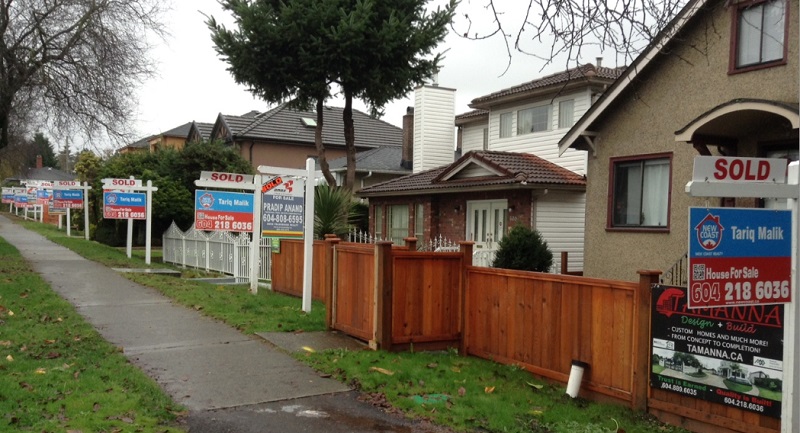 Now even the OECD frets about Canada's House Price Bubble and its consequences. Read…  What Happens "If the Boom Ends with a Bang?"