And the spike in mortgage rates will come in handy.
The situation in government bonds – variously labeled with "bloodbath," "rout," "carnage" "meltdown," or similar propitious terms – continued on Thursday.
Already in November – so not counting the "carnage" today – the Bloomberg Barclays Global Aggregate Total Return Index lost 4% or $1.7 trillion, according to Bloomberg, "the deepest slump since the gauge's inception in 1990."
While global stocks rallied in November, the gains – $635 billion – were outright puny compared to the $1.7 trillion wiped out in the much larger bond markets.
On Thursday it got worse. It started in Europe where government bonds got crushed after speculation surfaced that the ECB might not keep buying bonds until hell freezes over, that in fact it might begin tapering its QE program as soon as next year. The markets were aghast.
When trading started in the US, all heck broke loose. The 10-year Treasury had already gotten beaten up all November, with the 10-year yield up 56 basis points, the biggest monthly jump since 2009, according to Bloomberg's math. By midday Thursday, the 10-year Treasury had fallen hard, and the yield had spiked to 2.49%, the highest since June 2015, before settling at 2.45%, up 8 basis points for the day (via StockCharts.com):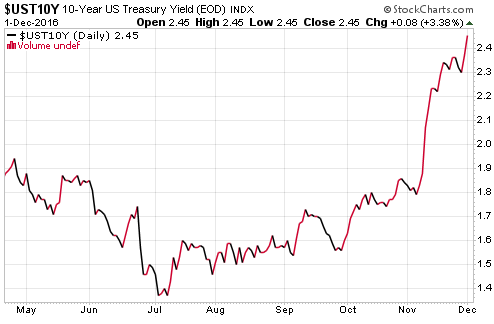 The 30-year Treasury yield jumped 8 basis points on Thursday to 3.10% (via StockCharts.com):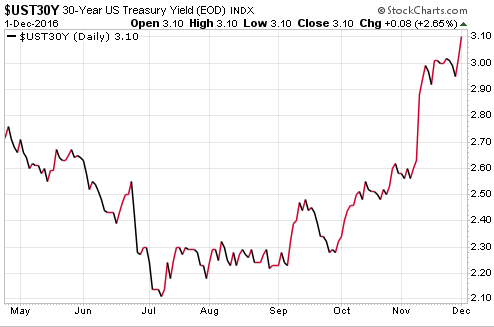 In terms of dollars and cents, the CME CBOT 30-Year US Treasury Bond Price Index has now lost 8.5% since Election Day, and 14.8% since July. This is a bitterly ironic twist for those investors who consider them among the most conservative investments in the world (via StockCharts.com):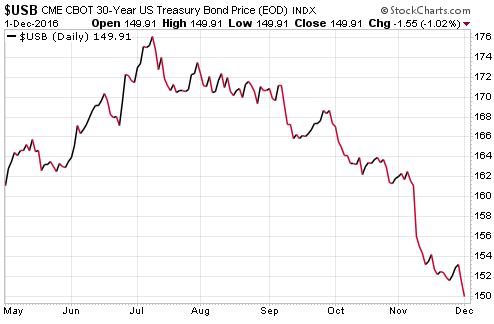 And the mortgage market had another bad-hair day, with the 30-year fixed rates surging to 4.25% for borrowers with high credit scores, and rates were quoted as high as 4.375%, a phenomenon last seen in September 2014.
This comes on top of a house price bubble that in many cities has long ago blown past the crazy peak during the prior housing bubble, the one that imploded with such fanfare. Even the Case-Shiller Index, which lags behind and has its own methodology, just showed that even on a national basis, house prices are now higher than they'd ever been. Higher mortgage rates, especially for the most inflated markets, are going to come in very handy.
This bond market "carnage" is accomplishing something else: It's gutting negative yields – and all those who've bought these bonds when yields were at their most negative.
According to Fitch Ratings, as yields have spiked across the world, the amount of government bonds with negative yields dropped by $1.1 trillion from November 1 through 28, to $9.3 trillion. That's down from $11.7 trillion at the end of June.
And it doesn't include the "rout," particularly in Europe, over the past two days. So by now, the amount of bonds with negative yields might have dropped below $9 trillion.
Japan, the country that's in the worst fiscal shape in the world, is still the king of the NIRP hill. Even the 10-year yield has moved above zero in November, if barely, and now sits at 0.04%. This whittled down the amount of Japanese Government Bonds with negative yields to $6.1 trillion.
In Europe, negative-yielding debt has declined in every country from November 1 through 28, in total by $0.4 trillion, according to Fitch, bringing the pile down to $3.2 trillion.
It has been painful. Fitch:
Yields on long-term debt in major developed countries, the type that many insurance companies and pension funds own, rose sharply in November. Losses over the past month have been particularly severe for investors in long-maturity, low-coupon debt, which is subject to large price swings.
This episode of willfully driving bond yields into the negative will go into the annals of history as the moment "peak stupidity," not by central banks who operate in their own world and for their own purposes, but by those who bought these damn things when they sported negative yields, rather than dumping everything in the house. For institutions that have to buy long-dated bonds no matter what, such as insurance companies, history, if it's going to be kind, will coin a new term: "forced peak stupidity."
This is now happening in San Francisco, New York, Boston, Chicago, Washington DC, and perhaps a city near you. Read…  The Great Unwind Unravels Hottest Rental Markets in the US
Enjoy reading WOLF STREET and want to support it? You can donate. I appreciate it immensely. Click on the beer and iced-tea mug to find out how:

Would you like to be notified via email when WOLF STREET publishes a new article? Sign up here.