Now in San Francisco, New York, Boston, Chicago, Washington DC, and perhaps a city near you.
Averaged out across the US, asking rents for apartments still rose in November on a year-to-date basis, though more slowly than before, with the median asking rent for a one-bedroom up 1.8% and for a two-bedroom up 2.2%, according to Zumper's National Rental Price Index. In July, rents had still been up over 4% year-to-date. Since then, they've started ticking down on a monthly basis. But averages can cover up more than they reveal.
On a city-by-city basis, a different scenario emerges, with rents going totally crazy in some la-la lands, as if it were still the summer of 2015, and in other cities, including the three most expensive rental markets in the US, rents are coming down hard.
In San Francisco, the number one most ludicrously expensive rental market in the US, rents have now sagged for the fifth month in a row. Asking rent for a median one-bedroom fell to $3,330. That's still a lot of moolah: $40,000 a year for a small, very average apartment. But that's down 9.3% from the peak of the rental bubble in October 2015.
The median asking rent for a two-bedroom dropped to $4,500. So $54,000 a year. That's down 6.8% from a year ago, and down 10% from the October 2015 peak, when landlords were asking $5,000 a month, or $60,000 a year, according to Zumper. Back then, rents had soared 11% from the prior year. Those kinds of double-digit rent increases were common. Hence the local term, "Housing Crisis," when households with median incomes cannot afford to rent a median one-bedroom apartment.
The last time rents declined year-over-year was in April 2010 in the process of the housing bust bottoming out. Now it's just the beginning, a turning point, not a blip.
Two-bedroom apartments can be small in San Francisco. And if you want a spot in the garage, you might have to fork over another $3,000 to $5,000 a year.
Back in landlord nirvana of October 2015, the median two-bedroom with garage might have set you back 65,000 a year. So were landlords nuts? Nope. They just thought they could get these rents. But people with the high incomes required to pay these rents don't want to live in a median apartment. And demand withered just when supply began to surge.
Thanks to a historic construction boom, enormous supply is flooding the market, not only of apartment buildings but also of condo towers, and investor-owned condos are appearing on the rental market. Nearly all of it is high-end. As rents come down at the high end, they're pressuring the market from the top down. Apartments.com lists 2,278 apartments for rent: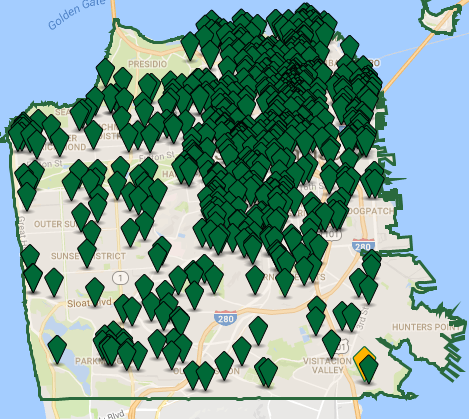 New York City, the number two most ludicrously expensive market in the US, is going through a similar scenario. Soaring rents have led to a construction boom which is now flooding the rental market with high-end supply, not only of apartments but also of investor-owned condos.
The median asking rent for a one-bedroom dropped 7.4% from a year ago to $3,000 and for a two-bedroom 7.9% to $3,400. Apartments.com lists 12,486 apartments for rent just in Manhattan: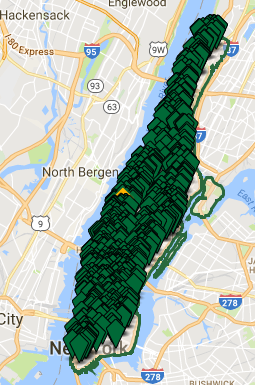 Then there's Boston. Even Boston Fed Governor Eric Rosengren has publicly fretted about the commercial real estate bubble, citing the crane forest in Boston as an example. That's on the supply side. Apartments.com lists 11,384 apartments for rent in Boston: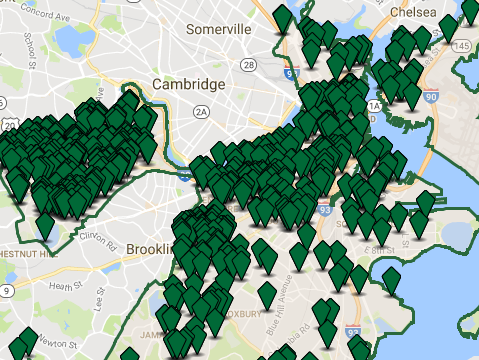 On the demand side for rental apartments, things have slowed down, and the median asking rent for a one-bedroom apartment dropped 5.9% in November from a year ago, and for a two-bedroom 3.4%.
The tables below show the 12 most expensive large rental markets in the US. A lot of red ink in what used to be a sea of rich green for the past six years. But note the rental la-la land in Seattle and in Los Angeles: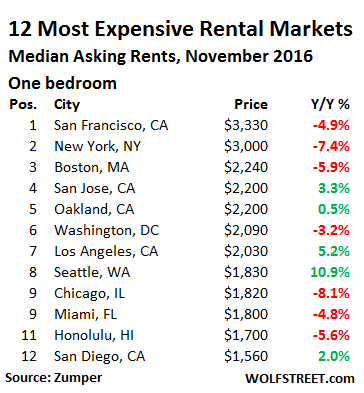 Zumper tracks asking rents in multi-unit apartment buildings. They're usually owned by institutional investors and mega-landlords. Single-family houses for rent are not included in the data. That market, often the playground of mom-and-pop investors (though mega-landlords have also muscled into this space), is subject to different dynamics.
Some of the cities have rent-control laws that limit how much the rent can be raised in rent-controlled units. These rules can be complex. In San Francisco, for example, rent control only applies to multi-family buildings completed before June 1979 and correlates with CPI. This year through February 2017, the maximum rent increase is 1.6%. Buildings completed since June 1979 are not rent controlled. Condos are not rent-controlled either. And anyone moving into an apartment, rent-controlled or not, is going to pay market rent at least for the first year.
A special word about Chicago. The city is jacking up property taxes and other fees and taxes to deal with a multi-layered reeking morass of a pension crisis that is emanating from several municipal pension funds and that just keeps getting worse and is pushing the city and its school district toward bankruptcy [read…. US Pension Crisis: This is How Families Get Squeezed to Bail Out Pension Funds in Chicago].
These tax and fee increases will raise the costs for all homeowners – and for landlords. So landlords would want to pass on these additional costs to their tenants in form of higher rents, but rents are plunging, and landlords are getting squeezed from both sides. This will eventually filter into commercial real estate prices in a very unpleasant manner. A similar scenario is already, or will soon be, playing out in other cities across the country.
Below are the top 100 rental markets in November, in order of the amount of rent for one-bedroom apartments. In some of them, rents are still soaring in the double digits. In others, like Baltimore, rents are crashing in the double digits. Check out rental trends in your city (tables by Zumper, click to enlarge):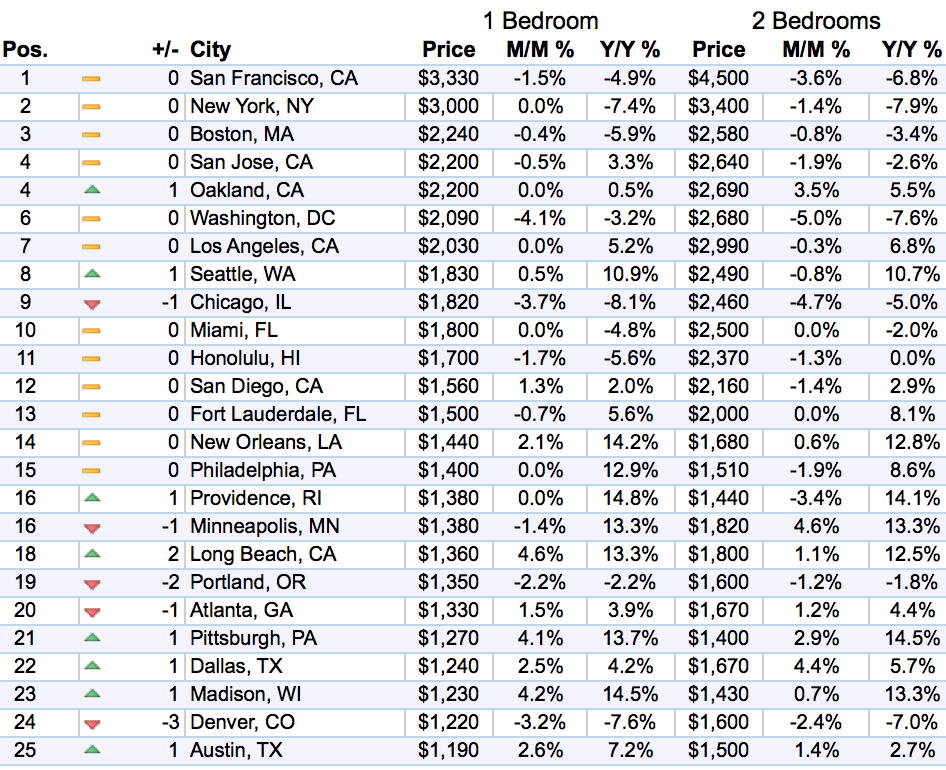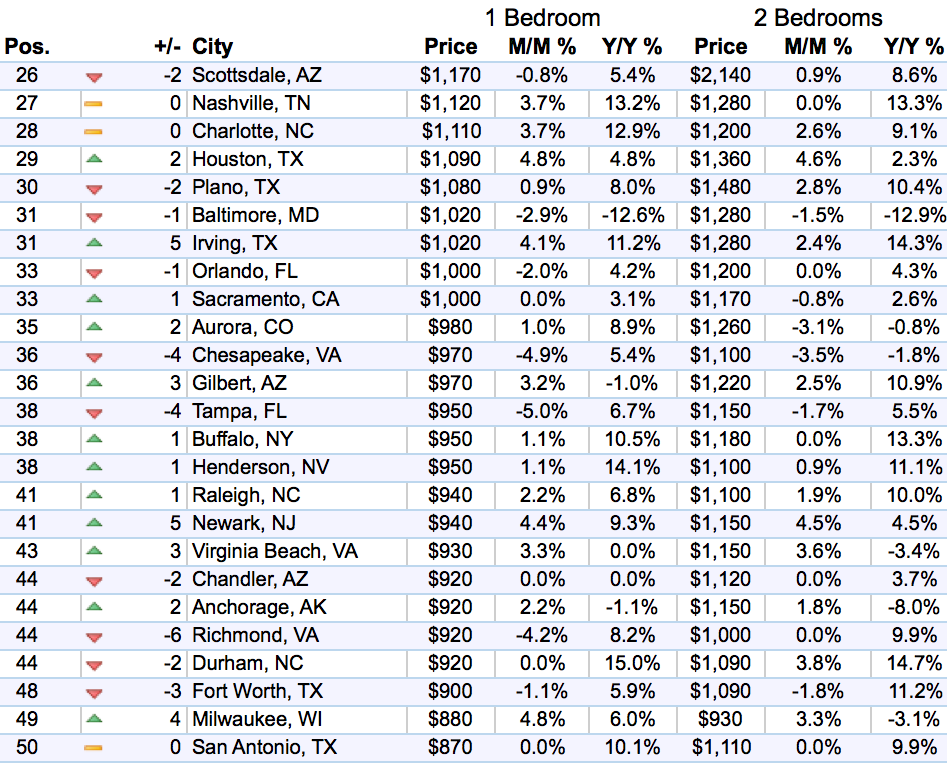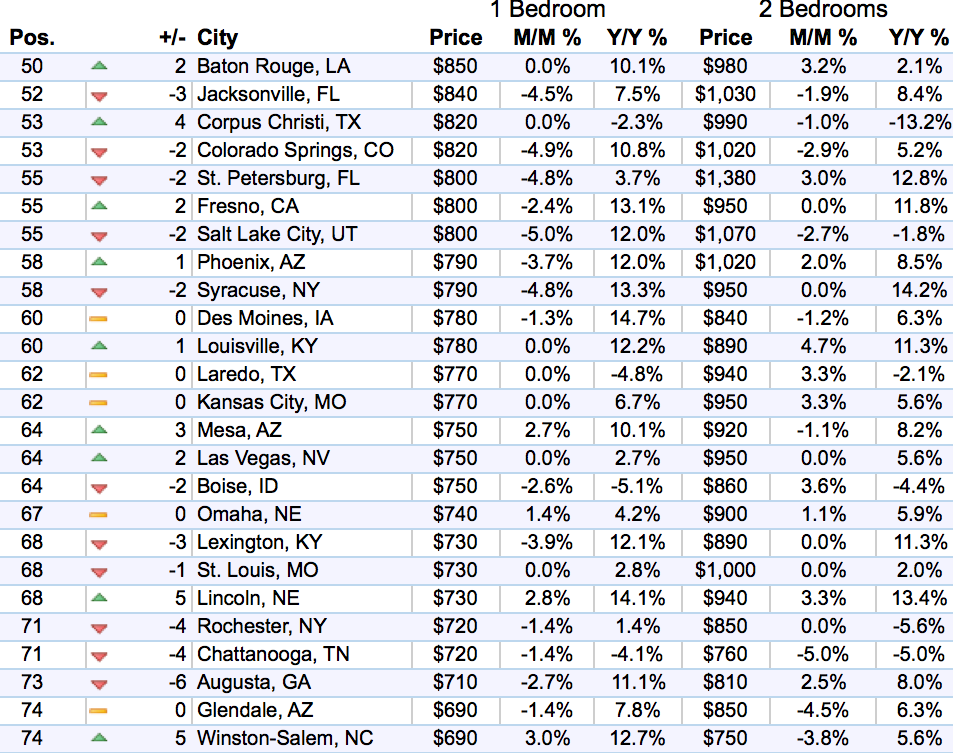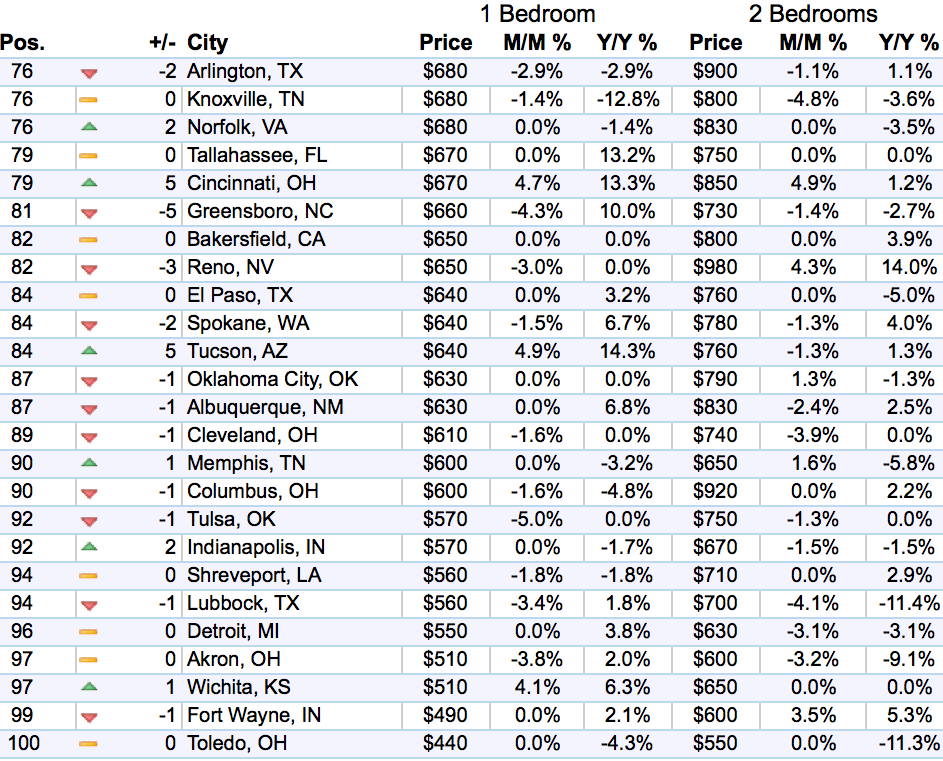 It's the banks they're worried about. Read… Who'll Get Hit by Fallout from the $11-Trillion Commercial Property Bubble in the US?
Enjoy reading WOLF STREET and want to support it? You can donate. I appreciate it immensely. Click on the beer and iced-tea mug to find out how:

Would you like to be notified via email when WOLF STREET publishes a new article? Sign up here.