Six million Americans are 90-plus days delinquent.
The increasingly turbulent sector of subprime auto loans bubbled to the attention of the Federal Reserve Bank of New York. In its Liberty Street Economics, it worries about the "notable deterioration in the performance of subprime auto loans" – Fed speak for the momentum with which these loans are going to heck.
About six million people with subprime credit scores (below 620) are now at least 90 days past due on their payments for their car or truck.
The New York Fed worries about the lenders that specialize in these loans, and it worries about the "large number of households" whose vehicles are at risk of repossession: "The increased level of distress associated with subprime loan delinquencies is of significant concern, and likely to have ongoing consequences for affected households," it says.
If the vehicles are repossessed, people might lose their ability to go to work, go to the grocery store, and do the normal things in life that drive the economy forward. Six million people are in that position.
Auto loan balances jumped by a breath-taking $32 billion in the third quarter, to $1.135 trillion, according to the New York Fed's current Household Debt and Credit report today. According to the Board of Governors of the Federal Reserve, which released its own set of numbers a little while ago, auto loan balances jumped by $30 billion in Q3, to $1.1 trillion (chart below). Both agree: It was the biggest jump in auto loan originations in US history for any quarter and year-to-date.
All of it on flat new vehicle sales so far this year: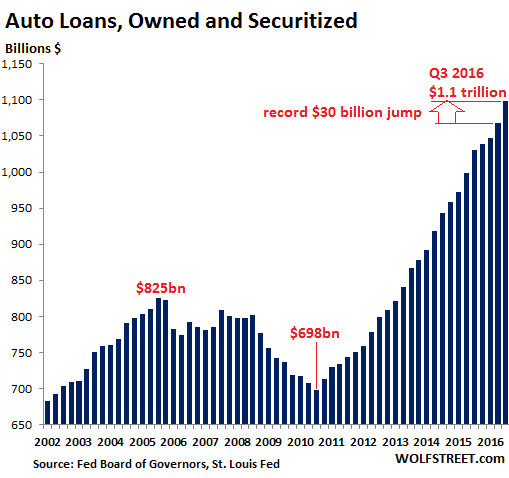 Of these $1.135 trillion in outstanding balances, banks and credit unions originated 49% ($556 billion). Auto finance companies originated 51% ($579 billion). These auto finance companies, such as Santander Consumer USA, are focused on subprime.
Subprime auto loans make up 24% (or $272 billion) of total auto loans.
Banks and credit unions originated only 25%, or $68 billion, of these subprime loans.
Auto finance companies originated 75%, or $204 billion, of these subprime loans.
Subprime auto loans, unlike other auto loans, are very susceptible to economic ups and downs. During the Great Recession, subprime auto loan balances dove. Lenders tightened underwriting standards. Defaulting borrowers saw their vehicles get repossessed. And people with subprime credit scores had trouble buying new cars, one of the reasons auto sales collapsed. By contrast, auto loan balances to borrowers with the highest credit ratings (above 750) continued to increase throughout the Great Recession, though at a subdued pace.
The chart below shows this divergence by credit score. The top grey line represents loan balances to borrowers with a credit score of 750-plus. The light blue line represents subprime loan balances. Yet, despite rising delinquencies, subprime balances have blown past the pre-recession credit-bubble peak and are setting new records (I added the red line):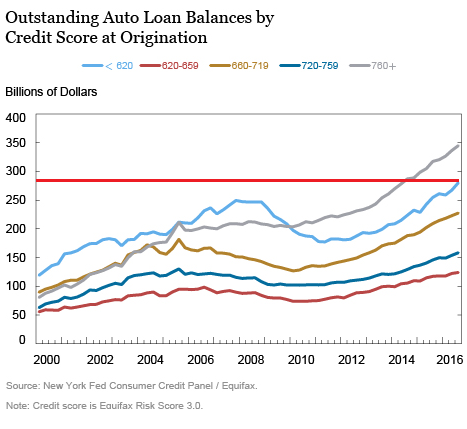 In terms of delinquencies, subprime is in turmoil. Overall, auto loans are still hanging on. In Q3, delinquencies of 90-plus days ticked up to 3.6% of total auto loan balances, or $41 billion. But the slight improvement in delinquency rates of loans originated by banks and credit unions has "masked" the turmoil in subprime, whose 90-plus day delinquency rate jumped "by a full percentage point over the past four quarters":
An even sharper divergence appears in the new flow into delinquency for loans broken out by the borrower's credit score at origination, shown in the chart below. The worsening in the delinquency rate of subprime auto loans is pronounced, with a notable increase during the past few years.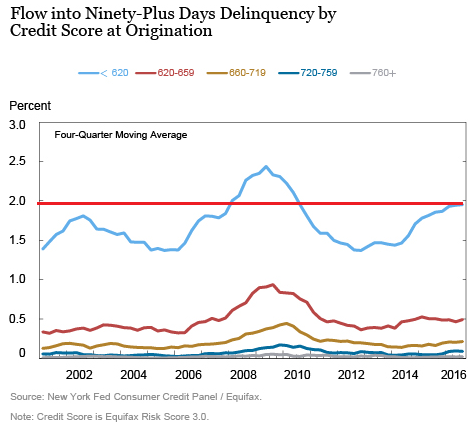 Note how the subprime delinquency rate (I added the red line) already exceeds the peak during the 2001/2002 recession and is approaching the peak during the Great Recession. So we're getting there.
The report warns that auto finance companies and some banks focused on subprime lending "are likely to have experienced declining performance in their auto loan portfolios."
So what's the risk of auto subprime to the US economy?
Unlike mortgages, auto subprime isn't big enough to blow up the entire financial system. But it has propped up auto sales. Loan terms have become ever longer, loan-to-value ratios ever higher, as specialized subprime lenders have jostled for position to grab these deals. Nearly a quarter of all auto loan balances are subprime. This is a big part of auto sales.
If subprime lending spirals down into losses and lenders keel over and others pull back, as they did during prior credit downturns, people with subprime credit scores will have a hard time buying vehicles, particularly new vehicles. And that'll hit the auto industry – not the financial system!
During the Great Recession, borrowers with high credit scores continued to add to auto loan balances, while subprime borrowers got pushed out of the market, as the second chart above shows. This was one of the reasons auto sales collapsed. Subprime lending once again has been key to the US auto boom through 2015. And this boom in the auto industry has been a massive prop under the otherwise shaky US economy. That's how problems in subprime auto loans will inflict pain on the economy.
There are already plenty of problems. The "Car Recession" is now expected to spread to 2017. Read…  Strongest Pillar of Shaky US Economy has Cracked
Enjoy reading WOLF STREET and want to support it? You can donate. I appreciate it immensely. Click on the beer and iced-tea mug to find out how:

Would you like to be notified via email when WOLF STREET publishes a new article? Sign up here.