Some HUGE winners, as shrapnel sinks others.
Overnight there were whiffs of financial mayhem. Wednesday morning in Tokyo, when it started sinking in that Trump was winning, speculators dumped stocks, and the Nikkei ended the day down 5.4%. The Asia Dow was down 3%. Then in the US, Dow futures plunged 750 points, over 4%. Nasdaq 100 futures plunged 4.5%. Futures for the CBOE Volatility Index – the "fear index" – jumped 40%. The Mexican peso plunged 11% to a record low of 20.3 pesos to the dollar at one point, its worst drop since the Tequila Crisis of 1994. Stocks in Europe were down, gold jumped, oil plunged.
And America woke up to this scenario. Short sellers were licking their chops. This was the scenario they'd prepared for. Serious money could be made in this so predictable crash.
And then what happened?
Gold, after having soared from 1,270 to 1,340, lost its footing and fell back to 1,270 before ticking up a smidgen. Oil did the opposite. WTI fell from $45 a barrel to $43.07 then bounced to $46, before falling back to $45.34. Yo-yo effect for both of them.
The S&P 500, despite the plunge of the futures overnight, opened indecisively, then rose, and closed the day up 1.1%. The Dow rallied 1.4%, to 18,589, just a smidgen from its all-time record of 18,636 set in August.
Construction suppliers smiled. Caterpillar soared 7.7% on hopes that Trump's wall along the southern border gets built pronto and without too many questions, and on hopes of that a $1-trillion deficit-funded infrastructure stimulus package, initiated by Trump, will sail through the Republican Congress.
Dreaming of the Big Wall and the infrastructure stimulus package, investors plowed into construction suppliers: Vulcan Materials soared nearly 10% to close at a record high. Martin Marietta Materials soared 11.6%.
Student-loan servicers and lenders soared. Speculators figured that under the new regime, the US government will try to get out of the student loan business. Part of this will likely be done by offering taxpayer guarantees to lenders, in order to privatize the profits and socialize the (horrendously big) default losses.
Shares of Navient, the largest student loan servicer, jumped 17%; SLM (Sallie Mae) 18%, Career Education 18%, Bridgepoint Education 17%, American Public Education nearly 22%.
Big Pharma beamed. They'd been under pressure all year, from endless revelations of rampant price gouging, and now a "sweeping criminal investigation into suspected price collusion." But today was nirvana. Speculators figured that a Republican government is likely to back off from cracking down on price gouging. Pfizer jumped 7%, Celgene 10.7%, Biogen 8%, Amgen nearly 6%.
The biggest health insurance giants rejoiced. Humana rose 3.9%, Aetna 4.7%.Cigna 5.5%.
Defense contractors had a fabulous day. Our Nobel Peace Prize winner had already been good to them with an endless series of conflicts and bombings. Now comes Trump who promised to balloon military spending further. The military-intelligence-industrial complex had a field day. Raytheon jumped 7.5%, Northrop Grumman, up 5.4%, hit an all-time high. General Dynamics also jumped 5.4%, Lockheed Martin 6%.
Scandal-plagued private prison operators skyrocketed. They'd been under enormous pressure as the government has started to shy away from them. But now they found new love in Trump. Shares of Geo Group jumped 21%, and Corrections Corp. skyrocketed 43%!
And the much maligned banks rallied. JP Morgan jumped 4.6%, Citi 3.4%, Bank of America 5.7%, and Wells Fargo, the most hated bank in the US currently, 5.4%. Clearly, speculators are hoping that the too-big-too-fail banks will get better treatment and easier conditions and more leeway and lower or no fines under a Republican government.
But some Big Tech stocks were not impressed. The Technology Select Sector SPDR ETF edged down 0.1%, much like Appel, Microsoft, Alphabet, Facebook, and IBM, all slightly in the red, though the Nasdaq rose 1.1%.
Other sectors were not so lucky.
The auto sector got hammered initially, and many stocks ended the day down, but not all. Ford fell 4% in the morning but then recovered and ended up 0.9%. GM, after dropping 4%, still ended the day down 2.4%. It too is in the grip of the US auto slowdown, particularly in cars. So today it announced that it would lay off 2,000 employees at two assembly plants, one in Ohio, and one in Michigan, "to align production output with demand for cars." Ford made a similar announcement in October.
Automotive component makers got hit the hardest. Kandi Technologies, a Chinese company traded on the Nasdaq, crashed 12.4%. Delphi, former subsidiary of GM, dropped 6.5%, Lear Corporation 4.3%, BorgWarner 3.8%, Tenneco 2.1%, Ford's former subsidiary Visteon 2.7%, as speculators were reacting to the notion of trade wars, higher tariffs, NAFTA renegotiations, and all manner of other Trump suggestions.
Hospital chains got mauled, unlike Big Pharma (see above). With the Affordable Care Act on the chopping block, HCA, the largest hospital chain in the US, plunged nearly 11%, Community Health Systems 21%.
Oh, and the gun makers got clobbered. Trump has the endorsement of the National Rifle Association, and with Republicans running the show, gun control measures will fade from any kind of agenda. Speculators think that Americans will feel less hard-pressed to buy whatever they can before the door closes, thus triggering a lull in sales. Smith & Wesson plunged 15% and Sturm, Ruger 14%.
The biggest titan of all took a monster dive. The 10-year Treasury note tumbled and the yield spiked 20 points to 2.08%, the highest since January. And the 30-year yield did this (chart via StockCharts.com):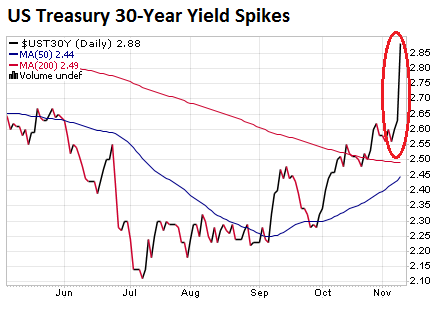 For the bond market, it was a perfect rout. These people are worried about the deficits-don't-matter stimulus spending that Trump has suggested he'd unleash, just when inflation is rearing its ugly head. Sharply rising long-term yields are going to be a real party-pooper.
In all, it was a tumultuous day, full of yo-yoing and knee-jerk reactions to real or perceived campaign promises and other perhaps wild speculations. Everyone was out there trying to make a quick buck in the uncertainty or dodging the falling rocks.
The Fed likes the word "credit." It sounds a lot less onerous than "debt." Read… This is How Consumers Turn into Debt Slaves




Enjoy reading WOLF STREET and want to support it? You can donate. I appreciate it immensely. Click on the beer and iced-tea mug to find out how:

Would you like to be notified via email when WOLF STREET publishes a new article? Sign up here.