Icahn gets totally crushed by Hertz, goes for More Pain.
Hertz Global Holdings, the giant rental car company which also owns Dollar and Thrifty, got crushed on Tuesday, as is so often the case, by an otherwise boring accounting entry.
Depreciation of its cars had to be adjusted. Depreciation of the rental fleet is a huge expense in the industry: for Hertz, 29% of its total expenses. Depreciation is supposed to bring the value of these cars down to what they can be sold for when they're scratched and dented and have 37,000 miles on them. Depreciating the fleet just a little less aggressively would boost earnings for a little while and is a very tempting strategy.
But a few quarters later, when the cars have to be sold, reality comes home to roost.
This accounting entry also shows how ever so slowly the rug is being pulled out from under the booming auto industry.
Hertz shares plunged 52% in the morning to a low of $17.20. Then the company's largest shareholder, Carl Icahn, stepped in with great fanfare and single-handedly worked a miracle. He's got a lot on the line. He disclosed with his media-savvy fanfare in August 2014 that he'd acquired an 8.5% stake, which he since raised to nearly 16%.
Today, he "swooped in to purchase another 15 million shares," raising his stake "by more than a third," according to MarketWatch. And after this relentless buying, shares recovered and ended down "only" 22.5%, and down "only" 78% since he disclosed his initial stake in August 2014: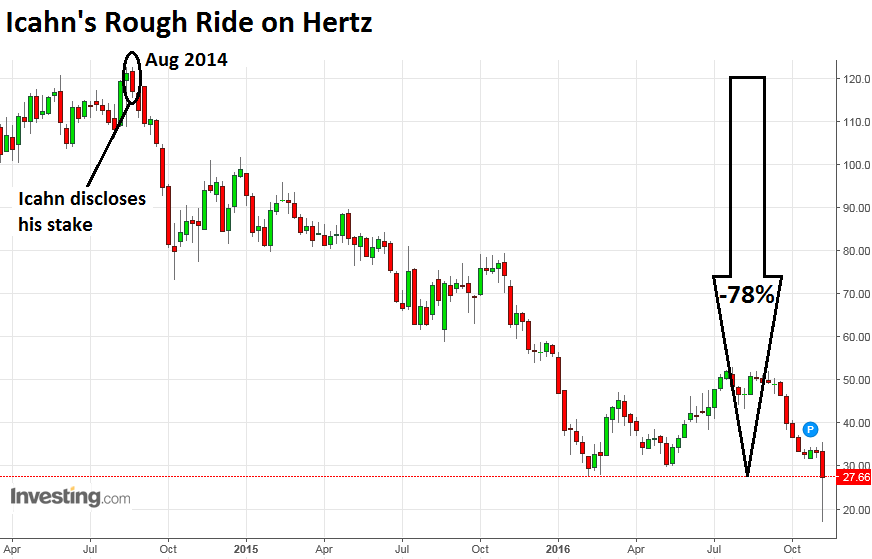 It was still the worst day since its IPO in November 2006 when private equity firms ML Global, Carlyle Group, and Clayton Dubilier & Rice – which had bought it from Ford the year before – flipped it to the public near the peak of the last bubble. Ford had originally bought Hertz in 1988 thinking it could get a huge captive customer that it could stuff with its excess vehicles or whatever.
Spooked by the issue of depreciation – and declining used car values, which would hit the entire industry hard – investors dumped Avis Budget Group as well, and its shares dropped 9.5%.
On Monday night, Hertz had reported that earnings per share in the quarter had plunged 81% under GAAP to $0.49! Revenues edged down 1%. It cited falling rental car volume, falling rental rates in the US (down 3%), and falling values of the cars in its fleet.
Due to lower resale values in compact and mid-sized vehicles in the US, it increased the depreciation per vehicle by 14% in the quarter. The depreciation expense for the quarter for its US fleet rose 16% to $462 million. Its global depreciation expense rose 10% to $695 million.
It also slashed its forecast for the rest of the year. "Adjusted" earnings might be as low as one-fifth what its previous forecast.
Hertz, which is junk-rated and has $14.9 billion in debt, saw its bonds getting creamed too despite general euphoria in junk-bond land.
For example, its $800 million of 5.5% notes due 2024 (rated B/B2), which it had just issued in September, and which had traded as high as 101 cents on the dollar on October 10, and which closed at 96.5 cents on the dollar on Monday, fell to 88 cents on the dollar by mid-morning on Tuesday, but then perked up a little to close at 90.45, according to Finra data.
Its $500 million of 6.25% notes due in 2022 (B/B2) dropped 6.75 cents to 94.75 cents on the dollar by midday and closed at 95.75. It was their worst one-day drop since they were issued in early 2013.
Hertz had already been forced last year to restate earnings due to accounting "errors," that cost CEO Mark Frissora his job. On November 9, 2015, while reporting another sordid earnings surprise, it slipped in that it would have to restate its earnings from 2011 through 2013 and continue an audit that had already found $87 million in errors.
And it said that it had been advised in June 2015 that it was being investigated by the SEC. Its shares plunged the most in two years.
Whatever those issues were and are, now Hertz and the entire auto industry have a new problem: declining values of used compact and mid-sized cars.
According to Manheim, the largest auto auction house in the US, wholesale values of compact cars fell 3.4% in October. Its overall index declined 2% in October and is now up only 0.6% from a year ago. But Manheim warned that its index "does not account for overall inflation in new vehicle pricing or the shift to higher trim levels." So the index may rise due to inflation "even as commercial consignors report less-than-satisfying end-of-term lease residuals or lower repossession recovery rates."
Based on other measures, it said, "wholesale pricing has shown some easing of late, but it is not particularly weak. This is in line with our beginning-of-the-year expectation as we fully expected the wholesale supply challenges would be more daunting in 2017 and 2018 than in 2016."
So this is just the beginning.
There had been signs. A number of analysts were getting antsy, including the NADA Used Car Guide, a division of J.D. Power, which warned in April that 2016 "will mark the biggest jump in the supply of used vehicles in the US market in eight years due to a dramatic increase in off-lease maturities…."
This supply of used vehicles from lease turn-ins and other sources coming on the market is already pressuring prices in some segments. High wholesale values – which soared after the "cash for clunkers" program that had taken a whole generation of cars off the market – are part of the foundation of the auto boom that lasted through 2015. But now companies, including Hertz, are admitting that this foundation is cracking, and Icahn may be in for more of a very rough ride.
The automakers are already singing the blues. "We continue to match production with demand," Ford said to explain plant shutdowns and layoffs. Read…  It Starts: Shutdowns, Production Cuts, Layoffs at Auto Plants
Enjoy reading WOLF STREET and want to support it? You can donate. I appreciate it immensely. Click on the beer and iced-tea mug to find out how:

Would you like to be notified via email when WOLF STREET publishes a new article? Sign up here.