To get "one third of their wealth overseas" and out of harm's way.
The systematically depreciating yuan and the house price bubbles in Chinese cities have made the elite nervous. Capital flight has become a priority. Dodging government limits on capital flight has turned into an art. And buying properties overseas is the modus operandi to get their wealth out of harm's way. The numbers are staggering:
60% of high net-worth individuals (HNWI) in China are planning to buy real estate in other countries over the next three years, with the target of moving one-third of their wealth overseas, according to an annual survey, conducted by Hurun Research Institute and Visas Consulting Group.
"More than half of the HNWI are concerned about the depreciation of the yuan, with other prominent concerns including the US dollar exchange rate and overseas asset management," the report found.
Rupert Hoogewerf, Hurun Report Chairman and Chief Researcher added, "Worries about the depreciation of the yuan and housing bubbles in major Chinese cities are pushing Chinese HNWIs to invest their money overseas."
The systematic depreciation of the yuan has occurred even as Chinese authorities have consistently announced that there's "no basis for persistent yuan depreciation."
"I compiled every single time a top Chinese policy maker said there's no basis for persistent yuan depreciation since Aug 2015," tweeted Justina Lee at Bloomberg. She wondered why they have to use the "no-basis wording repeatedly. Did they focus group it & found that it was the most calming? Did some PR guru vet it?" Li Keqiang, Premier of the State Council, "is definitely the no-basis-for-continued-yuan-depreciation-er-in-chief," she tweeted. Here's her chart of the yuan's depreciation with notations of the pronouncements by top officials (click to enlarge):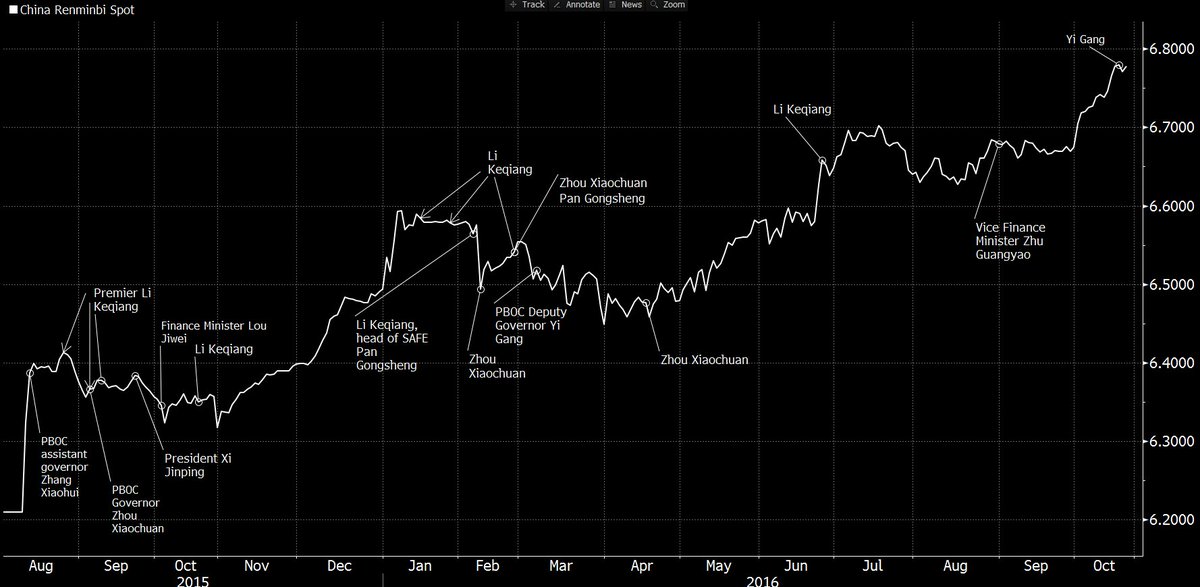 Lee emphasized that her notations do not even include the numerous similar pronouncements in the state-controlled media.
The fact that with each pronouncement of "no basis for further yuan depreciation," the yuan depreciated further is a scary thought for the HNWIs: their own government that has encouraged them to get rich is now ganging up on them to undo some of the damage. And these folks are reacting by trying to get their money out.
Number one on their list of financial escape locations, according to the third annual Hurun report: the US, and particularly the West Coast.
In the list below of the top financial escape destinations around the world (with percentage change from prior year), Canada's hotspot for Chinese investors, Vancouver, is in 6th place; the survey was conducted between August and October, after the property transfer tax of 15% applicable to nonresident investors in British Columbia put a big damper on the Vancouver house price bubble:
Los Angeles (+0.4%)
San Francisco (-2.8%)
Seattle, having overtaken New York City (+3.9%)
New York City (+1.9%)
Boston (+1.6%)
Vancouver (-1.7%)
Melbourne (+1.1%)
Sydney (-0.2%)
New Zealand (+1.2%); OK, it's a country, but with a population of 4.5 million, it fits right in
Toronto (-0.3%)
In terms of countries, the top eight:
US
UK, "which held onto second place despite Brexit"
Canada
Australia
Singapore
Ireland, which "broke into the Top 10 for the first time, shooting straight into sixth place"
Germany
Spain
The Hurun report defines these Chinese HNWI as a family with the equivalent of at least $1.5 million in net worth, of which China has 1.34 million (the average net worth of the respondents is $4 million). And 60% of them are looking to get some of their wealth out of China. As the report put it: "We are looking at a massive 800,000 individuals who want to buy property overseas over the next three years."
Value for money is the primary consideration when buying a house overseas, followed by high rates of return and the immigration status it confers. Rupert Hoogewerf said, "Prices in major Chinese cities have risen so fast in the past year that an overseas house seems to offer good bang for your buck."

Rupert Hoogewerf said, "The trend this year goes beyond emigration to global asset allocation. For rich Chinese today, the target is to have one third of their wealth overseas. Buying houses and foreign exchange deposits lead the way."

Overseas financial investment accounted for 15% of the wealth of the individuals surveyed. Rupert Hoogewerf said, "The main reasons for investing overseas are to spread their investment risk, children's education and with emigration in the back of their minds."

When investing overseas, asset safety is the top priority. 64% chose "risk control" as their foremost consideration. Foreign exchange deposits are the investment of choice, at 31%, followed by funds with 15%, and insurance accounting for more than 10%. Rupert Hoogewerf said, "For Chinese HNWIs today, their investments overseas are conservative nest eggs, not risk capital."
This is part of the fuel that has been firing up the house price bubbles in US West-Coast cities, in Canada, Australia, and other places. But some of those bubbly markets are now at a turning point. Vancouver and San Francisco come to mind. Chinese investors see that too, and since they're loath to lose money on their efforts to stay rich, they might be getting second thoughts about those cities and head elsewhere.
This has never happened before in China, ever. Read…  China House Price Bubble Soars Most Ever, Government Freaks out, Preannounces Plunge




Enjoy reading WOLF STREET and want to support it? You can donate. I appreciate it immensely. Click on the beer and iced-tea mug to find out how:

Would you like to be notified via email when WOLF STREET publishes a new article? Sign up here.