The "Doom Loop" resurges.
By Don Quijones, Spain & Mexico, editor at WOLF STREET.
One of the best indicators of whether a financial crisis is in full swing is when senior insiders begin to lose it in public. That's precisely what happened in Italy on Thursday when Italian senior banker Giuseppe Guzzetti gave a speech at a conference in honor of World Savings Day, an international event that, unbeknownst to 99.9% of mankind, takes place every year on Halloween (Oct. 31).
During his address, Guzzetti admitted that Atlante II — one of two bad bank funds created to provide much-needed support to Italy's crumbling banking sector (the other being its predecessor, Atlante I) — is chronically underfunded. The fund, set up in the spring to help Italy's most fragile banks, in particular Monte dei Paschi, remove some of the most toxic debt off their balance sheets, has experienced six intense months of activity, "but is now out of breath," Guzzetti lamented.
The admission is particularly important in light of Guzzetti's current role, not only as the chairman of ACRI, an association of Italian savings banks and foundation, but also as the top man at Fondazione Cariplo, an influential "charitable" banking foundation. Cariplo is the largest shareholder of Quaestio Holding S.A whose deeply opaque Luxembourg-based subsidiary, Quaestio SGR, is the proud owner of Atlante I.
In other words, Guzzetti is as senior a banking insider as you're likely to find. Presumably he knows just about everything there is to know about Atlante I and II. In fact, he helped create them. And now he's deeply worried.
"The small number of contributions received so far threatens to seriously undermine the purpose for which Atlas was established: not only (or mostly) as a tool to manage some emergencies, but rather as an interventionary mechanism to create a true market for deteriorated credit."
If any country needed a "true market" for deteriorated credit, it's Italy, whose banks' balance sheets are filled to the gills with around €360 billion of non-performing loans, many of them in an advanced state of decomposition and with very weak, if any remaining, collateral underpinning them.
To put that in perspective, that's roughly a third of Europe's entire stock of bad loans. As WOLF STREET warned a couple of weeks ago, the Atlante funds don't have enough firepower to steady even Italy's smallish regional banks, like Vento Banco, which keep coming back for more handouts, let alone the likes of Monte dei Paschi or Uncredit, each of which has tens of billions of euros of NPLs festering on their books.
Put simply, Atlante I and II are the financial equivalent of bringing a butter knife to a gun fight, as even Guzzetti all but admitted. "I had to give a bundle of billions to Atlante but there are two foreign banks in Italy — Credit Agricole and BNP Paribas — who have not done their part," said Guzzetti, referring to two of the French banks most exposed to Italian debt.




The fund is still a billion euros short of its bare-minimum target of €3 billion. Things are apparently so dire that even Guzzetti, one of Atlante's original creators, says he now regrets investing in the fund, presumably because most private sector operators refused to follow his lead.
Since its creation six months ago, almost all of the funds Atlante II has received have come from Italy's government, via state-owned financial intermediaries such as CDP, the Italian Post Office and SGA, a state-owned "bad bank" dating to the collapse of the Banco di Napoli, which offered to put in €450 million. Most of that money will be used to buy up €1.6 billion of heavily discounted debt belonging to MPS, as JP Morgan Chase's rescue plan to save MPS continues to flounder.
The move has done nothing to calm investors' nerves. MPS' shares had yet another torrid week, slumping 40% to €0.26 as markets reacted badly to management's plans to sell off €28 billion in bad debts as well as cut 2,600 jobs. Of even greater concern is the specter of a resurgence of Italy's "Doom Loop."
As Holger Zschäpitz, senior editor of the financial desk at the German daily Welt, pointed out, Monte dei Paschi's default probability (yellow, right scale) keeps trading in near-lockstep with Italy's (purple, left scale):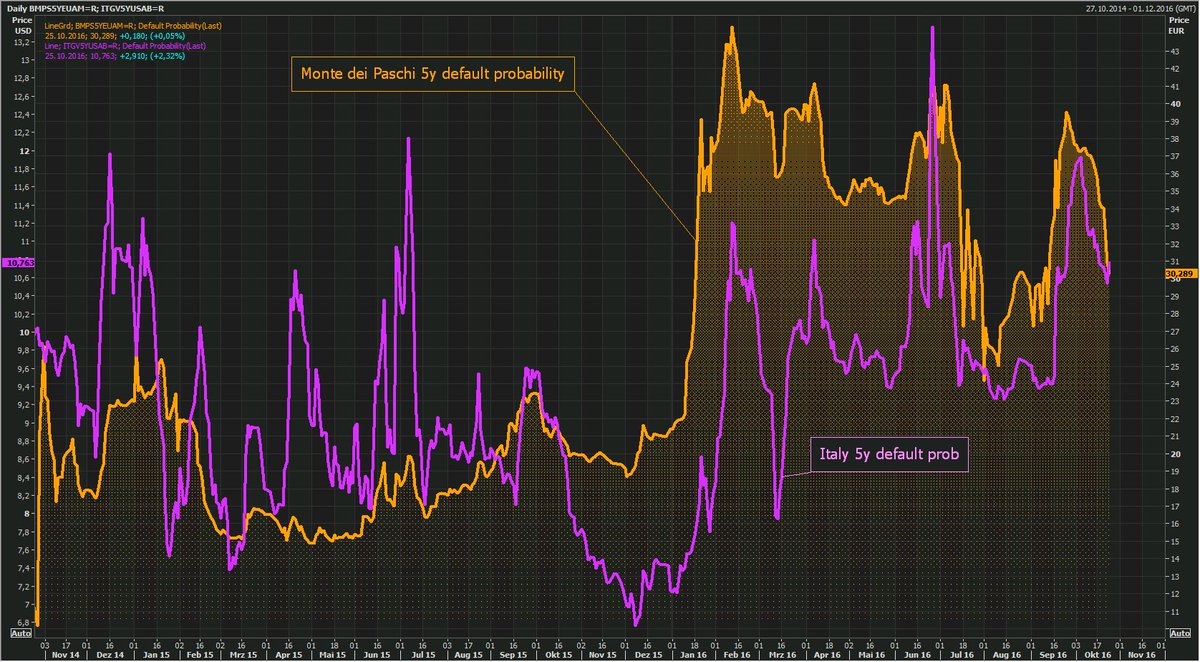 Contagion is a particularly acute risk in the Eurozone due to the incestuous co-interdependence that now exists between sovereigns and their banks, thanks in large part to the ECB's tireless efforts to underpin both Europe's biggest banks (by providing them with an endless supply of virtually free money) with which they ended up going long Draghi's "whatever it takes" pledge by buying Eurozone sovereign bonds.
Despite pressure from fiscally hawkish Eurozone countries such as Germany, the Netherlands, and Finland to put an end to the doom loop by removing the risk-free status of certain sovereign bonds, to the barely concealed horror of Italian and Spanish politicians and bankers, recent figures from Standard & Poor's show that banks across the EU have continued to invest heavily in government debt, increasing their exposure to €791 billion. The total amount that international banks have lent to Italy is €550 billion, of which over €250 billion is sitting on the balance sheets of French banks.
And that is why a nervous breakdown in Italy's banking system could have very serious consequences for the rest of Europe, if not for the world at large. It's also the reason why, when push comes to shove, European authorities, with the ECB leading the way, will do whatever it takes to stop Italy's banks from falling. But as the scope and scale of Italy's problems continue to mushroom and confidence in the system continues to shrink, time is fast running out. By Don Quijones, Raging Bull-Shit.
So how can you make this Bad Debt Disappear? Read…  Italy's Banking Crisis Gets Addressed: How to Conceal a Problem that Threatens to Engulf the Entire Eurozone




Enjoy reading WOLF STREET and want to support it? You can donate. I appreciate it immensely. Click on the beer and iced-tea mug to find out how:

Would you like to be notified via email when WOLF STREET publishes a new article? Sign up here.