A global shift.
Volkswagen's big kahuna of HR, Karlheinz Blessing – Member of the Board of Management with responsibility for Human Resources and Organization – dropped another brake shoe on global employment in auto manufacturing, which has been under pressure for decades from automation. This time, it's electric vehicles.
Every global manufacturer is working on a lineup of passenger and commercial EVs. Numerous EV brands are already on the road, from tiny cars to delivery vehicles. UPS, FedEx, USPS, and other delivery services are already looking at EVs or are testing them.
The German postal service has formed its own startup to build EVs in Deutsche-Post-yellow for its delivery runs. These "Streetscooters" have been in production for a while. By the end of this year, 2,000 are expected to deliver mail in Germany. By the end of next year, 10,000. They're so ugly they're practically cute: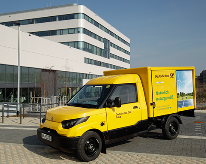 EVs are much easier and cheaper to build than vehicles with internal combustion engines. Instead of engines, engine control systems, emission control systems, cooling systems, air-intake systems, starters, transmissions with clutches or torque-converters, or transaxles, fuel systems, exhaust systems with catalytic converters, the computers, sensors, and regulators to tie it all together, and the like, EVs have electric motors, a battery, and some wiring and controllers to make it all work.
EVs been around since the 1800s and predate the invention of the internal combustion engine. The only roadblock to mass adoption has been the battery: too expensive, too heavy, and takes too long to charge. But enormous amounts of money are being poured into battery technology and manufacturing processes, leading to rapid improvements from year to year. It won't be long before the lower costs of building an EV and the "fuel" savings can overcome the additional costs of a battery to produce a economically compelling vehicle.
Every automaker knows this – and they're getting ready for that moment. But the relative simplicity of building EVs has a big drawback, in human terms.
And Blessing spelled it out to the German daily, the Frankfurter Allgemeine Zeitung in an interview to be published in Saturday's edition, cited by Automobil Produktion: In the coming years, as VW is shifting to EV production, it will slash its global employment.
"It is not a question of cutting a few hundred jobs," he told the paper. "Over the years, globally, it will be a five-digit number."
So that would be between 10,000 and 99,999 jobs at Volkswagen's plants.
He pointed out that electric motors and drive trains consist of fewer components and that their production requires fewer workers than the production of vehicles with combustion engines.
"So in the long term, we need fewer workers for production," he said, as cited by Bild. These reductions would have come even without the emissions cheating scandal, he said. "But now the pressure to act is greater."
That would be on top of the 25,000 jobs that Volkswagen is already trying to shed mostly through attrition over the next decade as part of its turnaround plan for its core VW brand. Management is currently in discussions with VW's works council to get this turnaround plan agreed on by the time the supervisory board meets on November 18 to approve future spending plans.
And this is just the beginning. The shift from producing vehicles with internal combustion engines to EVs will take place over the years. So it won't be sudden. But it's going to happen faster than the shift to automation, which began in the early 1900s and happened in small increments, starting at some plants, followed by others. As the decades passed, automation became ever more sophisticated and replaced more and more jobs – a process that continues to this day.
All automakers will make this shift to EVs over time and offer more and more EV models. As demand shifts, they'll start cutting back production of vehicles with internal combustion engines and increase production of EVs. This will happen on a global scale. And it will happen in conjunction with advancements in automation that will continue to weigh on employment. Blessing just spelled it out in advance.
And battery production won't make up for it: it's already highly automated everywhere!
Improvement in battery technology, and the mass production of EVs, will shake up other industries too, as demand for oil, the primary transportation fuel, will get hit, according to Fitch Ratings. Read… EVs May Send Big Oil into "Investor Death Spiral": Fitch




Enjoy reading WOLF STREET and want to support it? You can donate. I appreciate it immensely. Click on the beer and iced-tea mug to find out how:

Would you like to be notified via email when WOLF STREET publishes a new article? Sign up here.