Production lower than 2 years ago, with ugly capacity utilization.
Total industrial production in the US fell 1.0% in September compared to September 2015, according to the Fed's Board of Governors today. The index, at 104.2, is now 2.3% off its all-time peak in November 2014, and also 1.3% below where it had been two years ago (105.6). So two years in a row of year-over-year declines.
The first time the industrial production index had reached this level was in March 2007!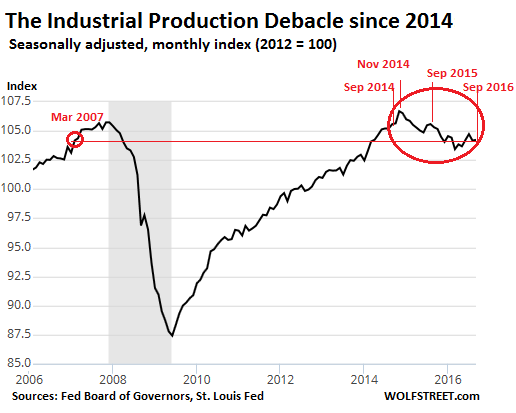 Of the major market groups:
Consumer goods production rose 0.8% year-over-year. Since the index is not adjusted for inflation, this uptick is likely due to inflation.
Business equipment production fell 1.4%, as businesses are not eager to invest in productive activities. In a moment we'll see why.
Construction rose 1.3%. Hallelujah for the apartment and office construction boom in many big cities, such as New York City, Boston, Houston, or those in the Bay Area – even if this boom is now adding to already worrisome oversupply. But hey, that's a problem for another day.
Materials fell 2.2%, and that includes the beleaguered mining sector (including oil & gas), which plunged 9.4%.
Of the sub-groups, only a few of the big ones made it into positive territory.
Automotive products jumped 7.3% year-over-year. It's big enough to move the needle: accounting for 3.2% of total industrial production, it propped up consumer goods production.
And this is interesting going forward: automakers are still cranking out vehicles as if the sales boom were still continuing. But new vehicle sales actually fell in September year-over-year and are nearly flat for the first nine months. Inventories are piling up on dealer lots. So automakers are dousing the market with costly incentives to move the iron. Something has to give: either a miraculous jump in sales or a cut in production.




The energy component of consumer goods (power, home heating, etc.), which accounts for 3.4% of total industrial production, inched up 0.8% year-over-year.
"Misc. durable goods," which accounts 2.1% of total IP, rose 1.8%. Information processing, a subcategory of Business equipment and 2.5% of total IP, rose 3.2%. Construction supplies, at 5.1% of total IP, rose 1.3%.
But production in most other categories fell year-over-year, such as home electronics (-5.8%), clothing (-8.2%), food and tobacco (-0.1%), paper products (-4.3%), "transit" (part of business equipment (-4.2%), Industrial and other (-1.8%), defense and space equipment (-0.6%), business supplies (-0.2%), and of course the declines in the materials and energy sectors.
Over the decades, major declines in industrial production, such as we have seen since November 2014, have always been associated with recessions. Hence our "Recession Watch" chart of industrial production, with all major declines circled in red, going back to the 1950s. Every single one of these declines has been associated with a recession (shaded area), except for the current one – and that may be because we're still in the early phases of these dynamics: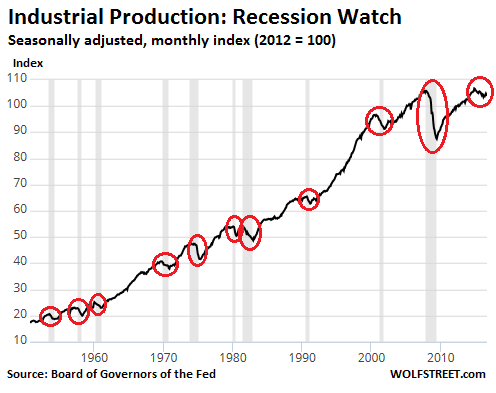 Industrial capacity utilization edged up 0.4 percentage points in September year-over-year to 75.4%. This rate of utilization is 4.6 percentage points below its long-run (1972–2015) average, the Fed points out. It's now 3.5 percentage points below its post-Financial Crisis peak in November 2014. Over the last 50 years, there were only three periods when it was lower: the Financial Crisis, the end of the 2001 recession, and the 1982 recession. In the 1991 recession, it never got that low: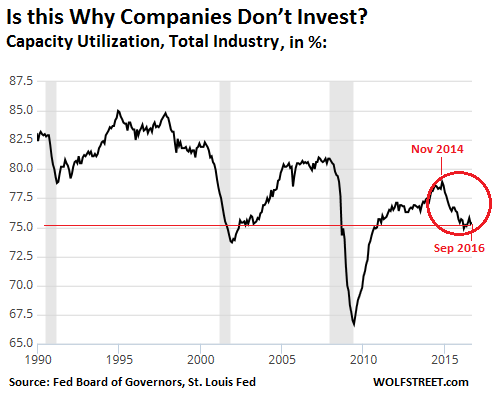 And this miserable capacity utilization explains in part why business investment is so low: Utilization isn't maxed out, not anywhere near, with some sectors suffering from overcapacity.
These companies are facing stagnant or declining demand for their products. And even though money is dirt cheap and credit plentiful for larger enterprises, and even though they have levered up and borrowed and stuffed their balance sheets up to the gills with record amounts of debt, they have little incentive to invest in productive activities because they don't see enough demand for their products.
So they do other things with this borrowed money, such as buying back their own shares and buying out each other. Lack of demand in the real economy, despite – or we might be tempted to say because of – years of central-bank free money policies, is tough for individual businesses to overcome.
And the one sector included in industrial production that has been truly booming and setting record after record amid a gold-rush-like mentality? Read… Layoffs Hit Craft Brewer, as Big Beer, Big Money, Overcapacity Rattle American Craft Beer Market




Enjoy reading WOLF STREET and want to support it? You can donate. I appreciate it immensely. Click on the beer and iced-tea mug to find out how:

Would you like to be notified via email when WOLF STREET publishes a new article? Sign up here.