The American Beer War Turns Sour
American craft brewers have been the most spectacular economic success story since the Financial Crisis. Forget the slow-growth or sinking-into-quagmire stories typical in many other sectors. American craft brewers have become a global phenomenon, largely due to their excellent brewskis and astute marketing.
Yet total beer sales in the US have been declining for years, as major brands have been losing ground. In 2015, despite population growth, beer sales edged down another 0.2% to 196.7 million barrels, according to the Brewers Association, even as craft brewers have booked double-digit sales gains year after year, including 12.8% in 2015.
But here's the problem with craft brewers: Everyone is now doing it. The Big Money is piling in. Private Equity firms and the largest multinational brewing conglomerates in the world are buying out craft brewers and funding new ones.
And this is what happened: As the Financial Crisis wound down in 2011, there were fewer than 2,000 craft brewers in the US, ranging from tiny brewpubs to large craft brewers, such as Sierra Nevada. Then all heck broke loose. QE unleashed the Big Money. By the end of 2015, the number of craft brewers had more than doubled to 4,249. This year as of June, according to Beer Insight, there were already 4,656. By now, they're about 4,800. And additional 2,000+ are planned: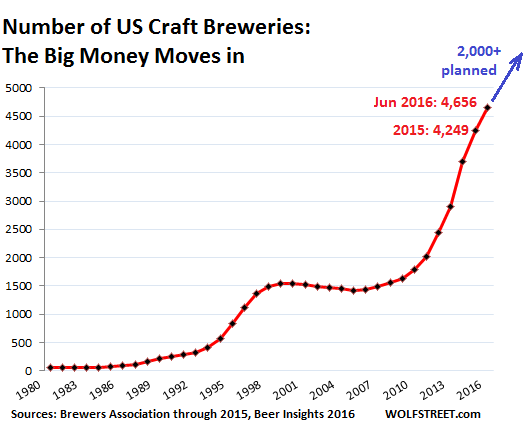 Remember: Total beer sales in the US are still declining! Every barrel of beer sold in the US comes out of someone else's hide. So it's getting tough out there.
There have always been brewers and brewpubs that didn't make it and shut down, while the successful ones picked up momentum and grew and grew. But now, one of the best known brands with enormous momentum, Stone Brewing Co., founded in 1996, and by 2015 the 10th largest craft brewer among this ocean of craft brewers, announced layoffs.
The company, based in San Diego County, CA, has been a huge success story. With 325,000 barrels of beer sales in 2015, it is the third largest brewer in California, after Sierra Nevada and Lagunitas – in which Heineken International, the world's third-largest brewing conglomerate, took a 50% stake a year ago [read… Buyout Binge in American Craft Brew Revolution Gets Personal].
Stone Brewing opened a brewery in Germany, "Stone Berlin," where utterly bewildered locals are discovering to their greatest surprise a superb Yankee Bier. The company is opening a brewery in Richmond, Virginia, where potable water is more plentiful than in Southern California. It's planning to open another location in Napa, California. This brewer rocks!
But premonitions already surfaced this month when co-founder Greg Koch said in an interview that "commodity breweries" were undercutting Stone and other craft brewers by offering kegs to retail accounts at "predatory" prices. And he admitted that growth projections for 2016 have been revised lower several times this year.
In August, he'd been replaced by Dominic Engels as CEO.
After laid-off employees began posting their stories on Facebook, Engels released a statement on Thursday afternoon, according to Draft, confirming that the company would lay off "approximately 5%" of its 1,200 employees. So that might be 60 people.
But that number may be larger. Former Stone brewmaster Mitch Steele lamented on Facebook: "Feeling shocked and incredibly sad for many of my friends at Stone Brewing Co. How did it come to this?" He figured "75+ layoffs."
In the statement, which Draft published in full, the company explained:
Due to an unforeseen slowdown in our consistent growth and changes in the craft beer landscape, we have had to make the difficult decision to restructure our staff….

[T]he larger independent craft segment has developed tremendous pressures. Specifically, the onset of greater pressures from Big Beer as a result of their acquisition strategies, and the further proliferation of small, hyper-local breweries has slowed growth.

With business and the market now less predictable, we must restructure to preserve a healthy future for our company. Even given this unfortunate circumstance, we will continue to be fiercely independent and, importantly, Stone remains one of the largest – if not the largest – employers in the craft brewing segment.
And "in summary," the company wanted to "emphasize" among other things: "A recent decline in domestic growth for the category and for Stone has forced us to restructure in order to preserve our independence in an increasingly competitive category."
Harsh words for an industry that knew only unlimited possibilities.
"Given the strength of Stone's brands and how successful they've been," Bart Watson, chief economist of the Brewers Association, told the Los Angeles Times, "it shows there are challenges that every craft brewery faces."
It doesn't take a genius to figure it out. With total beer sales in the US declining for years, craft brewers have to take sales away from Big Beer. But Big Beer has seen the writing on the wall and is muscling into the space with a series of acquisitions of brewers that they're then corporatizing with access to their distribution channels. Private equity firms have piled in too. With gold-rush mentality, new brewers get funded on a daily basis.
This creates overcapacity. It doesn't just wreak havoc in the Chinese steel industry or the global container shipping industry. It hits everywhere where Big Money, having become reckless after years of central-bank QE and zero-interest-rate policies, suddenly piles in to make a buck.
So let's blame the Millennials. They did it! Read…  These Debt & Rent Slaves Get Blamed for the Lousy Economy
Enjoy reading WOLF STREET and want to support it? You can donate. I appreciate it immensely. Click on the beer and iced-tea mug to find out how:

Would you like to be notified via email when WOLF STREET publishes a new article? Sign up here.