But is the auto sales data inflated?
After a crummy first half, the US economy really, really needed a strong third quarter, more than a strong one, a heroic one, to pull the year out of the doldrums. And at first, according to the initial estimates by the Atlanta Fed's GDPNow model, it looked like we would be getting it, which triggered a big sigh of relief around the country. But the plunge since those heady estimates in early August has been breathtaking.
The GDPNow forecasting model is attempting to estimate what the official first estimate of quarterly GDP will be. This "nowcast" model takes in the data as it is released. Thus it gets more accurate as it closes in on the release date of the official first estimate of GDP. So this plunge is not propitious.
The current forecast dropped to 1.9% annualized GDP growth, down from 2.1% a week ago, and down from 3.7% in early August. Over those two months, the model has cut its growth estimate in half!
Today, the GDPNow forecast was dragged down by its forecast of third-quarter real personal consumption expenditures growth, which fell from 2.9% to 2.6% after the retail sales report from the Census Bureau this morning. I added the red line to the chart to show the slope: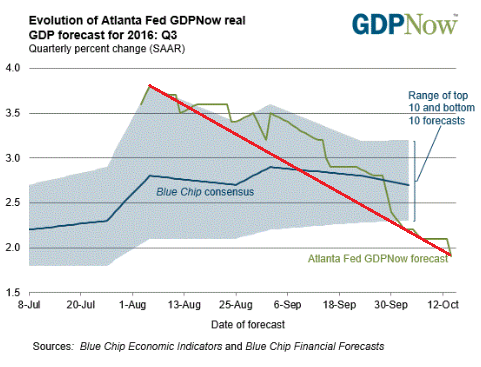 "Annualized" GDP growth means that if the current growth rate were to continue for an entire year, GDP growth for the entire year would be 1.9%. So that would be back in the quagmire range of the past six years. By now no one even tries to trot out the illusion of hitting "escape velocity" next spring.
Also note how the range of "blue chip consensus" forecasts (shaded area) remains stubbornly optimistic. Apparently, they haven't gotten the memo yet.
The standout in today's retail sales report for September, which is what kicked the GDPNow forecast down, was the continued decline in sales by General Merchandise retailers, now down 2.5% from a year ago.
Nonstore retailers – online retailers such as Amazon – did well, up 10.6% from a year ago. Double-digit growth in this category is the norm.




Sales by motor vehicle and parts dealers, accounting for 21% of total retail sales, rose 2.5% year-over-year, according to the Census Bureau. This is measured in dollars. And it contradicts the September unit sales data we got a few days ago from the automakers, which wasn't quite so rosy, showing a drop of 0.5% from a year ago.
Since vehicle and parts sales are by far the largest category of total retail sales, a special word is due to shed some light on the origins of this discrepancy, among them:
The Census Bureau uses surveys to estimate sales data, while unit sales are based on dealer reports to their manufacturers of actual new vehicle deliveries (accurate or not) to consumers and commercial customers.
Unit sales are not impacted by price changes or vehicle mix changes, but dollar sales are. So price increases or a shift to more expensive models can impact dollar sales but not unit sales.
The Census Bureau report includes used vehicle sales and parts sales, which the data reported by automakers does not. They just report new vehicle deliveries.
The Census Bureau may not accurately capture the "sales" amount of leases, because there is no sales price since there is no sale. Customers are renting the vehicle for a certain period of time and have no idea what the price is they're paying because there is no price. There are only upfront payments, monthly payments, and potential payments at the end of the lease. Dealers report leases as deliveries.
Both reports have their strengths and weaknesses. So given how important auto sales are to total retail sales, and to the entire US economy, and to this GDP estimate, it would be nice to have accurate and reliable data in one place. But we don't. So I tend to combine both reports into a mélange to figure out where this is headed. And I don't think this strong auto sales report by the Census Bureau today was the entire reflection of reality.
This hasn't happened since the Financial Crisis. Read… Rail Freight Gets Clocked from all Sides in this Economy




Enjoy reading WOLF STREET and want to support it? You can donate. I appreciate it immensely. Click on the beer and iced-tea mug to find out how:

Would you like to be notified via email when WOLF STREET publishes a new article? Sign up here.