"Values could climb in subsequent years if the building is repairable."
So what's a condo worth in the 58-story Millennium Tower at 301 Mission St., the most luxurious condo tower in San Francisco, which has sunk 16 inches since its completion in 2008 and began leaning in 2009?
The tilt has reached 2 inches. Majestic finger-pointing has ensued. Lawyers have been unleashed. Investigations, studies, and counter-studies have commenced. No one is certain how to repair it, or if it is repairable at all.
A few things are certain: Large amounts of moolah will change hands, lawyers will get rich, and if taxpayers don't watch out, the moolah may well change from their hands to other people's hands – because the city of San Francisco has been dragged up to its eyeballs into this.
Lenders too are on the hook. California is one of the dozen or so "non-recourse" states. Standard purchase mortgages are non-recourse: they're secured only by the property. When push comes to shove, borrowers might be tempted to let the bank worry about their properties in the leaning tower of San Francisco.
Below is an image of the Millennium Tower via Google Earth. Note the construction site to the right and in front of it. That's the future Transbay Terminal, the construction of which is being amply and conveniently blamed for the sinking and leaning, though the sinking and leaning seems to have started before ground was even broken: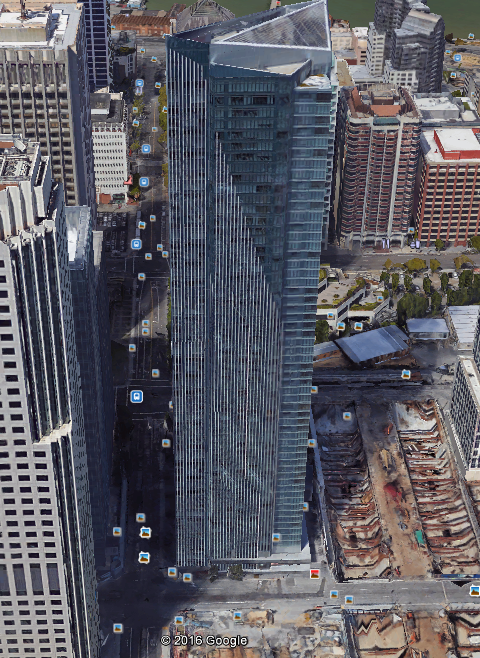 Now aggrieved condo owners found a way of biting back: 163 – "including tech executives, sports figures, and real estate investors" – have filed property assessment appeals by the September 15 deadline to get the assessed values of their units knocked down, according to the San Francisco Examiner, which obtained the records through the Freedom of Information Act. As part of their appeals, owners must include an estimate of what their unit is currently worth.
Before revelations this summer that the tower was sinking and leaning, condos had been valued from $563,084 to $12.6 million, with 141 units valued at over one million, according to the SF Examiner; but now the dynamics have changed: "Some stated figures as low as $0, $1 or $2. Others knocked off a million dollars or reduced the value by half."
Some owners didn't knock the value of their units into soda-pop territory, but they still knocked it down:
Mary Velez, a taxpayer with Raimondo Pettit Group, represents a condo owned by former 49ers quarterback Joe Montana, who had sold one of the two condos he owned several years ago. The one Montana still owns is valued at $2.8 million, but the appeal filed on his behalf argues the condo is now valued at $500,000.

"We didn't have any guidance on what to put. We just put that as a number," Velez said. "$0 might be a good number if the property can't be sold at any price." She noted that values could climb in subsequent years if the building is "repairable."

"I'm sure nobody really knows the value," Velez said.
Uncertainty prevails. "I'm not sure how we are going to handle it," Alistair Gibson, executive secretary of the Assessment Appeals Board, told the Examiner. The board has up to two years to hold a hearing on the appeals, by which time the tower will likely be tilting a little further. "We don't know what's going to happen with that building. There are going to be other issues involved."
Clearly, there is a long line of people jostling for position to buy a condo at the Millennium Tower for $0, or $1, or even twice as much. I know a few potential buyers myself at these prices. I'd even outbid them. Buying and selling a condo isn't like binary options trading, but at this price, it doesn't matter if the tower topples in a few years, just as long as you're not in it when it does.
That's not an issue anyway. Everyone, including Mayor Ed Lee, has assured everyone that the building is safe at the moment, even during an earthquake.
At a few bucks, these condos are a buy even if the association fees that are already high will further balloon, given the costs of keeping elevators running, fixing buckling sidewalks and broken pipes, filling cracks in the glorious swimming pool so that the water won't drain out overnight, and so on. But a condo for $1, even one without a spectacular view, would be a deal.
It's easy to say with hindsight, but you'd think that a tower in the formerly muddy part of San Francisco right by the former shoreline would be built on bedrock, however deep they'd have to go down to find it. But no.
And there's no obligation to disclose to potential buyers that the concrete building is heavy and more prone to sinking than a steel-framed building, and that it was nevertheless built on a concrete slab that in turn rests on concrete piles that go down about 80 feet into mud-fill and sand, and that the bedrock starts at about 200 feet.
Taking the piles all the way down to bedrock would have been too expensive, and the developer might have had trouble selling the condos at a higher price. So this is not the only building with this design in that part of San Francisco.
If the price is right, there will be a market for these condos. Filing an appeal to knock the assessed valued down to $0, $1, or even $2 appears to be a delicious if utterly dark form of leaning-condo-tower humor by immensely aggrieved condo owners – associated with perhaps some legal benefits in future court battles and settlements.
There are already enough problems in San Francisco's housing market, as the supply of apartments is ballooning. Read…  Rents Sink in San Francisco, New York. "Mixed" Nationally
Enjoy reading WOLF STREET and want to support it? You can donate. I appreciate it immensely. Click on the beer and iced-tea mug to find out how:

Would you like to be notified via email when WOLF STREET publishes a new article? Sign up here.