What will sink the US auto boom?
In the subprime auto loan market, things are turning ugly as delinquencies and losses have begun soaring. Specialized lenders – a couple of big ones, and a whole slew of small ones that service the lower end of the subprime market – slice and dice these loans, repackage them into auto-loan backed securities (auto ABS), and sell them to investors, such as yield-hungry pension funds.
Delinquencies of 60 days and higher among subprime auto ABS increased by 22% year-over-year in August, Fitch Ratings reported on Friday – now amounting to 4.9% of the outstanding balances that Fitch tracks and rates. And subprime annualized losses increased by 27% year-over-year, reaching 8.9% of the outstanding balances of auto ABS.
Even delinquencies among prime borrowers are rising, with delinquencies of 60 days or more increasing by 17% from a year ago, and annualized losses by 11%, though they're still relatively tame at 0.4% and 0.6% respectively of the balances outstanding.
And according to Fitch, the toxicity level in the subprime auto ABS space isgoing to rise, with "subprime auto losses to pierce 10% by year-end."
Total auto loan balances, both subprime and prime – given the soaring prices of cars, the stretched terms of the loans, and the ballooning loan-to-value ratios – have been skyrocketing, up 46% from the first quarter in 2011 through the second quarter in 2016, when they hit $1.07 trillion: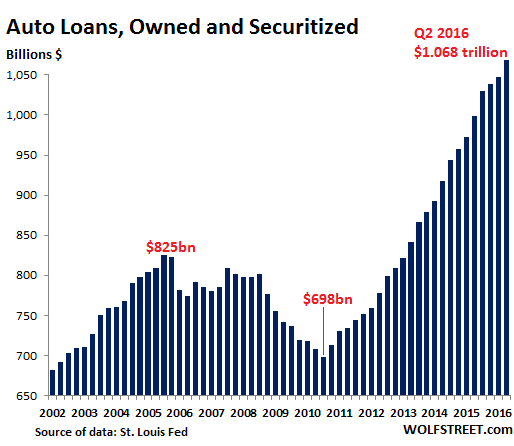 Fitch blamed the higher losses on several factors:
The "weak 2013-2015 vintage pools" – hence the more recent loans, when underwriting standards in the zero-interest-rate environment got increasingly loosey-goosey
Seasonality
And wobbly wholesale values of used vehicles.
High wholesale values of used vehicles are a gift from the government to the entire industry. The federal $3 billion cash-for-clunkers program that kicked off in July 2009 wiped out the cheaper end of the used vehicle market, to the detriment of lower-income people. Vehicles they could afford were largely removed from the market. But to heck with these folks. They had to figure out how to scrape more money together or go deeper into debt to be able to buy higher priced vehicles.
That concentration of demand has distorted and inflated used wholesale prices ever since. It tremendously benefited auto makers and the industry overall. The Manheim Used Vehicle Value Index, which tracks wholesale prices of used vehicles, shot up to record highs in 2010. It hit its all-time peak of 128 in 2011, up about 10% from the previous all-time peak set at the end of the bubble in January 2001. After some significant zigzagging since 2011, it was a still lofty 126.9 in August (chart).
High wholesale prices have been a boon for the entire auto industry. They raised trade-in values, which helped people to buy ever more expensive new and used vehicles. They raised profits for dealers. They boosted prime and subprime auto lenders and their financialized products. They gave rise to a whole gaggle of smaller subprime auto lenders that have crowded into this high-profit securitization market.
And high wholesale values are crucial for lenders when a loan defaults, and lenders have to repossess the vehicle and sell it in the wholesale market. A high wholesale value lowers the loss. When wholesale values fall, losses rise.
Now used vehicle prices are showing signs of wobbling rather than soaring. And they're scheduled for a descent, according to Fitch:
[D]espite the current strength of the wholesale vehicle market, used vehicle values will come under pressure from slowing consumer demand and rising supply in the latter part of the year and early 2017.
This would come at the worst possible time. New vehicle sales seem to have peaked last year (unit sales were down 0.5% in September year-over-year). Automakers have piled up incentives to move the inventories off dealer lots. And according to Fitch, "used supply is rising fast, driven by higher off-lease vehicles and trade-in volumes."
These trends are going to hit used vehicle values, and Fitch expects to see "lower recoveries in auto ABS transactions as a result."
Fitch tracks a whole slew of subprime lenders. The two giants, GM Financial's AMCAR platform and Santander Consumer USA's SDART platform, combined account for 54% of the index. The remaining 20 or so are second and third-tier subprime lenders, many of which have sprung up during the auto loan boom since 2012, as Fitch put it, "coinciding with the expansion of auto lending, particularly in lower subprime credit buckets that these lenders focus on."
Turning points like this are just the beginning of a new trend. Given the flood of liquidity and still historically low interest rates, the new trends will fall into place gradually. Eventually lenders will begin to wheeze and investors will balk at taking on ever more toxic securities. And the money spigot will tighten notch by notch, causing a liquidity crunch and soaring losses in that asset class, and contributing to the "so-called car recession," as Ford had called it in its 10-Q filing.
Other industries that have to deal with the American consumer are already struggling with "very challenging" sales trends. Read…  Restaurant Industry, Leading Indicator of US Economy Sours, Bankruptcies Pile up
Enjoy reading WOLF STREET and want to support it? You can donate. I appreciate it immensely. Click on the beer and iced-tea mug to find out how:

Would you like to be notified via email when WOLF STREET publishes a new article? Sign up here.