The potential to unleash "third phase" of the Global Financial Crisis.
By Don Quijones, Spain & Mexico, editor at WOLF STREET.
It seems like only yesterday that a cacophony of voices — our own included — was warning about the dire threat posed to global economic stability by unraveling hard currency-denominated emerging market debt. Then, roughly six months ago, everything went quiet.
And the debt began growing again.
So far this year $153 billion of new EM corporate foreign currency debt has been issued, according to Citigroup. That's 7% higher than the same period last year. No reason to worry, say Citi's analysts W.R. Eric Ollom and Ayoti Mittra. So-long as the appetite for high-risk debt remains unabated, indefinitely, EM companies should be able to handle their need to roll over their foreign currency bonds and loans.
"The TINA trade ('There Is No Alternative') remains a strong force in the market as investors search the world for higher yields in a low rate universe," the Citi analysts conclude. "We recommend investors remain long the asset class."
The Third Leg Down
Not everyone's quite so sanguine. According to a sobering new report launched yesterday by the United Nations Conference on Trade and Development (UNCTAD), a collapse of emerging market debt is not only a very real, present danger; it has the potential to unleash the third leg of the Global Financial Crisis.
This third leg is likely to be even worse than the first two: the collapse of the Subprime market in the U.S., in 2008, and the unraveling of Europe's sovereign debt markets, between 2010 and, well, today.
Thanks to an unprecedented "deepening of the financial integration" of developing and emerging market economies in recent decades, coupled with "a deluge of financial flows and cheap credit since 2009", emerging markets are poised for a year of living dangerously, the report warns. The International Monetary Fund (IMF) has already warned policymakers to be alert; UNCTAD now suggests that it is time for them to be "alarmed":
Alarm bells have been ringing for a while over the exploding corporate debt incurred by emerging market economies. According to the Bank for International Settlements, the debt of non-financial corporations in these economies increased from around $9 trillion at the end of 2008 to just over $25 trillion by the end of 2015, and doubled as a percentage of gross domestic product (GDP) – from 57 per cent to 104 per cent – over the same period.
Between 2010 and 2014 the dollar-denominated debt of non-financial corporations in 13 selected developing countries increased by 40%. During the same period their debt-to-service ratios also soared ‒ a "solid warning indicator of systemic banking crises in the making," the report warns. Worse still, much of the money that entered developing and emerging economies has fueled real estate and financial asset bubbles rather than long-term productive investment projects.




Insanity Squared
The emerging market debt crack-up has reached such mind-boggling proportions that last year saw the birth of one of the craziest financial creations on earth, available only near the peak of enormous credit bubbles when nothing can ever go wrong: 100-year bonds issued by governments or companies in emerging countries, in currencies they don't control.
They included Mexico's fiscally-challenged government and Brazil's scandal-tarnished oil giant Petrobras. As WOLF STREET reported at the time, the 10-decade bonds they issued were greedily gobbled up by desperate yield-famished investors "driven to near-insanity and drunken benightedness by the zero-interest-rate policies of central banks around the globe."
It was the peak of the emerging market bubble, when the amount of debt that low-income developing economies could have sold to eager investors seemed almost limitless. The main reason for this unprecedented surge in appetite for EM debt was the huge monetary expansion unleashed in many of the world's major economies, led by the Federal Reserve's QE program. The result was the now-all-too-familiar reality of anemic (at best) yield opportunities in developed markets, prompting investors to seek out much riskier emerging market assets.
The moment the Fed turned off the spigot, in mid-2014, the flow of funds began to reverse, according to the report, creating ripe conditions for a "prolonged commodity price shock, steep currency depreciations and worsening growth prospects," which have "quickly driven up borrowing costs and debt-to-GDP ratios."
For the first time since the Latin American debt crisis in the second half of the 1980s, aggregate net capital flows entered negative territory. Aggregate outflows reached $656 billion in 2015 and $185 billion in the first quarter of 2016. The capital flight was particularly pronounced in China and other parts of Asia. Note how capital flight heated up in 2014 toward the end of the Fed's "QE Infinity":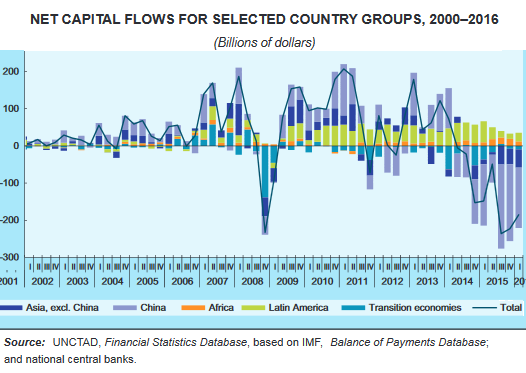 The Hangover Begins
There was a brief respite in the second quarter of 2016. On the surface, to global banks like Citi's delight, there's still some life in the party, as a recent revival of risk appetite in global financial markets has begun luring investors, once again, into high-risk EM assets.
But there's considerable variation across countries and regions, and the downside risks of deflationary spirals, currency devaluations, and plunging asset prices continue to grow. In some very large emerging markets, including inflation-plagued Nigeria and recession-hit Brazil, the hangover is already being felt. Eight countries — Angola, Azerbaijan, Ghana, Kenya, Mozambique, Nigeria, Zambia and Zimbabwe — have already asked the IMF or World Bank for bailouts or are in talks to do so.
It could be just the beginning. If the global economy were to slow down more sharply, things could turn very ugly, very quickly, the report warns:
"There remains a risk of deflationary spirals in which capital flight, currency devaluations and collapsing asset prices would stymie growth and shrink government revenues. As capital begins to flow out, there is now a real danger of entering a third phase of the financial crisis which began in the US housing market in late 2007 before spreading to the European bond market," it said.
In such a scenario a significant share of developing-country debt incurred since 2008 could become unpayable and exert considerable strain on an already deeply debilitated global financial system. And as U.S. economist Michael Hudson once wrote, debts that can't be paid, won't be paid.
In the face of a disorderly, potentially catastrophic global economic meltdown, the world's policy makers, bankers and central bankers will have little choice but to prepare ways to manage debt workouts in "a faster, fairer and more orderly manner," the report concludes. Unfortunately, as any Greek citizen will attest, these are not exactly words — in particular the second "f-word" — that you'd normally associate with our wise masters and mistresses of global financial and monetary policy. By Don Quijones, Raging Bull-Shit.
A recipe for a debt crisis. Read…  Mexican Peso Plunges against Dollar, in Toxic Cocktail of Forces




Enjoy reading WOLF STREET and want to support it? You can donate. I appreciate it immensely. Click on the beer and iced-tea mug to find out how:

Would you like to be notified via email when WOLF STREET publishes a new article? Sign up here.