But the Fed is steadfastly blind to bubbles & their consequences.
The Organization for Economic Co-operation and Development threw the Fed and the Bank of Japan – even as they had their meetings today – a curve ball.
We in the US woke up to a new central-bank term: "yield curve control." This is what the BoJ promised its rapt audience of hedge fund managers. Another Kuroda surprise. His negative-interest-rate surprise in February was just aping the ECB. But now he has come up with something for which no one had even coined a word.
The BoJ will target 0% yield for the 10-year Japanese Government Bond, which had been negative for months. So it's trying to push up the 10-year yield a smidgen. Shorter maturities would still sport a negative yield. This would steepen the yield curve. In effect, the BoJ will control the yield curve. By the end of next year, it might own 50% of all JGBs. Why even pretend there's still a bond market? Maybe it's just for entertainment.
And the Fed once again refused to raise interest rates by almost nothing from next to nothing, after flip-flopping about it for nearly three years.
But now even the OECD is fretting about these scorched-earth policies that have been dogging the global economy, which just keeps getting worse.
The OECD estimates in its Interim Economic Outlook that for member nations as a whole, GDP-per-capita will grow only 1% in 2016, "which is half the average in the two decades preceding the crisis."
Per-capita is what counts. It's what people experience. It's their slice of the economic pie. Population growth papers over a lot of ills for economists: for example, in the US, 14 million jobs were created since the Financial Crisis, which has been touted endlessly. But the US population grew by 15 million people. Now there are fewer jobs "per capita" than there were at the depth of the Financial Crisis. That's why per-capita matters.
So 1% GDP growth per capita in 2016 is terrible. And it's likely happening because of these scorched-earth monetary policies. The OECD blames:
"Weak investment"
"Slower growth of total factor productivity"
"Slowing of diffusion of innovations across firms"
"And slowing innovation at the technological frontier."
It adds: "These developments exacerbate the challenges to improving well-being of people in both advanced and emerging economies." The problem for the OECD is this: people are consumers, and if consumers don't do well, they can't consume enough, and in consumption-based economies, that's a cardinal sin.
Yet its outlook, bad as it is, is "subject to significant risks." The economy might further deteriorate, it says, because: "Financial instability risks are rising, including from exceptionally low interest rates and their effects on financial assets and real estate prices."
Bubbles in stocks and real estate! The Fed, however, as always, is steadfastly blind to bubbles.
Interest rates have advanced "more into exceptionally low and – in many cases – negative rates," the report laments. It blames the markets. They see the slow-growth scenario and assume central banks will respond with even lower rates. So they buy those bonds and thus drive up prices and drive down yields further:
Bond valuations are particularly high in Europe and Japan, where the share of sovereign bonds trading at negative yields is estimated above 70% in several countries. Consequently, around USD 14 trillion of government bonds, more than 35% of OECD government debt, is currently trading at negative yields. This unprecedented situation creates a number of distortions and risks.
But a good chunk of corporate euro debt is also trading at negative yields but is not included in this list of the biggest NIRP countries: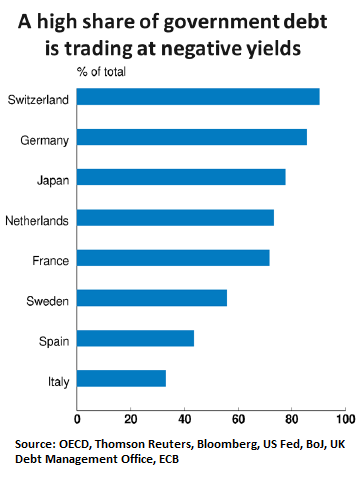 The report goes on:
Low interest rates underpin widespread and substantial increases in asset prices, both internationally and across asset classes, which increases the likelihood and vulnerability of a sharp correction in asset prices.

A reassessment in financial markets of interest rates could result in substantial re-pricing of assets and heighten financial volatility even if interest rates were to remain below long-term averages.
This "substantial repricing of assets" is code for sharp declines in asset prices, such as during a crash, especially when used in conjunction with "volatility." But the word "crash" never appears in the report.
Share prices have risen significantly in recent years in advanced economies, notably in the United States. By contrast, the growth of profits for non-financial companies has recently slowed to a modest pace, following a post-crisis recovery….
Notably in the US, in Q3, S&P 500 companies are expected to report the sixth quarter in a row of year-over-year earnings declines, the first time this happened in FactSet's data going back to 2008. With earnings this terrible, what has propped up stock prices, according to the OECD?
Falling long-term interest rates
Cost reduction measures
Share buybacks and dividend pay-outs, rather than as the result of additional productive investment.
There are residential and commercial real estate bubbles:
Over recent years, real house prices have been growing at a similar or higher pace than prior to the crisis in a number of countries, including Canada, the United Kingdom, and the United States. The rise in real estate prices has pushed up price-to-rent ratios to record highs in several advanced economies.

Commercial real estate prices have also increased rapidly in a number of markets, including exceeding the pre-crisis highs in the United States.
The not negligible issue of "sustainability" of banks:
If sustained over the next couple of years, negative and low interest rates will challenge financial institutions' business models and sustainability. For the banking sector, flat yield curves undermine the profitability of the traditional model of borrowing short and lending long.

At the same time, negative deposit rates, low lending volumes, and banking overcapacity imply lower profits. These developments are reflected in the underperformance of bank shares relative to other sectors, which may in turn slow credit availability.
The issue of "solvency" of pension funds and insurance companies:
Prolonged low interest rates also pose major challenges for other financial institutions, notably asset managers and pension funds. A lower discount rate increases the present value of liabilities of defined-benefit pension funds and life insurance companies, which undermines their solvency.

Conversely, low interest rates reduce future returns on assets given the larger share of fixed income securities in total investment portfolios of pension funds and insurers. This could have significant implications for financial institutions, but also savers and retirement incomes and businesses that face higher contribution rates or higher obligations from company-sponsored pension funds.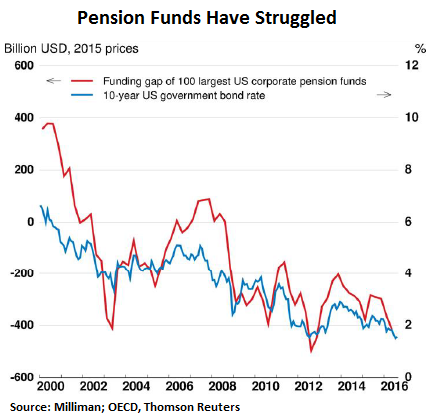 Not to speak of the much bigger disaster playing out in state and local public pension funds in the US – and who will end up paying for them.
And the risk associated with central-bank interference in the markets:
With past and current purchases of government bonds, central banks have become major holders and buyers of sovereign debt and are intervening in a wide range of other markets, including for corporate bonds and equities. The uneven policy response across countries and over-reliance on monetary policy adds to global imbalances and creates spillovers that can have disruptive effects on other countries through capital flows and build-up of financial risks.
But the Fed and other central banks live in their own world and can neither see the bubbles that their "interventions" are inflating, nor anticipate what happens when these non-existing bubbles burst.
Despite these policies, in the real economy, the heavily touted "recovery" doesn't exist for the "Invisible Americans." Read…  "Or We'll Lose the Whole Middle Class": Gallup CEO
Enjoy reading WOLF STREET and want to support it? You can donate. I appreciate it immensely. Click on the beer and iced-tea mug to find out how:

Would you like to be notified via email when WOLF STREET publishes a new article? Sign up here.