Consumer Debt with Negative Rates is "a Perversion."
I'm not sure what, if anything, Ewald Nowotny, Member of the ECB Governing Council and Governor of the Austrian National Bank, and I agree on in terms of monetary policy. But today he said something that is exceptionally truthful – and a glaring expression of just how hypocritical a central bank and the people that run it are.
Nowotny's keynote speech today at the European Forum Alpbach in Switzerland was titled (my translation from German), "Low Interest-Rate Policies: Free Money for All, or Savior in an Emergency."
A rhetorical question which he then proceeded to answer with utmost clarity: Free money, or worse, money with negative interest, is not for everyone. Only governments and corporations are allowed to benefit from it, but not consumers.
In fact, consumer loans with negative interest rates would be "a perversion," he said to all those waiting eagerly for their negative interest mortgages where they would actually be paid every month for having borrowed a ton of money to buy a ludicrously overpriced house. Even Switzerland, which has the deepest negative rates in the world, has drawn a line.
"I believe it would be a perversion, an economic one, for loan rates to suddenly be negative. It totally goes against the economic nature of a loan," he said.
And I totally agree. Negative interest rates, or negative yields, go "against the economic nature" of debt. Negative yielding debt is an absurdity that exists only because central banks have created it and forced it upon their bailiwicks.
"In Switzerland that has been ruled out for loan agreements for a long time. Now it has been ruled out for Austrian loan agreements," he said. So it has been formalized. Consumers shall forever be barred from benefiting from borrowing at negative rates, and thus from getting paid to borrow. So forget loans and mortgages with negative interest rates.
But here's where the hypocrisy and deviousness comes in: thanks to the scorched-earth central bank policies, governments in Europe and Japan have been borrowing at negative yields for a while, and an ever larger pile of government debt now sports those negative yields.
Benoît Cœuré, Nowotny's buddy on the ECB's Executive Board, offered this chart showing just how far the negative yield absurdity has gone, with Switzerland (top line) selling 30-year bonds at a negative yield, and Japan and Germany selling 10-year debt with negative yields. In total about $12 trillion in government debt sport negative yields: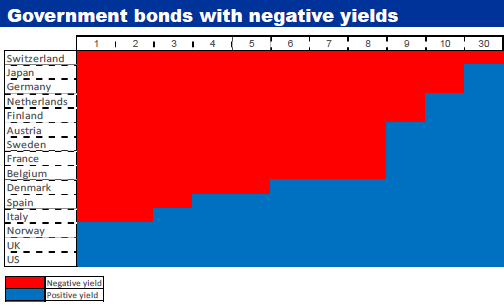 In July, Germany has sold €4 billion of 10-year bonds with a zero-percent coupon and at a price above face value. This guarantees that investors, such as pension funds that have to buy these bonds, will never receive any interest payments. And if they hold the bond to maturity, they're guaranteed a capital loss – not counting the losses due to inflation of the 10-year period.
And corporations, even US corporations with subsidiaries in the Eurozone, are borrowing at negative yields by selling euro bonds, in some cases directly to the ECB via private placements. No market needed. As of July, according to Bloomberg, there were about $500 billion of corporate bonds with negative yields. And that pile is steadily growing.
Central banks have forced this sort of financial repression on investors so that they will lose money not only to inflation but also in nominal terms when they invest in what are considered high-quality debt. To make any income whatsoever, no matter how tiny, investors have to take huge risks.
Central banks have made financial repression their policy. The cash flow of savers has gotten destroyed long ago. Pension funds are next. Financial repression is ugly and discriminatory for the "other side" of the deal. However, when consumers, who've been on the "other side" of the deal and have felt the brunt of central bank policies all along, line up for the same absurdities and "perversions" that companies and governments benefit from, well, forget it. Nowotny put his finger on it: Central banks will move heaven and earth to keep that from happening. Access to the benefits of these absurdities and "economic perversions" is limited to an elect group.
Who says the Fed can't have fun at our expense? Read…  The 11 Bone-Chilling Things I Gleaned from Yellen's Chart




Enjoy reading WOLF STREET and want to support it? You can donate. I appreciate it immensely. Click on the beer and iced-tea mug to find out how:

Would you like to be notified via email when WOLF STREET publishes a new article? Sign up here.