Check out the rental trends in your own city.
The construction boom of apartment and condo buildings around the US, especially in high-priced metro areas on the East Coast and the West Coast, is now colliding with the reality of squeezed household incomes and soaring rents. As a consequence, in many of the hottest markets – including San Francisco, where the explosion in rents is called "The Housing Crisis" – rents have started to drop.
Landlords are competing with a surge of new supply from new apartment and condo developments. Incentives, such as one month free rent, a rarity in hot markets like San Francisco, have reappeared. And in some of the neighborhoods with new apartment towers, the "now leasing" banners are everywhere.
On a month-to-month basis, median asking rents of one-bedroom apartments fell in 10 of the top 12 rental markets in August, according to the Zumper National Rent Report, which analyzes rental data from over 1 million active rental listings in the US.
And compared to August last year, asking rents fell in 7 of the top 12 markets.
In this table of the top 12 markets, listed in order of the dizzying magnitude of their median asking rents for one-bedroom apartments, San Francisco is in the glamorous Number One position, though the median asking rent embarrassingly has declined 2.5% year-over-year. Note the big year-over-year drop in Chicago: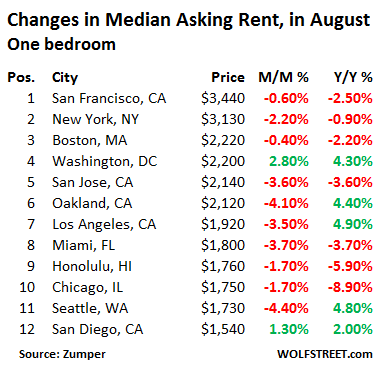 The table doesn't include smaller rental markets such as Palo Alto, at the core of Silicon Valley, were the median rent is an utterly insane $5,800 that is also skittering south.




In the two-bedroom world, the situation is similar but not yet as advanced, with "only" 8 of the top 12 markets showing monthly declines and four showing year-over-year declines. Once again, San Francisco is in the Number One spot, and once again, embarrassingly, median asking rent has declined by 2% year-over-year: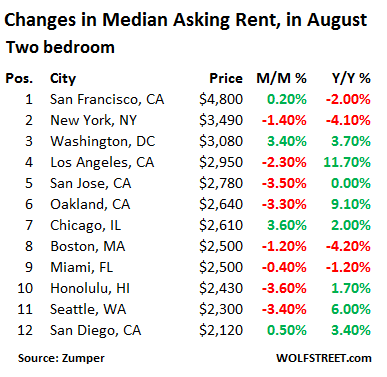 These asking rents do not cover negotiated actual rents and incentives, such as "one month free rent," which effectively lower the total rent for the first year but don't quite make it into the numbers.
What surprises me is to see Oakland on this list with sharp drops on a month-to-month basis. Rents have been skyrocketing in a stunning manner in Oakland, powered higher by San Francisco and Silicon Valley escapees. I thought that pressure would persist a while longer. Oakland lagged going into the post-Financial Crisis Bay Area housing boom, and so I thought it would lag coming out of it. But apparently, I thought wrong. And the party may already be over.
Oakland too has a condo and apartment construction boom going on, and supply is hitting the market, and like in San Francisco and in Silicon Valley, investors that bought the flood of condos are shuffling them off to the rental market.
The three big cities in the Bay Area – San Francisco, San Jose, Oakland – figure in the list of the top 12, and all three are at least partially in the red!
Rents have also started to decline in many other of the top 100 markets, even in cities like Dallas, where the housing boom has been phenomenal since the Financial Crisis. On a month-over-month basis, median asking rents of one-bedroom and two-bedroom apartments dropped by 3.2% and 2.4% respectively, but they're still up 2.5% and 1.9% year-over-year.
In many other markets, rents are still rising or even soaring, both on a month-to-month basis and on a year-over-year basis. So on the national level, a so-called mixed picture appears. Zumper:
For the first time this year to date, the national median price of both one and two bedroom units decreased. One bedrooms dropped -0.8% to a national median price of $1,146, while the two bedrooms dropped -1.0% to a median price of $1,358.
That's on a monthly basis. On a year-to-date basis, rents for one-bedroom and two-bedroom apartments are still up over 3.3% and 3.6% respectively, still stiff increases, given the problems the US economy has in raising wages.
These are just the first feeble beginnings of gravity re-exerting its force on the housing market in some areas. Real estate is local, and these changes happen on a local basis, but if enough markets start moving in the same direction, up or down, it will impact the national figures.
For renters, a 2% reduction on a two bedroom in San Francisco that soared to $4,800, doesn't amount to much of a consolation. These things take time. It's a tug of war that is carried out one apartment at a time, between landlord and prospective tenants. Individually negotiated rent reductions may be much higher than 2%, including one month free rent and other incentives.
But for landlords putting new buildings on the market, even these feeble beginnings in cities where rents have started to slide are troublesome. Capitalization rates have become razor thin in expensive markets, and a process of declining rents that might last years throws the entire math into disarray.
Below are the top 100 markets, in order of the amount of rent for one-bedroom apartments. Check out your city to see what the trends are (tables by Zumper, click to enlarge):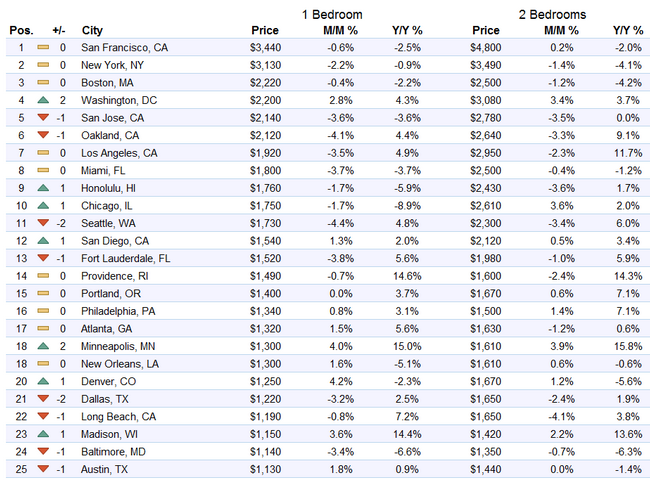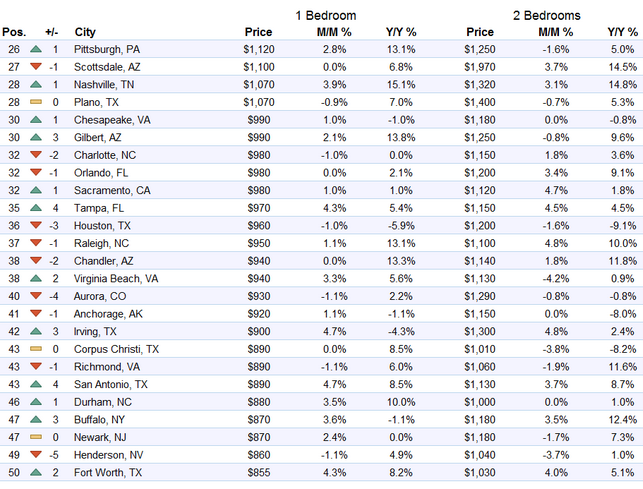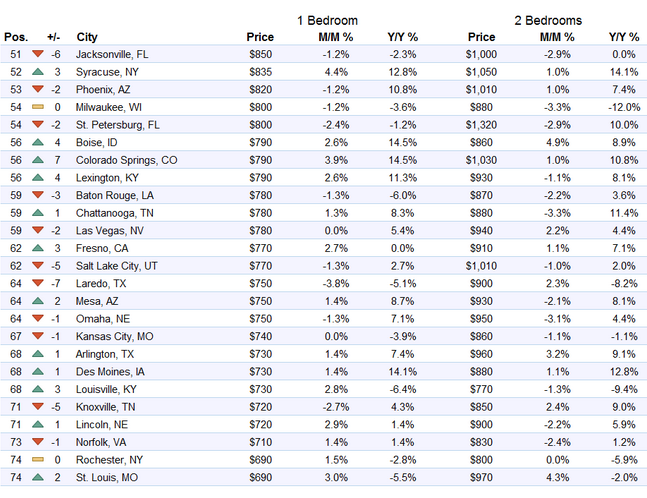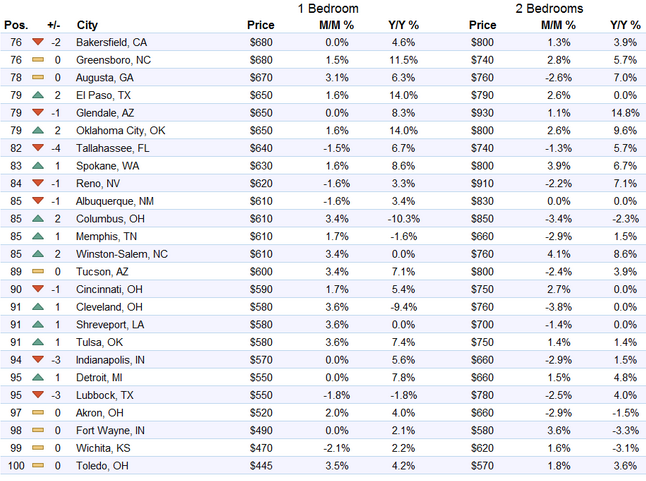 And so utter insanity is turning south, with big consequences. Read…  "If You Own a Home in Palo Alto, CA, Sell it Now"




Enjoy reading WOLF STREET and want to support it? You can donate. I appreciate it immensely. Click on the beer and iced-tea mug to find out how:

Would you like to be notified via email when WOLF STREET publishes a new article? Sign up here.