This time, you can't blame the dollar or oil prices.
In the second quarter, Canada's economic activity, as measured by inflation-adjusted GDP, fell 0.4% from the first quarter, or 1.6% annualized, "the largest decline in quarterly GDP since the second quarter of 2009," as Statistics Canada put it in its data release.
It was a brutal reversal of the first quarter, when GDP had jumped an upwardly revised 2.5% annualized.
Canada's economy is to a considerable extent dependent on its resource sector, particularly oil and gas. But since mid-February, prices of crude oil, a crucial export product, soared (with the US benchmark grade WTI up over 80%!).
Given the soaring oil prices in the quarter, it's even more unnerving that exports, which add to GDP, plunged 4.5% (nearly 20% annualized!), the worst plunge since Q2 2009. While exports of services edged up 0.6%, exports of good plunged 5.5%.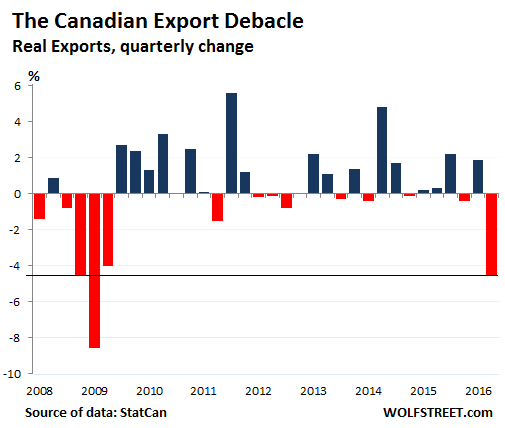 The US, where most of Canada's exports end up, catches much of the blame.
The only good part in the exports debacle was aircraft and transportation equipment and parts, which jumped 5.6%, after having gotten clobbered during the prior two quarters.
But exports of cars and light trucks plunged 6.6% on slowing demand in the US. Exports of consumer goods plunged 6.8%, the worst plunge since Q2 2003!
Exports of energy products plunged 7.5%, including a 9.6% plunge of crude oil and crude bitumen (the product from tar-sands production sites), and a 19.6% plunge in refined petroleum products, due to slowing demand in the US.
Exports of metal ores and non-metallic minerals plunged 17.5%, the largest plunge since Q1 2009. If the word "plunge" appears a lot, it's because it was that kind of report.
At the same time, imports, which subtract form GDP, rose 0.3%.
And you can't blame the loonie: during the quarter, it was trading in the range around C$1.30 to the USD, where it was a year ago.
Canadian households, among the most indebted in the world, were trying to hang on by the skin of their teeth: overall spending inched up a weak 0.5%. Spending on services rose 0.8%. But spending on goods rose only 0.2%, propped up by non-durable goods, such as food, which rose 0.7%. But spending on durable and semi-durable goods dropped 0.5%, led by a 1.2% decline in motor vehicle purchases.




Thank God, someone is spending more: government spending rose 1.0%, "partly as a result of government spending related to the wildfire in Fort McMurray," StatCan pointed out. It was the sixth quarterly increase in a row
Business investment in fixed assets – buildings, machinery, equipment – fell 0.1%, the sixth quarter in a row of declines. As in the US, businesses are not investing. And that is starting to be a structural drag on the economy.
While inventories in absolute terms edged down a fraction, sales declined at a faster pace. So inventories turned over more slowly, and the economy-wide inventory-to-sales ratio rose. When businesses feel that their inventories are too high, given the level of sales, they curtail their orders to bring inventories back in line, which turns into a drag on the economy in future quarters.
I'm not sure what to make of this report. It was terrible. It occurred when oil prices soared 31%, which should have supported oil exports. It occurred as the Canadian dollar remained stable. It occurred as the new government has been implementing its stimulus spending. It occurred based on plunging exports to the US.
There's a good reason why petroleum products exports to the US dropped: the US oil industry is drowning in huge inventories.
But auto exports to the US dropped too. This shouldn't have been the case, given the glorious demand for cars and trucks in the US. Only, that party too seems to be over. Now we're hearing warnings from Ford and GM that auto sales in August have dropped sharply. Ford has been talking about a "car recession" for a while. Any drop in demand in the US goes a long way to explaining why Canada's economy caught the flu in the second quarter.
For now, optimism reigns that this was just a one-quarter blip, that the statistical quirks will soon be ironed out, that the third quarter will rectify the debacle, that demand in the US will suddenly jump, and that US petroleum products stocks will somehow just evaporate….
And hopes are suddenly back that the Bank of Canada will see the writing on the wall and ease further, thus giving asset bubbles some more room to inflate. This includes housing, bonds, and stocks. That's really what matters. And so bad news might once again be twisted into good news.
Housing and housing construction, among the most powerful sectors in the Canadian economy, fired up by a good dose of foreign money, have propped up the economy for years, through the oil bust even. But now, more Canadians are souring on their Magnificent Housing Bubble. Read…  Fear Spreads of a Housing Crash in Canada




Enjoy reading WOLF STREET and want to support it? You can donate. I appreciate it immensely. Click on the beer and iced-tea mug to find out how:

Would you like to be notified via email when WOLF STREET publishes a new article? Sign up here.